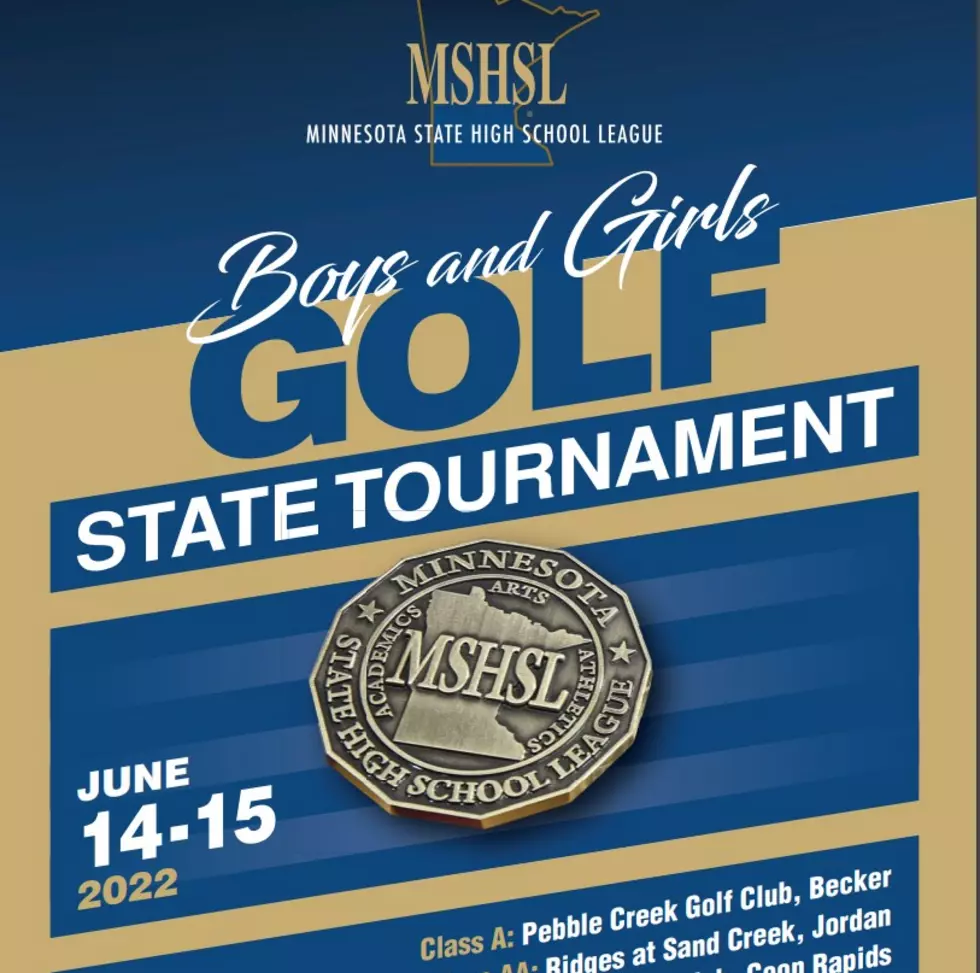 Northfield Golfer Leads Field in Class AAA Boys State Competition
MSHSL Girls and Boys Golf Program 2022. Screen Capture by Gordy Kosfeld
The first day of competition at the Class A, Class AA and Class AAA MSHSL State Boys and Girls Golf Tournaments was held in very windy conditions Tuesday.
In the biggest schools division Edina has a 3 stroke lead over Spring Lake Park with Alexandria Area and Lakeville North tied six strokes back.
Nate Stevens of Northfield is tied for the lead in Class AAA Boys after shooting a 70 at Bunker Hills Golf Course in Coon Rapids.  Isaac Ahn of Rochester Mayo shot a 71, Owen Rexing of Rosemount and, Evan Raiche of Lakeville North with a 71.
Complete Boys AAA results are here.
On the ladies side Alexandria Area has a 9 stroke lead over Maple Grove in the AAA competition.  Eastview is 13 strokes in back of Alexandria.  Lakeville North is in 7th place after the opening round with a total score of 353.
Complete Girls AAA Results are here.
In Class AA Boys Pine Island/Zumbrota Mazeppa has an 11 stroke lead over Totino- Grace in the quest for the team title.
Anders Larson leads Pine Island with a 73, two shots from the lead.  Joseph Scripture and Michael Scripture shot 77 and 79 respectively.  Cameron Bruns finished with an 80
Complete Boys AA Results are here.
A Hiawatha-Valley-League team is also leading the Class AA Girls competition.  Lake City is running away with a 27 stroke lead heading into the final round .
The Tigers are paced by Ella Matzke with a 79.  Three shots from the lead.
Competition is taking place at Ridges at Sand Creek in Jordan.
Complete Girls AA Results are here. 
Gopher Conference member United South Central is in 7th place in the Class A Boys Tournament with a 362 total score.
A couple of Hayfield golfers are doing very well. Keegan Bronson and Sam Tucker carded 79's on the course in Becker.
Logan Thell of Janesville-Waldorf-Pemberton  is in 19th place after carding a 82.
Complete Boys Class A Results are here: 
Two teams are tied for the lead on the girls side.  Legacy Christian Academy and Lac qui Parle Valley have a 354 total  Fillmore Central is in 4th place currently with a 393.
Hayfield Vikings Avery Towey carded a 105 good enough for 53rd place. Teammate Carly Bronson had a 107 and Kristen Watson shot a 111 which is 69th.
The Class A Tournament is being held at Pebble Creek Golf Course in Becker.
Complete Girls Class A Results are here.
If you are a golf enthusiast this might interest you.
LOOK: Here are the 10 US golf destinations with the most courses per capita
Discover where you can find the best access in the country for your pick of courses, the unique terrain that lends itself to world-class golf, and what makes select clubs noteworthy.