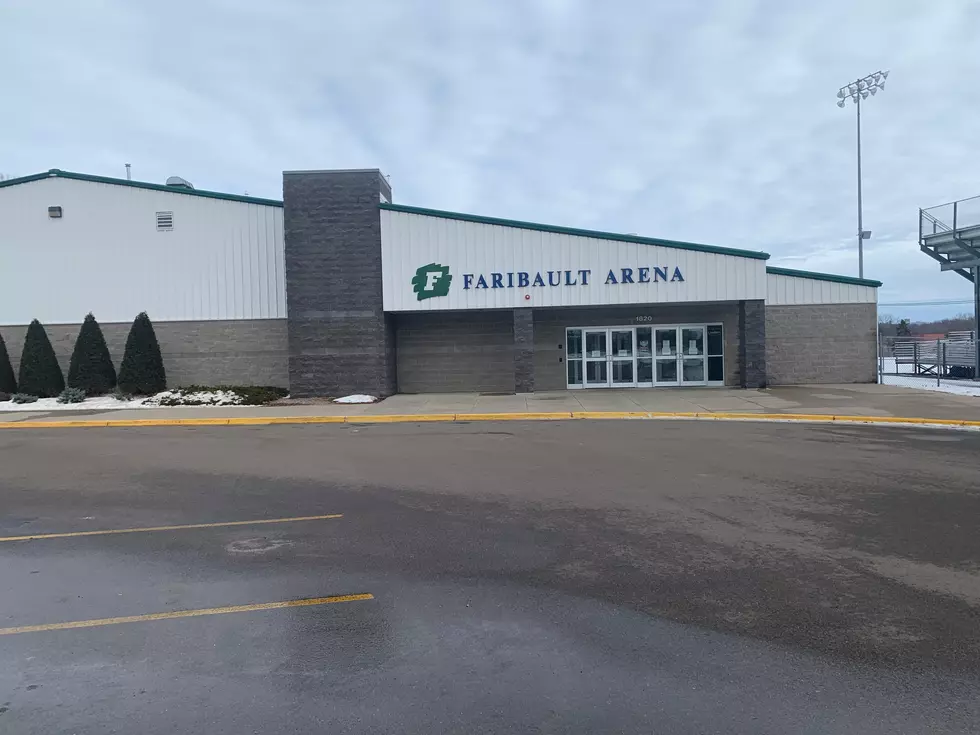 MSHSL Section 1A Boys Hockey No Upsets
Faribault Ice Arena Front Doors. Photo by Gordy Kosfeld
The first round of MSHSL Section 1A Boys Hockey Tournament went according to seed with #7 seed Faribault rolling by #10 Austin 7-1 at Faribault Ice Arena.
No live game sheet was provided from a contest played in Faribault.  The Falcons head to #2 seed New Prague (14-10-1) Thursday night at 7 after notching their 12th victory of the season.
Some game sheets were provided from other games in Section 1A but no penalties were listed.
#8 seed Rochester Lourdes/Dover-Eyota (10-16) defeated #9 Waseca (10-15) in a 5-4 thriller at Graham Arena in Rochester.
The Blue Jays outshot the Eagles 20-4 in the first period and took a 1-0 lead after a Lucas Groll goal assisted by Armado Balderas.
Waseca went up 2-0 following a Hunter Anderson goal assisted by Brayden Hoof 9:20 into the second period.
Lourdes/Dover-Eyota scored their first goal at the 12:30 mark.  Brayden Swee on a power play assist from Liam Barry.
The Blue Jays went up 3-1 following another Hunter Anderson goal with 11 seconds to go in the second period.  Brayden Hesch-Priem was credited with an assist.
Six seconds later, with 5 seconds to go in the period the Eagles answered with a Peyton Loeslie unassisted goal to make the score 3-2 going into the final period.  Shots on goal were even at 7 apiece in the second period.
Rochester Lourdes/Dover-Eyota tied the game at the 9:46 point of the final period on a Aj Ritter goal assists to Colton Rich and Vinny Harens.
They then took the lead on another Ritter goal with assist to Brody Seim at 14:37.
Waseca tied the game with  34 seconds to go in regulation when Groll connected on a power play goal assisted by Griffen Krautkramer.
The Eagles game winner came with 1 second left by Colton Rich assisted by Jack Roe.
Total shots on goal were 38 for Waseca, 22 for Rochester Lourdes.
Carter Martens was in net for the Blue Jays and stopped 17 shots while Xander Carter-Kleven had 34 saves in the exciting Lourdes/Dover-Eyota win.
The Eagles are scheduled to go to #1 seed Big Nine Conference Champion Northfield (20-5) Thursday for a 7:00 p.m. game.
Winona (10-13-2) blanked Red Wing (1-21-4) 5-0 to advance to a Thursday quarterfinals scheduled game at Albert Lea (18-6-1).
The Winhawks dominated the second and third periods after being outshot 16-7 in the first period.
The Winhawks scored with 36 seconds to go in the period on a Teis Larsen goal with an assist by Aven Prodzinski.
Shots in the second period were in favor of Winona 22-6 as they scored four times, three on the power play.
1:05 into the second frame Larsen scored and even strength goal assisted by Prodzinski.
A Larsen hat trick came at the 9:00 minute mark with a power play goal assisted by Wesylee Kohner.
Prodzinski scored at 10:26 on a power play goal assisted by Larsen and Kohner.
Seven seconds later Maxwell Dalenberg tallied a unassisted power play goal to finish the scoring.
Winona had 12 shots on goal and Red Wing 7 in the final period.
Shot totals were 41 to 29 in favor of the Winhawks.
Michael Dubek got the shut out in net while Ellis Petersmeyer stopped 36 shots for the Wingers.
Section 3A had two first round games played Tuesday evening.
The #8 seed Fairmont Cardinals (8-18) outscored #9 Worthington Trojans (3-20) 7-5 just a few days after their regular season ending 9-3 victory over Worthington last Friday.
The Cardiinals now fly up against top seed New Ulm (21-3-1) in a scheduled Thursday night showdown.
The other Section 3A game featured #7 seed Windom Area (11-14) dominating #10 Redwood Valley (0-22) 6-0 to advance and play #2 seed Luverne (18-6-1).
Top 10 Items People in Minnesota Stock Up On When They Hear "Storm"
I am pretty sure that as soon as the word "storm" shows up in the forecast, people in Minnesota, Iowa, Illinois, and Wisconsin are just trained to hop in their cars and go to the store. Stocking up on supplies becomes our #1 priority and we shop like we have absolutely nothing in our house to eat. So, we will up our carts with all "the things" and hope we grabbed enough to make it through the storm.
FYI - we will make it through the storm, and some of us will do that with Double Stuffed Oreos. Some of us will not...because the store shelf was empty by the time we got there.
Below are a few of the top items that we grab at the last minute before the storm hits.