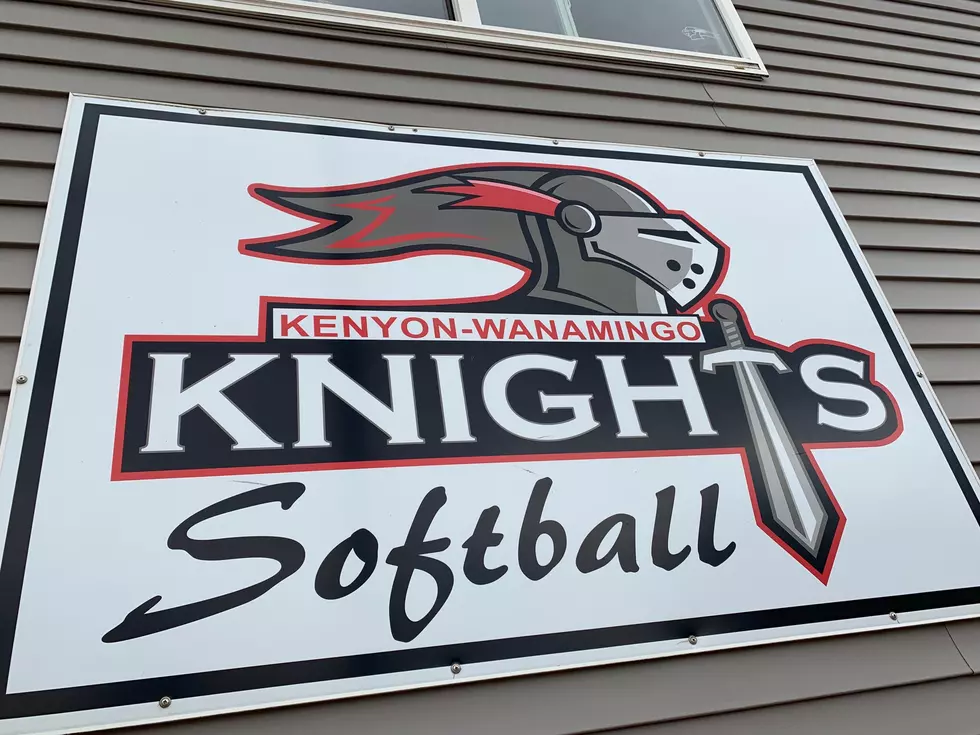 Kenyon-Wanamingo Softball Loses Heartbreaker
Kenyon-Wanamingo Softball Crows Nest Sign. Photo by Gordy Kosfeld
The Janesville-Waldorf-Pemberton Bulldogs fastpitch softball team defeated Kenyon-Wanamingo today in a walk-off 3-2 thriller.
K-W pitcher Josie Flom, junior, struck out 11 J-W-P batters, allowed 7 hits but 3 errors did not help.  The winning run scored in the bottom of the seventh on an error.
The Knights had 9 hits in the game, they just could not get the timely run scoring hits.
Both pitchers kept zeros on the scoreboard until the 6th inning when K-W scored a run after Flom tripled to start the inning and scored on an Ivette Mendoza double.
The inning was a example of the game for the Knights because following a pop out and two strikeouts Mendoza never advanced.
The Bulldogs scored two runs in the bottom of the 6th to take the lead. Following a leadoff double by Brielle Dessner, sophomore, Jessa Westphal, senior, put down a bunt for a hit with Dessner advancing to third base.
With one strike delivered to the J-W-P batter a run scored on an error.  Another bunt single by Autumn Thiessen, sophomore, advanced Westphal to third base.
Eliah Oliver, sophomore bunted toward the pitcher and was retired at first base allowing Westphal to score.  Flom got another strikeout to end the inning.
In the top of the 7th Kenyon-Wanamingo tied the game.
Sophia Poquette, senior, singled to start the inning.  With two strikes on her Vanessa Bartel, sophomore, singled to left placing runners at first and second base.
Nevaeh Greseth, senior, hit a ball to short gaining first on a fielder's choice because the pitcher retired Poquette trying to advance to third base.
Sidney Majerus, senior, hammered an RBI single to right scoring Bartel.  Flom clubbed a single to left field which loaded the bases.
Following a fly out Lydia Schaefer, senior, hit a ground ball back to the pitcher who threw home to get the force out to end the Knights threat.
In the bottom of the 7th a strikeout started the Bulldogs followed by an Alexis Dahlberg, junior, single to center.  Then a strikeout was recorded.
During the next at bat Dahlberg stole second base to get into scoring position.
Dessner hit a fly ball to right field that was not caught.  An error was ruled that allowed Dahlberg to score the winning run.
In other area softball Monday Nicollet edged Waterville-Elysian-Morristown 14-13 in Waterville.
The Raiders were behind 11-5 going into the 4th inning when they erupted for 6 runs.  They had 19 hits while the Buccaneers connected for 11 hits in the non-conference game.
The Bucs had 2 errors, Nicollet 1 miscue in the game.
Jordan Green, senior, and Janessa Baumgarten, senior, led W-E-M with 3 hits each.  Green had a double and a home run for 3 RBI, Baumgarten 2 doubles and a triple with 5 RBI but it was not enough.
The Buccaneers had 6 stolen bases and left 7 runners on the basepaths.
Emma Ready, junior, started the game in the pitching circle for W-E-M going the first 3 innings with 1 strikeout, 1 walk, 13 hits allowed.
Alix Velzke, 8th grade, threw the final two innings of the 5-inning contest.
The Buccaneers are now 0-3 and go to Janesville-Waldorf-Pemberton Thursday for a Gopher Conference game.
In other action:
Bethlehem Academy at Lyle/Pacelli     Postponed
Jordan 2   New Prague   1
Burnsville   8    Tartan    4
Stewartville at Dover-Eyota     Cancelled
Mabel-Canton at Goodhue       Postponed
St. Clair/Loyola    6        Madelia        2
Martin Luther/GHEC/Truman   at NRHEG      Postponed
United South Central      11        Glenville-Emmons/Alden-Conger    1
Apple Valley at Lakeville South   Postponed
Northfield   4       Kasson-Mantorville    3
Medford at Rochester Lourdes     Postponed
Area high school baseball results from Monday, April 17. 2023
Mankato Loyola vs. Blooming Prairie at Riverland in Austin Postponed
GMLOK at Chatfield   Postponed
Burnsville    10    Eagan     7
Lake Crystal-WellcomeMemorial   17   Medford   10
St. Clair at Lyle/Pacelli    Postponed
Goodhue at Mabel-Canton    Postponed
New Prague   5     Northfield   3
Wabasha-Kellogg   at   Spring Grove   Postponed
Winona Cotter at Lewiston-Altura    Postponed
Jordan   9    Belle Plaine    8
Hayfield   16   Maple River   3
United South Central   5   Glenville-Emmons/Alden-Conger   2
Rochester Lourdes at Zumbrota-Mazeppa   Postponed
Farmington   2    Shakopee   0    at Dundas
LOOK: These are the most Instagrammed sports stadiums in the world
OLBG
analyzed Instagram hashtags & revealed the most Instagrammed sports stadiums across the world, including those here in the United States. The top 10 are listed below, based on available data from February 7, 2023.