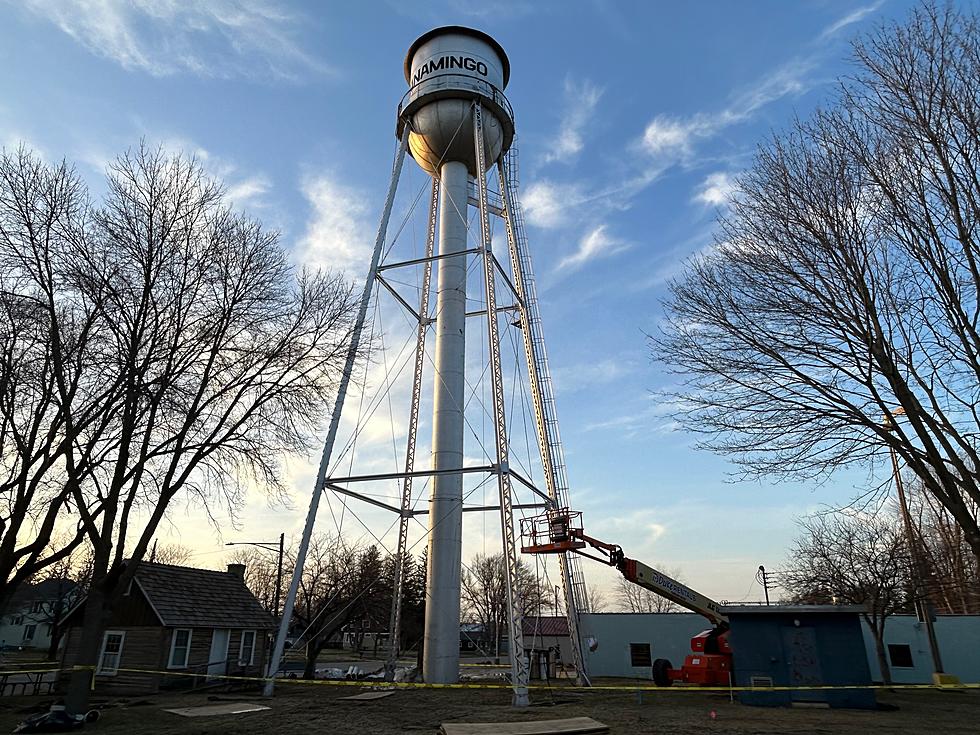 Historic Landmark Coming Down in Wanamingo
anamingo Water Tower View from South. Photo by Gordy Kosfeld
The Wanamingo water tower located downtown next to the Community Center is coming down today.
Crews were preparing over the last few days bringing cables to the site and heavy equipment to assist with bringing down the landmark that is nearly 100 years old.
Area streets have been closed to accomodate the demolition.  When it's completed virtually everyone living there will see a hole in the middle of their downtown area.
The downtown landmark now will probably be a old log cabin erected in the 1850's and restored in 1974 to honor the Wanamingo area pioneers.
It sits right next to the water tower as you can see in the photos.
Just think how precise the contractor has to be to make sure the tower is brought down safely.  Wouldn't want to fall on the historic log house.
Erected in 1926 former Wanamingo City Council Member Larry VanDeWalker told KDHL he is saddened by it's demise.  He has lived at a location where seeing the water tower out the window has been a daily occurrence
There was talk of saving the tower but the expense was too immense.
In order to preserve it the city would have had to fill the 40,000 gallon tank with sand and every approximate 10 years painted it.  The last time it was painted the cost was approximately $120,000.
Sadly a tragedy occurred not long after the water tower was erected.
On September 5, 1930 three men were killed when a Waco biplane hit the structure upon takeoff.
Ironically the takeoff took place near where the new water tower is located about a half mile south of the downtown water tower.
All of the men killed were 24 years of age.  Pilot Henry Dahlen had lived in the area until he was 18 eventually settling in Kanabec County.
He was giving rides to people.  The unfortunate passengers were Alfred Lunde and Arnold Mokre.
A few feet above the "NAM" in Wanamingo there was still a visible dent from where the plane collided with the water tower.
A double funeral was held for Lunde and Mokre at Dale Lutheran Church the following week.
Dahlen's funeral was held in Mora, Mn.
Gary Bakko, Wanamingo historian provided most of the information surrounding that fateful day in a couple of interviews by KDHL with him over the years.
This Crumbling New York Carleton Island Mansion Has A Tragic Past