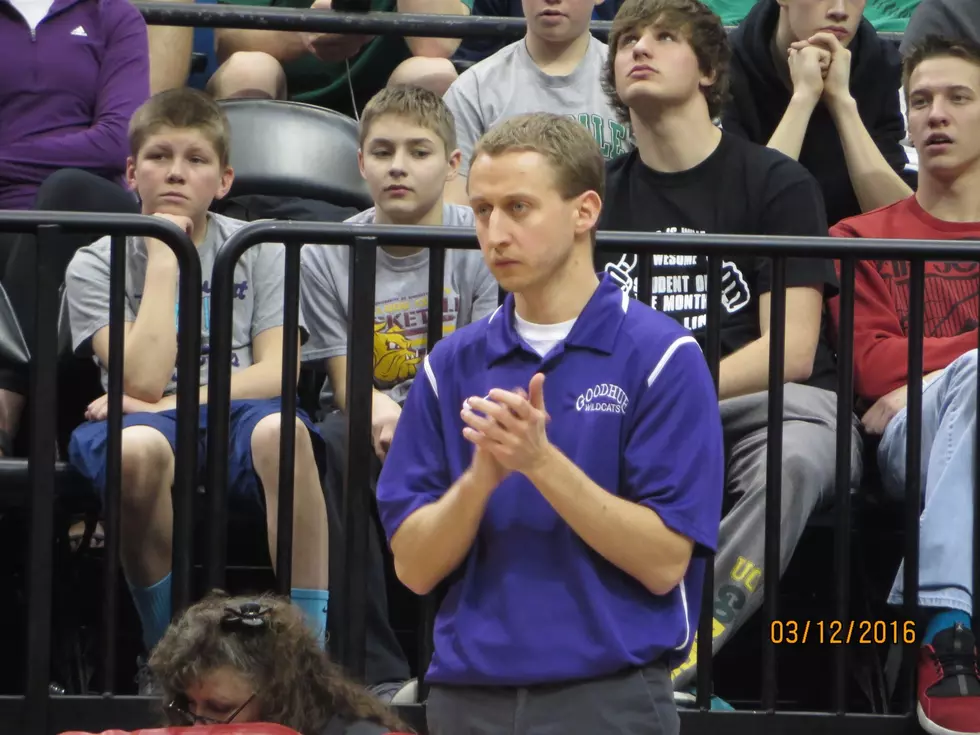 Goodhue Boys in Class 2A Top 20
Goodhue Head Coach Matt Halverson at State. File Photo 2016
The Minnesota Basketball News first February state rankings have Goodhue #20 in Class 2A.  The latest rankings were released today.  Five teams are ranked from Section 1 in Class 2A.  #1 Caledonia, #3 Lake City, #11 LaCrescent, #12 Stewartville, #20 Goodhue.
In Class 1A BOLD remains undefeated and is #1.  Waterville-Elysian-Morristown is ranked #5. Blooming Prairie #11, Hayfield #12, Nicollet out of Section 2 is #20.
Class 3A Minnehaha has been #1 since preseason rankings.  Mankato East #2, Austin #8, St. Peter #9.
Class 4A Eden Prairie is still undefeated and on top.  Eastview is #2, Shakopee #4, Lakeville South #10, Prior Lake #14, Lakeville North #18 all from the South Suburban Conference.  Rochester Century is #20.
Complete Minnesota Basketball News rankings are below.
1. Eden Prairie
2. Eastview
3. Cretin-Derham Hall
4. Shakopee
5. Hopkins
6. Spring Lake Park
7. Park Center
8. Robbinsdale Armstrong
9. Chaska
10.Lakeville South
11.East Ridge
12.North St. Paul
13.Tartan
14.Prior Lake
15.Maple Grove
16.Cambridge-Isanti
17.Champlin Park
18.Lakeville North
19.Mounds View
20.Rochester Century
1. Minnehaha Academy
2. Mankato East
3. DeLaSalle
4. Totino-Grace
5. Marshall
6. Waconia
7. Delano
8. Austin
9. St. Peter
10.Richfield
11.Bemidji
12.Hermantown
13.Holy Angels
14.Bloomington Kennedy
15.Mound Westonka
16.Minneapolis Henry
17.St. Cloud Apollo
18.Hibbing
19.Princeton
20.Alexandria
1. Caledonia
2. Waseca
3. Lake City
4. St. Croix Prep
5. Minneapolis North
6. Perham
7. Minnesota Valley Lutheran
8. East Grand Forks
9. Osakis
10.Eden Valley-Watkins
11.LaCrescent-Hokah
12.Stewartville
13.Fergus Falls
14.Litchfield
15.Rockford
16.Virginia
17.Mora
18.Pine City
19.Moose Lake-Willow River
20.Goodhue
1. BOLD
2. Henning
3. Ada-Borup
4. Southwest MN Christian
5. Waterville-Elysian-Morristown
6. New Ulm Cathedral
7. Springfield
8. West Central Area
9. Fertile-Beltrami
10.Mountain Lake-Comfrey
11.Blooming Prairie
12.Hayfield
13.Cromwell-Wright
14.Nevis
15.Cass Lake-Bena
16.Parkers Prairie
17.Nashwauk-Keewatin
18.North Woods
19.Norman Co. East/Ulen Hitterdal
20.Nicollet
Enter your number to get our free mobile app