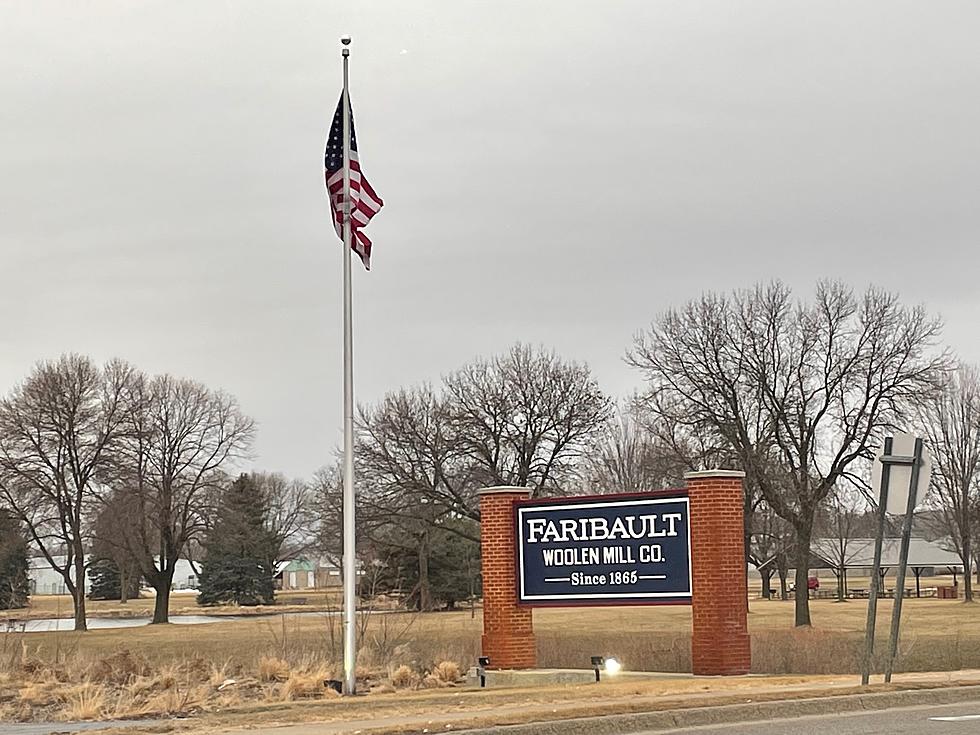 Faribault Woolen Mill Changes Name in Expansion
Faribault Woolen Mill Co. Sign. Photo by Gordy Kosfeld
The top of the news release from Faribault Woolen Mill Co. states, "Things Have Cotton Interesting."
In it they announce the acquisition of Brahms Mount, a Maine-based manufacturer of luxury cotton blankets, throws and other textiles.
"Don't worry," they say, "the only wool going away is in our logo...we will continue to weave our famous woolens in addition to our new cotton line: Brahams Mount by Faribault Mill."
The sign will be changing in Faribault from Faribault Woolen Mill Co. to Faribault Mill.
The announcement states, "Together We Will...
"Contribute to keeping American manufacturing alive by continuing to create Made in USA products using the same techniques that have stood the test of time."
The release continues, "Offer a wider range of products, materials and styles while also maintaining the brand values and existing styles that customers know and love."
It concludes, "Maintain our high standards, keeping quality craftsmanship and timeless design at the core of our products and processes."
It's ironic the announcement was made now because the original Woolen Mill building still stands at the corner of Fourth Street and Second Avenue Northwest in Faribault.
It is owned by Rice County, purchased with the thought the present jail and Law Enforcement Center could be expanded in the block.
Since then the Rice County Board of Commissioners have decided to build the new Public Safety Center on land that once had an outdoor theater on it north of Faribault just off State Highway 3.
The County Board recently talked about four options for the block where the building stands with one of the four including keeping the building and the other three options have it's demolition included.
According to information on the Faribault Mill website Carl Henry Klemer was born near Berlin, Germany on January 24, 1824.
"Forty-one years later, with a carding machine powered by a single horse named Jenny, he started a wool business."
The site states, "not much is known about Carl before he moved to this country in the mid-1840's.  A cabinetmaker by trade he first settled in Watertown, Wisconsin in 1848."
"A short time passed when in Chicago he met and married Fredricka Steffens."
"In 1857, with two sons and one oxen-pulled wagon, the Klemers moved to Nerstrand, Minnesota to a farmstead.  Farming, however, may not have suited Carl.  Seven years later he sold the farm and moved to Faribault where he was hired by a man named Jacob Wandell as a cabinetmaker."
Eventually he bought a carding machine in 1865.  His grandson Frank wrote in "History of Faribault Woolen Mills:1865-1940" that an old English carder made the suggestion to him that he buy a card and start carding wool for growers."
"On May 24, 1865, with a picker for prepping wool, a treadmill and one horse named Jenny for power, Carl Henry Klemer fired up his carding machine and Faribault Woolen Mill was born."
The rest as they say is history.
Faribault Woolen Mill made blankets for the military during World War I where my Grandpas on both sides of the family served.  World War II where my Father served.  I believe they made sleeping bags too.
I met Paul Ridgeway of Ridgeway Companies when he was hired by Faribault Woolen Mill Co. to plan a big celebration for their 125th birthday in 1990.
Ridgeway contacted Mike Morrissey and I personally and asked us to put together a Woolen Mill Company history recording set to music and a fireworks display.
I was impressed that he would use the Faribault station talent.
Mike's great voice was used and I edited it and included the music to fit the time alotted.  I should have saved a tape because I think it turned out very well.
Ridgeway was a tremendous logistics person.  His company was also hired in planning the 1992 Super Bowl in Minneapolis.  In fact he got tickets for Mike to go and offered me some tickets but I chose to stay home and not fight the traffic I imagined there would be around the Metrodome.
The company has worked numerous Super Bowls, Presidential events, you name it.
I feel very blessed to have been involved a smidgen with his great company and the historic Faribault Woolen Mill Company.
Paul passed away in 2017 following complications from open heart surgery.
Paul and Carl would have definitely been in favor of helping these people.
15 Ways You Can Help People in Ukraine Right Now
As Americans watch events unfold in Ukraine, many wonder how they can help. Below is a list of organizations responding to the crisis in Ukraine along with information on how you can support their various missions.