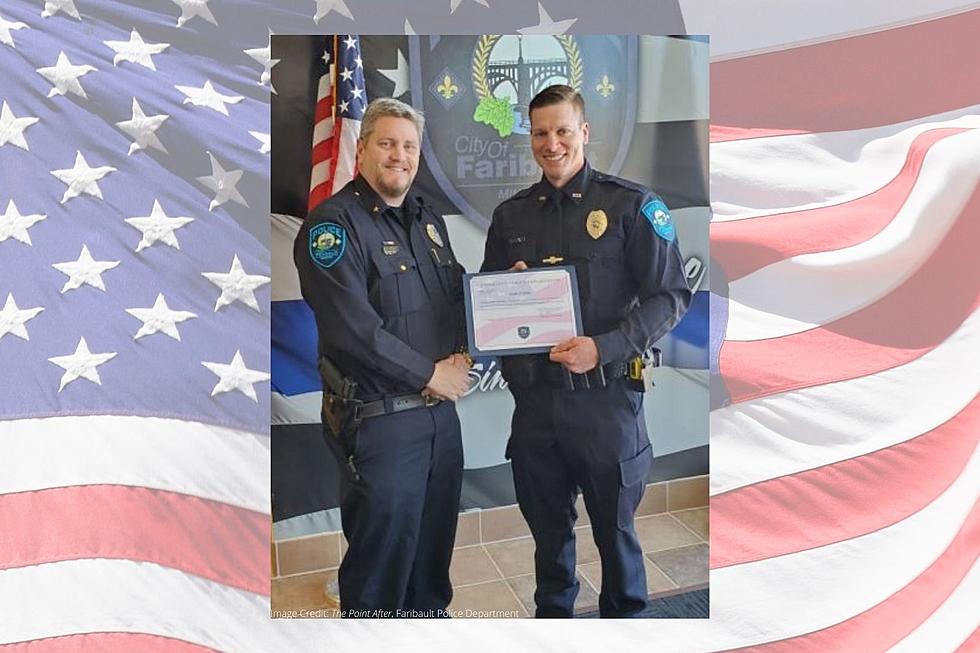 Faribault Police Welcome Newest Officer, Add New Interview Room Cameras
Image Credit: Faribault Police Department
The Faribault Police Department has a new officer that began this week. Officer Brandon McCarthy was announced in a weekly newsletter, as the newest addition to the Faribault Police Department, filling a position that had been vacant due to another officer leaving.
According to the weekly online publication, The Point After, "McCarthy is a native of Savage, and attended Inver Hills Community College to acquire his law enforcement training. He was sworn in by Chief Andy Bohlen. After his orientation this week, he'll undergo our 16-week field training program."
Chief Bohlen had this to say when asked about Faribault's newest officer.
"Brandon McCarthy has come to Faribault PD from Savage where he lives with his family. He has prior experience in construction and security work. He starts his field training this week and has advised staff that he is excited to work as a police officer. "
If you see a new face in a cruiser driving around Faribault, give him a wave and welcome Officer McCarthy to town.
The Faribault Police Department announced that they had recently upgraded the camera systems in their interview rooms, going to an HD camera system that integrates with the body cameras that officers wear. The Point After also stated that there are now 2 cameras in each interview room rather than just 1.
Also in this week's The Point After, a man with 6 warrants was arrested after initially giving police another name.
39-year-old Anthony Thomas was arrested on Wednesday, March 18th after a Faribault police officer recognized Tomas leaving a business as an individual with an active warrant. When the officer stopped Thomas, Thomas gave the arresting officer his brother's name. After getting an ID from Thomas, to verify it was indeed him and not his brother, the arresting officer was informed that Thomas currently was wanted on 6 warrants.
According to The Point After, while in handcuffs, "Thomas stated he had a glass pipe secreted in his pants. At the jail, a glass methamphetamine pipe and baggie with suspected methamphetamine residue was recovered from Thomas' pants. In addition to the warrants, Thomas was charged with 5th degree Controlled Substances."
FIVE THINGS YOU DIDN'T KNOW ABOUT MINNESOTA
From purposefully spinning the car around on snow/ice to the Minnesota Nice Department of Health Inspectors and the Hot Dog Stand, you'll probably had no idea these things were true in Minnesota.