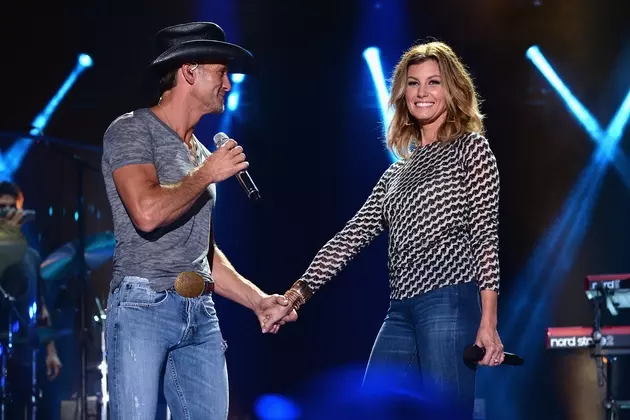 Exhibit About Tim McGraw, Faith Hill Coming to the Country Music Hall of Fame
Larry Busacca, Getty Images
Tim McGraw and Faith Hill fans, better start planning your trips to Nashville: The country music power couple will be the subject of a special exhibit at the Country Music Hall of Fame and Museum in late 2017 and early 2018. The organization revealed the news on Thursday (Jan. 12), during their week of announcements about their 2017 programming.
McGraw and Hill's Country Music Hall of Fame exhibit is scheduled to open on Nov. 17 and run through May 13, 2018. On Thursday morning, just after the news of their exhibit was announced, both McGraw and Hill tweeted out an old black-and-white photo of themselves together; they're in white shirts, jeans and cowboy boots, sitting on the ground and laughing.
"Where it all started ...," Hill writes; McGraw adds, "Excited for the @CountryMusicHOF to show you more."
Each year, the Country Music Hall of Fame features rotating exhibits about country music's stars of today. In 2017, to celebrate its 50th anniversary, the organization is releasing its entire slate of planned exhibits for the year in one week (Jan. 9-13), instead of revealing plans throughout the year; so far, the Hall of Fame has shared plans for exhibits about Jason Aldean, Shania Twain and Loretta Lynn. Fans can follow along with the week's announcements on the Hall of Fame's website and social media accounts, and enter to win trips to each exhibit's opening reception.
Faith Hill + Tim McGraw's Relationship in Pictures
Unforgettable Tim McGraw + Faith Hill Moments