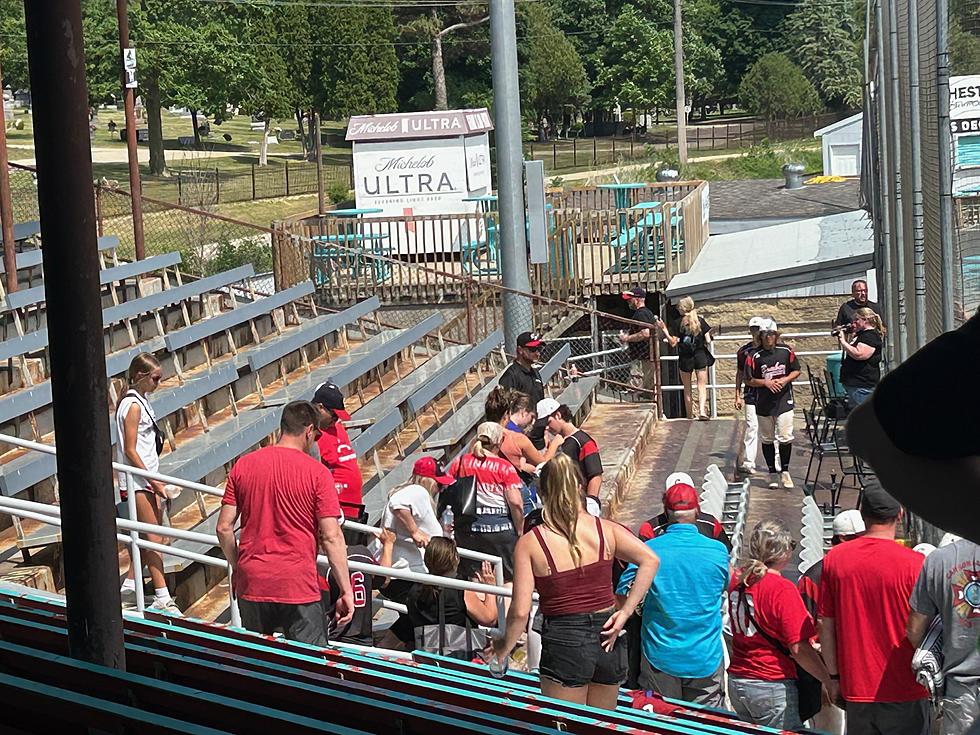 Cannon Falls Baseball Two Wins From State
Cannon Falls Players Mingle in Crowd Following Awin over Chatfield Saturday. Photo by Gordy Kosfeld
The Cannon Falls Bombers traveled to Mayo Field in Rochester Saturday for Section 1AA Tournament baseball.
The #3 seed Bombers were sent to the Elimination bracket by #4 seed LaCrescent 4-1 before ending #5 seed Chatfield's season 5-2.
In the LaCrescent game the Lancers cranked out 10 hits while their pitcher, Eli McCool held Cannon Falls to 3 hits.
McCool was effectively wiild with 4 walks, 2 hit batters in his 6 2/3 innings of work.  He hit the pitch count limit with two outs in the bottom of the 7th inning.
McCool's pitches were all over the place which appeared to work in terms of making the Bombers hitters uncomfortable in the batter's box.
Cannon Falls definitely had their chances to break through in the game with 10 runners left on base, 6 in scoring position.
Jaden Winchell, senior, started on the mound for the Bombers and went the first 4 innings.  He threw 69 pitches, 45 for strikes.
The Lancers are an excellent hitting team with most of their hits coming early in the at bat.
IN the second inning the first two LaCrescent batters jumped on the first pitch to achieve a single and double.
Brady Grupa, junior, had the single followed by a Alex Von Arx, sophomore, double.
Winchell got a strike out looiking before #8 batter in the order Mitchell Reining, sophomore, connected for what amounted to a swinging bunt between the mound and first base.
Winchell thought about coming home but elected to go for the sure out at first giving the Lancers a 1-0 lead.  The next batter struck out looking.
With one out in the third inning Mayes Boyer, sophomore, cracked a 1-0 count double.
The second baseman had a triple in the first inning on a 0-1 count but was gunned out at home plate when he attempted to score on a contact play where the batter after his triple hit the ball to shortstop and Boyer was out by a couple feet at home.
Dusty Grattan, senior, opened the fourth inning with a full count single.  Reining walked and was picked off by Winchell during a strike out looking of the #9 batter,
McCool hit a 1-2 count pitch for a RBI single.
Gavin Gray, senior lefty, came in to pitch for Cannon Falls in the 5th inning.  The first batter he faced, Nate Masterson, senior, #3 batter in the order was walked on four pitches.
Following a strikeout Grupa had a infield single.  Von Arx hit a 1-0 count sacrifice fly to score Masterson.
During the Von Arx at bat Grupa stole second base.  That would be the end of the scoring for LaCrescent.
Cannon Falls scored their lone run in the sixth inning when Aaron Melhouse hit his second double of the game on a 1-0 count to start the Bombers offensive portion of the inning.
Melhouse advanced to third base on a wild pitch and scored on a sacrifice fly off the bat of Nick Barrett, junior.
The Bombers had their opportunities but couldn't get the timely hit off McCool.
Melhouse hit a one out double in the second inning and would be stranded at third base with a two out walk before a ground out ended that threat.
Ari Wells, senior, was hit by a pitch with one out in the third inning.  He advanced to second base during a strikeout of the #3 hitter in the order and the next batter grounded out.
Tyler Johnson, senior, started the fourth inning by being hit by a 1-0 count pitch.  He would advance to second base on a wild pitch.
Following a strikeout Jackson Ekstrom, junior, hit a slow roller toward third base that resulted in the official scorer ruling an error.  It was a tough ruling because the only play he had was a bare handed attempt to scoop the ball and he was unable to do so.
Johnston stayed at second base on the play at the encouragement of Head Coach Bucky Lindow in the third base coaching box.  Remember the Bombers were already behind 3-0 at that point.
Elliott Nelson, senior, led the fifth inning off with a single.  Wells popped out.  Winchell gained the basepaths on a fielder's choice resulting in Nelson's courtesy runner, Ethan Deutsch, sophomore, being retired at second base.
Jack Meyers, sophomore, walked.  Johnston grounded into a fieldeer's choice when Meyers was thrown out going to second base.
Gray threw 50 pitches in relief, 32 strikes with 3 strikeouts, 2 walks, 3 hits allowed, 1 run.
In the bottom of the seventh inning McCool recorded a ground out and strikeout to start the inning.
Winchell was walked in an excellent seven pitch at bat that ended McCool's day due to the pitch count.  I had him with 118 pitches in my scorebook, 68 strikes, 6 strikeouts, 4 walks, two hit batters.
Kale Baker, junior, came in from the shortstop position to pitch.  Meyers walked following a 7 pitch at bat.
The game ended with the next batter flying out to left field.
The Lancers now 18-6 need one win Tuesday to advance to state as the Section 1AA representative.
The Bombers fell behind early in the game against Chatfield.
The Gophers defeated Pine Island 3-0 at John Marshall High School in Rochester before arriving at Mayo Field.
Gray started the second game for Cannon Falls.
The first batter faced in the game was Luke Carriet, senior, hit a 1-2 count pitch for a single.  Following a pop out Carrier advanced to second base on a wild pitch.
Drew O'Connor, senior, Gopher pitcher stroked a 1-1 count RBI single.
The cleanup hitter struck out.  Jack Dornack, junior, singled for the third hit of the inning but Gray got a force out to end the threat.
The Bombers tied the game in the third inning.
Following a pop out and strike out Nelson connected for a single on the first pitch he saw.  He would advance on a wild pitch.  Wells singled placing runners at the corners.  Winchell then stroked a 0-2 count single tying the game at one.
Cannon Falls erupted for four runs in the fifth inning which started with a home run by #9 batter John Banks, senior.  it was the first pitch of his at bat.
Nelson walked.  Wells hit a 1-1 count RBI single after Nelson stole second base.  Wells would advance to second base on a wild pitcb.
Winchell walked.  The Gophers made a pitching change.  O'Connor finished with 75 pitches, 46 strikes, 5 hits allowed, 4 strikeouts, 3 walks, a hit batter.
Meyers greeted Carrier by hitting a 2-2 count pitch over the center fielder's head to plate two more runs.
Meyers came in to pitch starting in the second inning allowing just one run the rest of the way.
He finished with 9 strikeouts, did not walk a batter while allowing 5 hits.
Meyers threw 72 pitches, 50 strikes.
Chatfield ended their season with a 17-7 record.
The 19-5 Bombers need to sweep LaCrescent Tuesday to advance to the MSHSL State Tournament.
KDHL Radio will broadcast any Cannon Falls game played Tuesday.  First pitch is 5:00 p.m. first game.
In other MSHSL Section Tournament baseball Saturday:
Section 1A will have a new representative at state because Hayfield had their season ended by #3 seed Fillmore Central/Lanesboro 12-2 in an elimination bracket game at Riverland College in Austin.
The #6 seed Vikings finished 2023 with a 14-10 record.
Top seed Lyle-Pacelli (16-1) edged #2 seed Southland in the Winner's Bracket semifinal 4-3.
Th Rebels then faced Fillmore Central/Lanesboro and ended their season with an 8-3 win.  The Falcons had a 16-7 record.
Southland (10-3) has to sweep Lyle Pacelli Tuesday, meaning the Athletics are one win from state.
Section 1AAA
#3 seed Byron knocked off top seed Northfield in the Winner's Brack Semifinal 3-1 to gain a spot for the title.
#7 seed Winona defeated #4 seed Stewartville (17-7), 5-4 in the Elimination Bracket.
Northfield bested the Winhawks (9-16), 8-4 and will play Byron Wednesday, June 7, 2023 in Red Wing at 5:00 p.m.
The Raiders (18-6) need a sweep.  Byron (17-5) is one win from state.
Section 1AAAA
#2 seed Lakeville South edged #1 seed Rochester Mayo in the Winner's Bracket Semifinal 5-4 to advance to the title spot.
Farmington ended the season for Rochester Century (6-12) with a 5-3 victory in the Elimination Bracket.
Rochester Mayo got by Farmington (13-11), 8-1 to go back to the Winner's Bracket where they must win two games against Lakeville South.
The Cougars (15-8) and Spartans (19-5) collide at 5:00 p.m. Tuesday at Memorial Field in Dundas.
Section 2AA
#4 seed LeSueur-Henderson  2  #2 seed Belle Plaine 1 in Semifinal of Winner's Bracket
#5 seed Waseca  4  #3 seed Tri-City United   2        Titans end season with a 13-9 record
#8 seed Blue Earth Area  7   #11 seed Sibley East (6-14)   2
Waseca (11-10) hosts Blue Earth Area (6-11) at 5:00 p.m. Tuesday, June 6, 2023
Winner plays Belle Plaine (15-6) at 7:30 p.m. Tuesday, Tink Larson Field Waseca
Section 2AAA
#1 seed New Prague over #5 St. Peter 9-1 at Johnson Park in New Ulm
#3 Mankato East over #2 Marshall   9-0 at Mueller Park in New Ulm
#4 Mankato West won 7-5 over #2 Marshall (13-5)
#6 Albert Lea defeated #5 St. Peter (12-9) 5-4
Mankato West (12-12) vs. Albert Lea (11-9)  5:00 p.m. Tuesday in New Ulm
New Prague (19-3) and Mankato East (14-8) compete in Winner's Bracket semifinal 5:00 p.m. Tuesday in New Ulm
The West/Albert Lea victor plays loser of New Prague game at 7:30 p.m. Tuesday. June 6, 2023
Title tilt is 5:00 p.m. Thursday, June 8, 2023 at 5 and possibly 7:30 p.m. in New Ulm
Section 4A
Section Winner's Bracket Semifinal #4 seed New Life Academy 6  #3 Randolph   0
#1 Legacy Christian 9-7 over #5 Lester Prairie
Randolph (14-7)  goes to #1 Legacy Christian (19-3) Tuesday, June 6, 2023 at 4:30 p.m.
Winner of Randolph game goes to Bethel University to play New Life Academy (17-5) for State Tournament berth.
New Life is one win from state.
Beautiful but Forgotten 110-Year-Old SE Minnesota Mansion For Sale
A beautiful mansion is for sale in Winona, Minnesota. It's over 110 years old but it's also appears to have been forgotten.