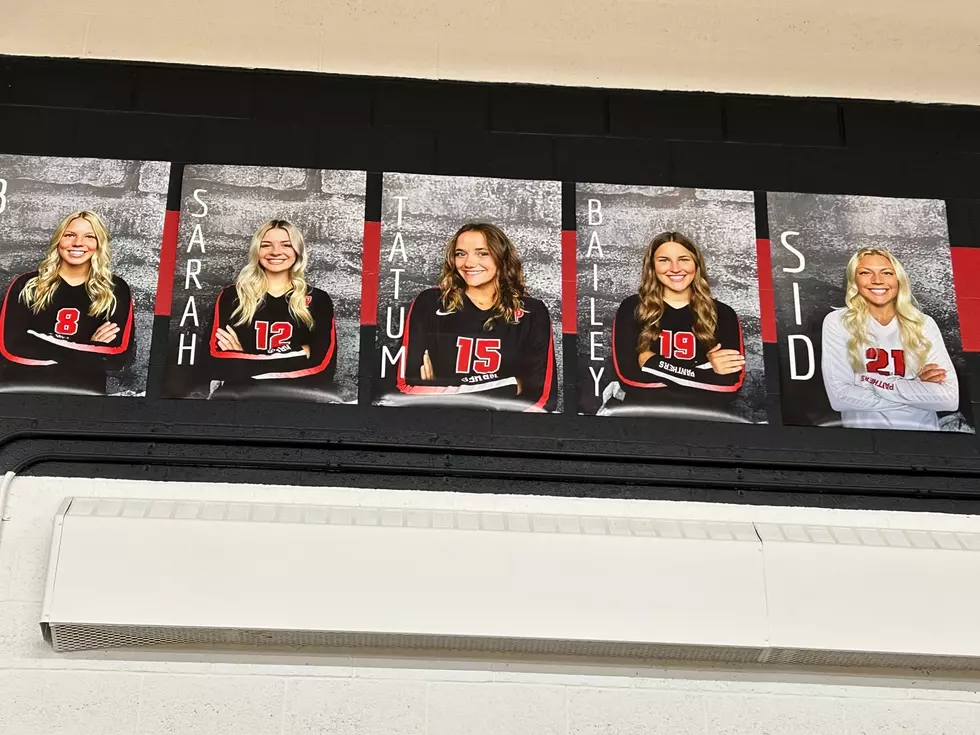 Bethlehem Academy Volleyball Wins in Four Sets
NRHEG Senior Volleyball Players. Photo by Gordy Kosfeld
The New Richland-Hartland-Ellendale-Geneva Panthers were ahead 19-13 in the fourth set at home against #4 Class A ranked Bethlehem Academy but couldn't finish them off.
The Cardinals came from behind to win the set 25-23 and the match 3 sets to one to remain undefeated in the Gopher Conference.
BA captured the first two sets by scores of 25-16, 25-17 before a mistake riddled third set led to a Panthers 25-17 win.
NRHEG jumped out to a 12-6 lead thanks in part to more Cardinals errors.  In fact when the Panthers were up 22-19 in the fourth set half of their points came from Bethlehem Academy miscues.
I had some people ask me why I put the match on the radio and replied because NRHEG has excellent athletes who know how to win so I anticipated an entertaining match.
The first two sets saw the Panthers take early leads and hang with the Cardinals until approximately double digit time.
Bethlehem Academy was very efficient in their first set victory with 4 errors on my very unofficial ledger and 13 kills led by senior Lindsay Hanson with 4.  Junior Sydney Dienst tallied 3, senior Kate Trump 3.
Senior setter Reagan Kangas had two dumps for points and would add two more before the end of the night.  One perfectly timed when her team looked to be heading to a fifth set.
The second set BA succeeded with a number of off speed placements of the ball in holes of the NRHEG defense.  I had the Cardinals with 15 kills in the set led by Hanson's 6,
The Panthers were led by senior Erin Jacobson with 8 kills over the first two sets.
In set 3 NRHEG scored 11 kills, 5 errors while BA had 6 kills and 12 errors.
Set 4 started the same way with the Cardinals off-speed attacks becoming less effective and more errors creeping in.
When the Panthers had a 22-20 lead I recall mentioning my scorepad had Bethlehem Academy with 11 errors.  The set finished with 15 kills, 12 errors for the Cardinals and 10 kills, 9 errors for NRHEG.
The Cashwise Foods and Pharmacy of Owatonna Delivery of the Match was a performance by senior, 5'10 Erin Jacobson for NRHEG.  I had her with 14 kills during the match.  Many of her swings came from behind the attack line.
Malecha's Auto Body Faribault Crunch Time Players of the match were Reagan Kangas, Lindsay Hanson and Jaden Lang.
Senior libero Sidney Schultz made a number of exceptional digs during the match for the Panthers who recently announced their Homecoming Court of 6 girls and 6 guys will feature two sets of twins.
Five of the six queen candidates are from the Panthers volleyball squad.  Bailey and Bree Ihrke, Tatum and Trinity Smith-Vulcan (yes both are twins) , Sidney Schultz and Eva Wayne.
King candidates include: Maverick Bueltel, Wyatt Groskreutz, Makota Misgen, Charlie Nissen, Andrew Phillips, Sawyer Prigge.
In other Gopher Conference matches:
Kenyon-Wanamingo clubbed Janesville-Waldorf-Pemberton 25-9, 25-18, 25-21 in the Castle.  Tessa Erlandson had 12 kills to lead the offense with the Knights achieving 13 ace serves.
Carmen Nerison finished with 7 ace serves for K-W.  The Knights ended the match with 34 kills, 24 digs, 34 set assists.
The Knights only loss in the conference so far was to Bethlehem Academy.
Waterville-Elysian-Morristown remained undefeated in Gopher Conference play with a 3-2 escape against Triton in Dodge Center.
Triton won the first set 25-23, Buccaneers second set 25-9, Cobras the third set 25-21 before WEM scored 25-18, 15-10 set victories.
Alayna Atherton led the Buccaneers offense with a .341 attack percentage while amassing 20 kills. Claire Bohlen hit .271 with 19 kills.
Waterville-Elysian-Morristown had 17 ace serves led by Ashlyn Pelant with 8.  Pelant also had 24 set assists and 13 digs on defense.
The Buccaneers defense was relentless with 111 digs.  Six players had double digit digs led by Josie Volkmann with 24.  Addison Condon added 23 and Bohlen 22.
Other scores included a number of five set matches:
Mankato West 3  Faribault 2
Northfield 3  Owatonna 0 with scores of 25-7, 13, 15.  Sydney Jaynes hit .611 with 11 kills, Teagan Timperly had 9 kills with a .412 hitting percentage.  Raiders had 16 ace serves.
New Prague 3  Kasson-Mantorville 2  KoMets won first two sets 25-16, 27-25 before Trojans captured next three 25-15, 16 and 15-13.
Lakeville North 3  Burnsville 0
John Marshall 3  Albert Lea 0
Lakeville South 3  Farmington 0
Shakopee 3  Rosemount 2
Prior Lake 3  Eastview 2
Hayfield 3  Medford 0
Lanesboro 3  Lyle-Pacelli 0
Alden-Conger 3  Nicollet 0
Cleveland 3  Martin County West 0
Fillmore Central 3  Rushford-Peterson  2
Chatfield 3  Lewiston-Altura 0
Randolph 3  United South Central 0
Rochester Mayo 3  Mankato East 0
Glenville-Emmons 3  Schaeffer Academy 1
Spring Grove 3  Grand Meadow 0
Please help us get all the scores from the area or check them out here.
This is interesting trivia.
LOOK: Here is the richest town in each state
Just saying the names of these towns immediately conjures up images of grand mansions, luxury cars, and ritzy restaurants. Read on to see which town in your home state took the title of the richest location and which place had the highest median income in the country. Who knows—your hometown might even be on this list.