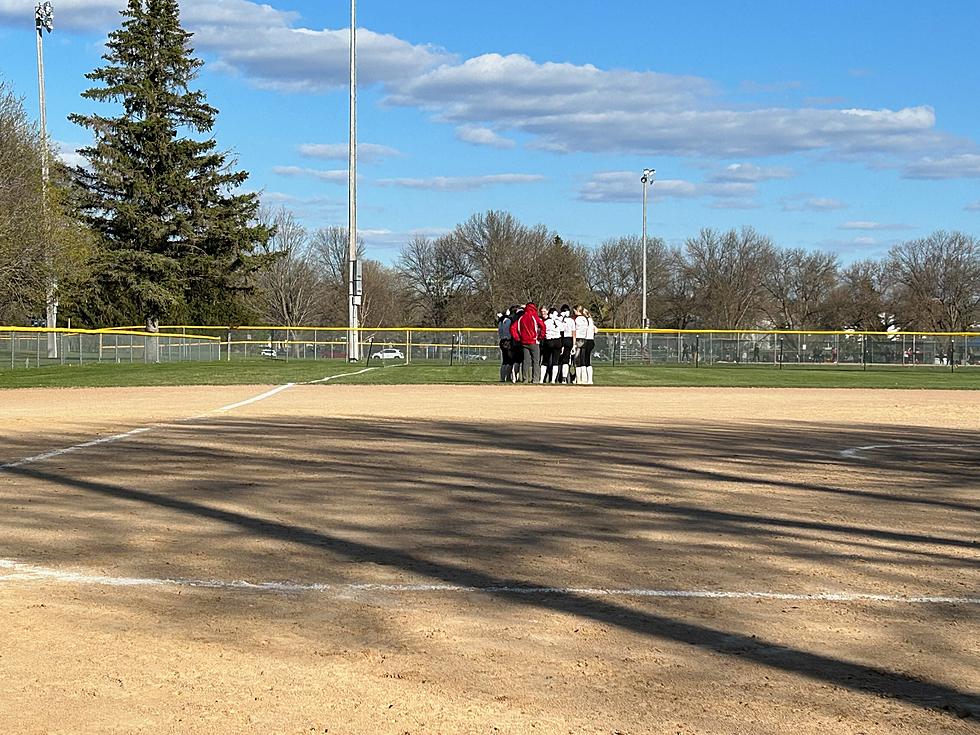 Bethlehem Academy Softball Hammers 19 Hits in 5 Innings
BA Huddle after game with Triton. Photo by Gordy Kosfeld
The Bethlehem Academy Cardinals fell behind by multiple runs early, but still defeated Triton 15-5 in 5 innings today at Alexander Park North in Faribault.
It had to be tough for all pitchers throwing into a very strong wind.
The Cobras looked focused early scoring 3 runs in the top of the first inning on 5 hits off Cardinals pitcher Morgan Wilson.
Kat Ross opened the game with a single for Triton followed by a Mena Farber single.  Gigi Lundi was hit by a pitch to load the bases.
Cleanup hitterr Cayleigh Sowieja ran the count full, fouled off a tough pitch, then clobbered a 2 run double.
Following a strikeout Liz Hukee hit an RBI single Gami Vermilyea executed a excellt bunt that loaded the bases before Wilson struck out the final two batters of the inning.
All nine batters came to the plate.
In the bottom of the first BA answered with 6 runs on 6 hits when 10 batters came tol the plate.
Anna Cohen, Reagan Kangas, Anna Tobin each cracked singles to start the hit parade.  Following a pop out, Morgan Wilson walked.  Sarah Tobin smacked a 2 RBI single.
Josie Rose hit an RBI single, Caitlin Bothun hit a full count single for 2 RBI.
Triton added a run in the second inning when Ross started the inning by walking.  Sjhe stole second base and was wild pitched to third.  She scored on a Cardinals error.
In the bottom of the second inning BA extended their lead to 8-4 by scoring two runs on 3 hits.
With one out Anna Tobin stroked a single.  The second out was recorded with Ally Knudson in the pitcher's circle for Triton.
Wilson hit a long single that bounced up against the center field fence scoring Tobin.  Joycelyn Simones came in to run for Wilson and stole second base.
Sarah Tobin hammered a double over the center fielder's head which scored Simones.  Sarah Tobin then stole third base but was stranded there.
The Cardinals had five more runs score in a 6-hit bottom of the third inning.  Five straight hits were recorded by Bothun, Lindsay Hanson, Cohen, Kangas, Anna Tobin before Trump was walked to load the bases.
Wilson then hit a line drive single scoring two runs.
The Cobras slithered by a run in the top of the 5th inning when 7 batters came to the plate.
Hukee opened the at bats by getting on base due to an error.  Following a strikeout Knudson executed an excellent bunt placing two runners on the bases.
Wilson recorded her 8th strikeout before Ross had an RBI single.
Vermilyea, a lefty, came in to pitch in the 4th inning and did not allow a run and just one hit.
In the bottom of the 5th the Cardinals ended the game by the 10-run rule.
Trump opened the inning with a double and stole third base during a strikeout.
Sarah Tobin walked.  Rose executed a perfect bunt that scored Trump.  Bothun then clobbered an RBI double that ended the game by bringing the 15th run in.
Morgan Wilson struck out 8, walked 2, hit 21 batters and allowed 7 hits.
Bethlehem Academy had 19 hits, lert 7 runners on base, 5 in scoring position.
Triton left 6 runners on the basepaths, 3 in scoring position.
Knudson pitched the first 3 innings for the Cobras with Vermilyea facing the last nine batters,
Triton dropped to 1-6.  BA is now 8-1.
The Cardinals go to United South Central Thursday for a 4:30 p.m. varsity start.
The Cobras host Blooming Prairie.
In other southern Minnesota fastpitch softball Monday:
Kenyon-Wanamingo   8      Maple River    0
Goodhue     3        Lyle/Pacelli    0
J-W-P     12     Medford     4
Randolph    10    Blooming Prairie    2
NRHEG    23    Hayfield    11
United South Central    3   Waterville-Elysian-Morristown    0
Kasson-Mantorville    6   Stewartville     4
Byron     10    Cannon Falls    0
Byron     7      Chatfield    4
Shakopee   14    Prior Lake    6
Shakopee    12   Prior Lake    2
Eastview    11   LeSueur-Henderson    1
Farmington   12   Burnsville   6
Lakeville South   18   Chanhassen   5
Mankato West   22   Austin    0
Rochester Lourdes   10    Waseca    5
Cotter    7     Dover-Eyota    2
Cleveland   14   Sibley East   6
Houston    9    Rushford-Peterson   2
Wabasha-Kellogg    26    GMLOK    1
LaCrescent   18   Mabel-Canton   1
Plainview-Elgin-Millville   8    Lake City  5
Belle  Plaine     12    St. James    0
LOOK: 50 images of winning moments from sports history
Sometimes images are the best way to honor the figures we've lost. When tragedy swiftly reminds us that sports are far from the most consequential thing in life, we can still look back on an athlete's winning moment that felt larger than life, remaining grateful for their sacrifice on the court and bringing joy to millions.
Read on to explore the full collection of 50 images Stacker compiled showcasing various iconic winning moments in sports history. Covering achievements from a multitude of sports, these images represent stunning personal achievements, team championships, and athletic perseverance.