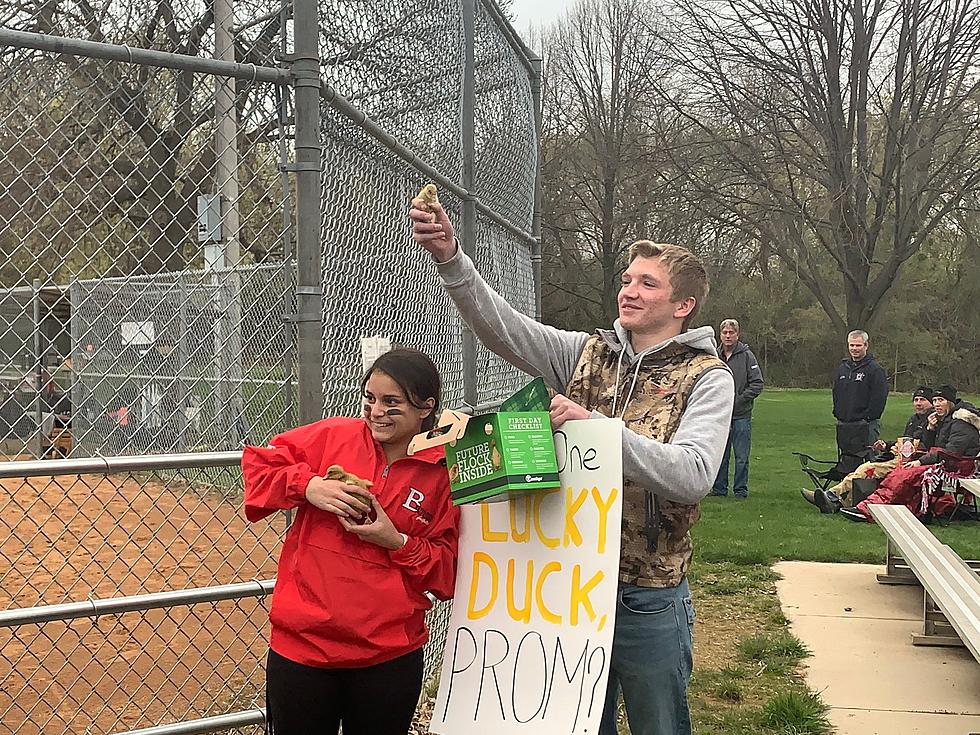 Bethlehem Academy Fastpitch Falls in Close Battle
Senior Isaac Caron bought some baby ducks to present classmate Malia Hunt along with sign asking her to BA Prom.
The Faribault Bethlehem Academy Cardinals fastpitch team never led in a 7-4 loss to Mayer Lutheran Friday at Alexander Park in Faribault.
The Crusaders scored a run in the top of the first inning after the first batter was walked and scored on a passed ball.  Six batters came to the plate to face starting pitcher Kate Trump.
The Cardinals tied the game in the bottom of the 5th inning when Malia Hunt used her speed to get around the bases and scored on an error.
The tie didn't last long.  Mayer Lutheran took advantage of 3 Bethlehem Academy errors in the top of the 6th inning to score three more runs.  Trump threw to the first two batters.  The first gained the basepaths due to an error and the next batter was hit by a pitch.
Head Coach Maren Viland brought eighth grader Morgan Wilson into the pitching circle.  Wilson got a ground ball off the bat of the first hitter faced but there was an error and two runs scored.
A single knocked in another run to make the score 4-1.
See all Southern Minnesota High School Sports Scores here
The Cardinals scratched out 3 runs in the top of the 6th inning to tie the game again.
After two outs to start the inning Eighth grader Anna Tobin and Kate Trump hit back to back singles.  Wilson was walked to load the bases.  Sophmore Lindsay Hanson knocked in a couple runs with a single.
Hunt walked with the bases loaded to tie the game at 4.  Nine batters came to the plate for the Cardinals.
The Crusaders scored three runs in the top of the 7th.  A single started the inning.  The next batter bunted and an error placed runners at second and third bases.
Following a ground out that scored a run and advanced a runner to second base there was a walk.  The next batter knocked in a pair of runs.
In the bottom of the 7th inning after two outs Tobin walked but a ground out ended the game.
Wilson suffered the loss after going the last two innings in the pitching circle.  Trump went 5 plus innings.
Mayer Lutheran had 9 hits in the game and Bethlehem Academy 10 hits.  Wilson had a one out triple in the second inning and did not score.
The difference was in the area of defense where the Bethlehem Academy scorebook did not indicate any Crusaders errors while the Cardinals had 5 miscues.
BA goes to Hayfield Monday for a game that is scheduled to be broadcast on KDHL 920 AM, 97.9 FM and the KDHL app.  Coverage will begin about 4:25 p.m.
Maybe one of these is your name.
LOOK: The most popular biblical baby names