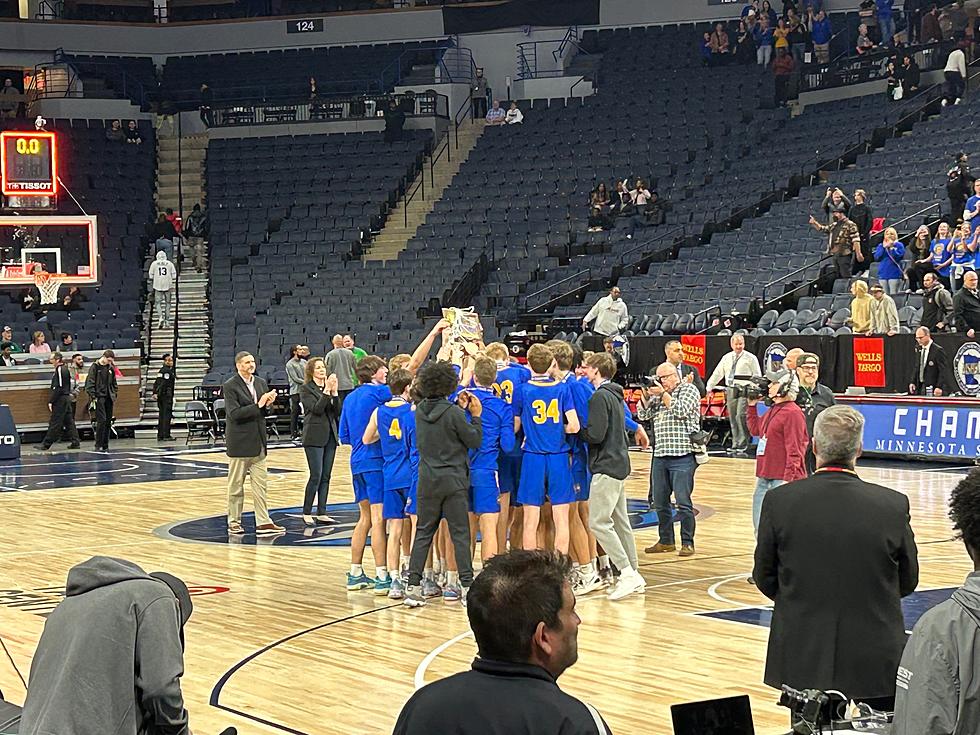 Wayzata Wins, Totino-Grace Repeats in Title Games
Wayzata Hoists Title Trophy. Photo by Gordy Kosfeld
Totino-Grace point guard Taison Chatman led his Eagles to a 50-46 win over DeLaSalle in a rematch of teams in the Class AAA state title game.
Chatman scored 20 points, added 12 rebounds and 4 assists at Target Center in Minneapolis.
The Islanders led at the half 20-19 in the game that featured 8 lead changes and 4 ties.
Metro Player of the Year Nasir Whitlock of DeLaSalle played every second of the game scoring 19 points, 5 rebounds, 4 assists. During the regular season he led the state in scoring averaging 27.7 points per contest.
The Eagles had 19 offensive rebounds outscoring DeLaSalle 10-4 in second chance points.  They also connected on two more three pointers (6-4).
Chatman, 6'4, has been listed as the state's top recruit for the Class of 2023 and is headed to Ohio State.
Whitlock, 6'1, is going to Lehigh University in Pennsylvania.
The Islanders scored 12 points off 17 Eagles turnovers while Totino-Grace led 22-20 in points in the paint.
In the first few minutes of the game each team missed a dunk.
Final layup tally was 4 of 7 for DeLaSalle, 3 of 12 for the Eagles.
The sneakers were squeaking on the hardwood home for the Timberwolves with both teams playing very good defense.
T-G shot 35% (18-52) from the field, 43% (6-14) from long range and a woeful 42%    (8-19) from the free throw line (8-19). 
DeLaSalle hit 34% (16-47) from the field, 23% (4-17) from downtown and 71% (10-14) from the charity stripe.
The first half had 7 lead changes and 4 ties.  The largest lead was 4 points for the Islanders, 3 points for the Eagles.
Totino-Grace built a 14-point lead with 6:43 to go but DeLaSalle did get back in the game with a 9-point run.
Chatman scored 11 points in the first half.
Tommy Humphries, senior, 6'5, had 11 points, 3 rebounds for the Eagles.  He has signed to play at Furman Univiversity in Greenville, South Carolina to play for the Paladins.
Patrick Bath, senior, 6'9, added 12 rebounds and 7 points.  He has offers from Cal Poly, Siena, South Dakota, Valparaiso, and Minnesota according to 247sports.com.
Isreal Moses V, senior, 6'4, finished with 11 points, 4 rebounds for the Islanders.
Totino-Grace repeats as Class AAA State Champions with a 24-8 record.
DeLaSalle was trying for their 13th State Championship and ended up with their 5th runner-up finish at 26-6.
The Eagles were ranked #1 with a #1 QRF.  The Islanders rated #3 in final Minnesota Basketball News had a #4 QRF in Class AAA.
Third Place Orono downed Alexandria Area 67-63
Consolation Champions Stewartville 56-55 over St. Francis.
Class AAAA title game was also a re-match. Wayzata avenged last year's loss with a 75-71 overtime win in the final game of the 2022-2023 Minnesota high school basketball season.
Trojans player Jackson McAndrew scored 8 of the team's 9 overtime points to fuel the win.
McAndrew, 6'9, junior, scored 25 points, 9 rebounds, 2 assists, 1 turnover.
Park Center dominated the glass (37-25) during the game but not the overtime.  McAndrew had 2 overtime rebounds to help his team keep pace.  The Pirates had a 4-3 advantage on the glass in the extra period.
Park Center was 1-7 from the field, 1-5 from long range in OT while the Trojans were 3 of 4 from the field. 1 of 2 on threes.
Wayzata point guard Hayden Tibbitts, senior, 5'11, had a rare turnover as time was winding down in regulation. Pirates guard Casmir Chavis, junior, 6'3, couldn't secure the victory on a layup attempt leaving the score 66-66 requiring overtime.
Park Center was paced by CJ O'Hara, senior, 6'4, with 21 points, 10 rebounds, 2 assists.  O'Hara was 6 of 10 from the field, 2 of 4 from three-point range and 7 of 8 from the free throw line.
Chavis finished with 16 points, 5 rebounds, 4 assists.  JJ Ware, senior, 6'5, had 11 points, 4 rebounds. Jake Schmitt, senior, 6'1, 13 points, 7 rebounds and Jackson Fowlkes, junior, 6'4, added 10 points, 3 rebounds.
Turnovers proved costly for Park Center.  They finished the game with 20 compared to 7 for the Trojans making points off turnovers 18-7 in favor of Wayzata.
The shot chart showed Park Center 11 of 20 in layups, Wayzata 11 of 18.
Park Center earns their second runnerup trophy in the past 10 years to go along with last year's championship.
Wayzata has their third state title and second in past three years.  They won in 1959, 2021 also.  It was their 8th trip to state.
The Pirates finish 28-3 after being ranked #1 all year by Minnesota Basketball News.  They also had #1 QRF.
The Trojans end the season 27-4.  They were ranked #3 in final MBBN Class AAAA listings,
Wayzata did have the #1 QRF.
Lakeville North defeated fellow South Suburban Conference member Eastview 83-70 for Third Place.
White Bear Lake Area got by Andover 68-64 for Consolation title/
13 Famous People Who Went Missing and Were Never Found
Discover 13 famous people and celebrities who went missing, below.