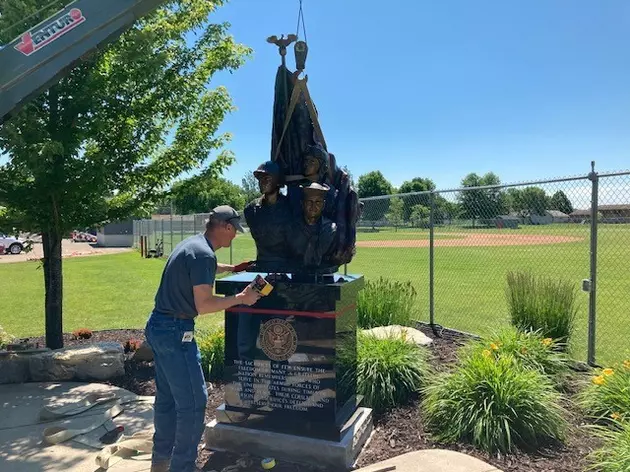 Wanamingo Veterans Memorial Completed
Wanamingo Veterans Memorial Sculpture Attachment to Base. Photo by Wanamingo Veterans Honor Guard
The Wanamingo Veterans Memorial received an addition this week in what they are calling Phase Two of their project.  The memorial sits next to the John Kuntz Baseball Field.
It's called Phase Two but was actually never envisioned when they dedicated the first portion in 2013.  I was privileged to be on hand for that dedication.  The first phase had a cost of approximately $100,000.
The second phase includes a bronze sculpture. The Wanamingo Veterans Honor Guard were able to raise approximately $42,500 in 11 months.  Matt Maring Auction Company of Kenyon assisted the group by selling a small replica of the six foot statue on his website.
An individual from Iowa was the top bidder.  The replica stood two feet and weighed 28 pounds.  The Wanamingo VFW joined the Honor Guard in promoting the sale with proceeds going to the Wanamingo Veterans Memorial.
The addition on the Wanamingo Veterans Memorial is entitled "Freedom is Not Free."  The bronze statue is on a granite base.  The monument represents all those who have served in every branch of the United States military.
Larry Van De Walker with the Wanamingo Veterans Honor Guard says they have not yet set a date to dedicate the, "Beautiful addition to the Memorial."
The monument was designed and sculpted by Marianne Caroselli of Oakes Ranch, Texas who only sells one of these per state.  Marianne Caroselli Bronze Sculptures has been painting and sculpting for three decades.  Marianne's work can be enjoyed in nine galleries in five states.
Some of her work has been included in the collections of celebrities like Wayne Newton and the late Burt Reynolds.