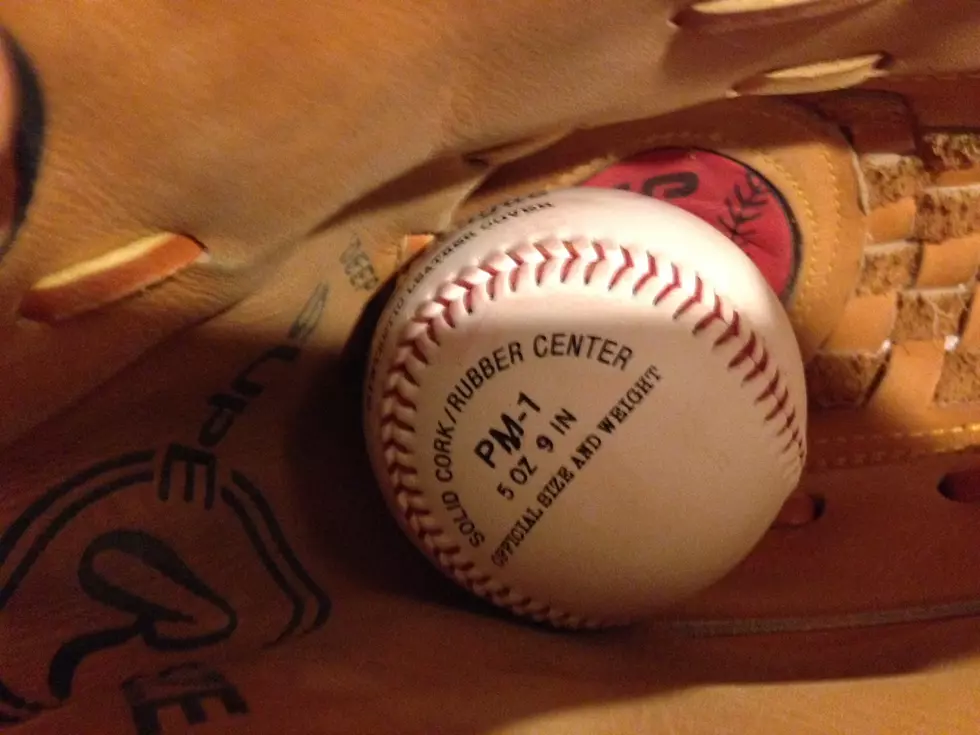 Rochester Lourdes Baseball in Unfamiliar Position
Baseball in Gordy's Glove Photo by Gordy Kosfeld
The Rochester Lourdes Eagles handed Zumbrota-Mazeppa their first Hiawatha Valley League loss today 5-1 in Zumbrota.
Typically, Lourdes has been an H-V-L power.  It was their second league win in five games this season.
Aidan Jahns, senior, allowed 2 hits to the Cougars while striking out 3 and walking 5.  Isaac Wenszell, junior. recorded the last out of the game, throwing 4 pitches, 3 strikes.
Jahns tallied 93 pitches in his 6 2/3 innings of work with 50 strikes.
Hudson Ohm, freshman, was the Z-M pitcher with the loss despite throwing well.  Ohm threw 92 pitches, 63 strikes, with 7 hits allowed in six innings.  He walked one batter and fanned seven.  Lourdes scored 3 runs, 2 earned off Ohm.
Jack Krier, junior, came on in the seventh inning for ZM allowing 1 hit, 2 earned runs with no walks or strikeouts.
Wenszell had 3 of Lourdes' 8 hits including a home run and 3 RBI for the Eagles.
Rochester Lourdes scored twice in the third inning.  Nicholas Bowron, sophomore hammered a triple to knock in the first run and scored on error off a ground ball hit by Jahns.
In the bottom of the third inning following an out Krier walked.  Zumbrota-Mazeppa had their second out.  During a Hunter Streit, junior, at bat, Krier stole second base.   Streit singled and Krier scored on the throw to attempt to get Streit out.
Lourdes added three runs in the top of the scheduled final inning (7th) of the game.
Owen Bruining, junior, began the inning for the Eagles with a single off Ohm.  Krier came in to pitch for the Cougars.
Bruining advanced to second base on a passed ball and third base on a another passed ball before scoring on a sacrifice fly off the bat of Easton Gasner, freshman.
Bowron was hit by a pitch before Wenszell hit the ball over the left field fence.
Following two ground outs in the bottom of the seventh inning, ZM had back-to-back walks of Benjamin Helfer, junior, and Connor Preston, senior.
Krier hit a ground ball to third and the third baseman stepped on the bag to get Helfer attempting to advance to that base.
Remember this year the Hiawatha Valley League is only counting the first game against a conference opponent as a conference game.
There are nine teams, so each team has 8 conference games.
I sat down to determine the standings, and this is what I came up with.
Cannon Falls            5             1   games left against Lake City & Z-M
Stewartville               4             1   games left with Z-M, Lourdes, Pine Island
Zumbrota-Mazeppa  3             1   games left with Stew, Byron, Goodhue, CF
Byron                        3             2   games left with ZM, Goodhue, Pine Island
Pine Island                3             2   games left with K-M, Stewartville, Byron          Kasson-Mantorville   3             3   remaining   Lourdes, Pine Island                            Roch. Lourdes          2             3   remaining Stewartville, K-M, Lake City
Lake City                  1              5   games left with Cannon Falls, Lourdes
Goodhue                  0              6   remaining are Byron, Zumbrota-Mazeppa
Other Saturday high school baseball scores:
Maple Grove    3   Owatonna    0
Stewartville    7    Austin     3
Shakopee    14    New Prague   3
Worthington at Waseca   Postponed
Rochester Century at Apple Valley    Postponed
LaCrescent at Jordan      Postponed
Huge Minnesota Property for Sale with Indoor Pool and 1950s Malt Shop
This property in Minnesota is so huge and has so many ridiculous amenities it should be turned into a resort.