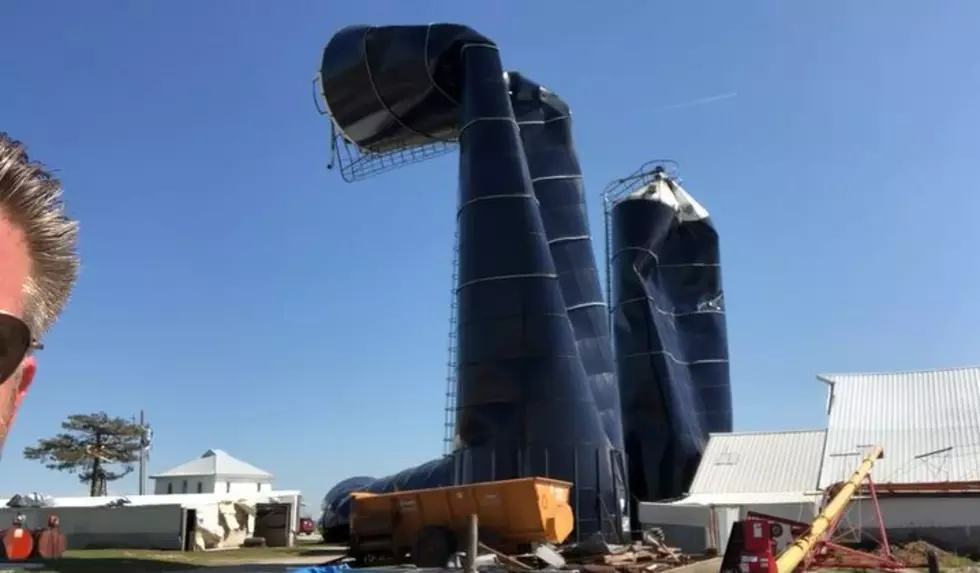 [WATCH] Behold The Power of Mother Nature
Image Credit:
Justin Michaels via Facebook
Until early last week I had never heard of a Derecho Wind. I suspect maybe you had never heard it either? Now we all know how devastating a Derecho can be. I looked up the definition of a Derecho Wind. It is a "long-lived wind storm. They are associated with bands of rapidly moving showers or thunderstorms known as bow echoes, squall lines or quasi-linear convective systems."  Another words in a huger windstorm that covered a large area.
Click on the link and watch a video recorded by Justin Michaels for the Weather Channel. The farm with the Harvestore silos is by Belle Plaine Iowa. It is difficult to comprehend the power of Mother Nature to crush or topple a steel silo! Thinking about this storm moving all the way across Iowa, Indiana, Illinois, part of Nebraska and Michigan is incredible. You really have to feel for all those farmers with their corn flattened and all those grain bins and corn dryers that were destroyed!

Then again farmers in Rice County know what it's like to have your corn flattened and grain systems destroyed just before harvest. It was 2 years ago in September that multiple tornadoes hit Rice County.
CHASING WATERFALLS: This Scenic Minnesota Waterfall Loop is the Perfect Weekend Road Trip