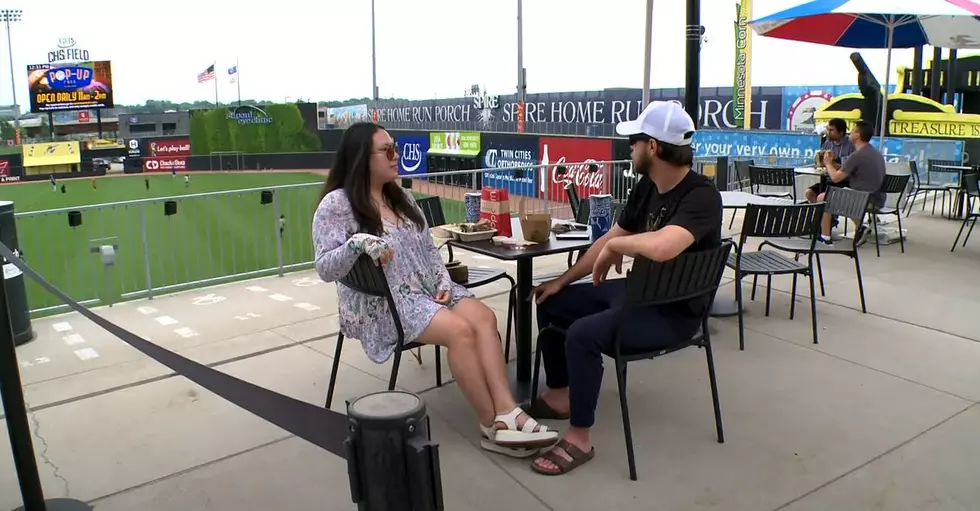 Pop-Up Cafe Opens at St. Paul Saints' CHS Field
Andy McDonnell, KARE 11
Baseball may not be happening right now but there is a different way that we can enjoy the baseball atmosphere: at the new Pop-Up Cafe at CHS Field!
The St. Paul Saints have opened a Pop-Up Cafe for lunch hours at CHS Field. Some diners can have an amazing view of the field while they eat. They just opened up for business last Monday, the 15th.
Like I mentioned, the Pop-Up Cafe is only open during lunch hours, 11 AM - 2 PM, every day. They are abiding by social distancing rules, of course, and have plenty of space between tables. Andy McDonnell from KARE 11 did a story about the new Pop-Up Cafe showing the cool atmosphere you can grab lunch in.
Just like with all other restaurants right now, you need to make a reservation with the Pop-Up Cafe. You can do that HERE. Also important to note, they only accept credit cards, according to their site, no cash will be accepted.
The menu offers some classic ballpark foods. Here is what you can find on the menu at their Pop-Up Cafe:
Steak Frites
Fried Cheese
Salad
Tossed Tenders
Taco MTWTHF
Cheeseburger & Fries
French Onion Bacon Burger
Spicy Blue Burger
Black Bean Burger
Shaved Beef Hoagie
Gourmet Dog
Ice Cream Waffle Cone
Saints Helmet Sundae
Canned Cocktails, Assorted Beers & Select Wines
You can take a look at the menu more in-depth HERE. But this sounds like a pretty tasty and also unique place to grab lunch one of these nice Minnesota days!
Enter your number to get our free mobile app
Hang out with Carly Ross on Kat Kountry 105 weekdays 6 - 10 AM,
The Mighty 920 KDHL weekdays 9 AM - Noon,
and 106.9 KROC weekdays 9 AM - Noon!
7 Twin-Cities Restaurants Recommended By Guy Fieri