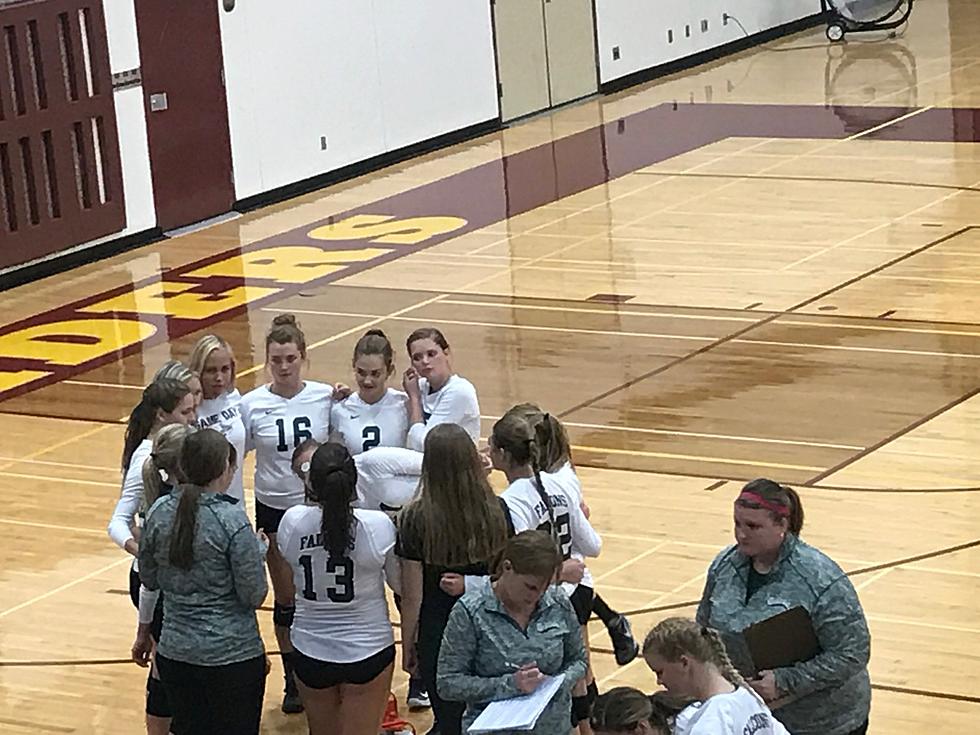 Northfield Volleyball Dominates Faribault
Falcons Huddle at Northfield. photo by Gordy Kosfeld
The Northfield Raiders volleyball team showed everyone Thursday night why they are one of the favorites to win the Big Nine Conference this fall.
The Raiders swept the Faribault Falcons by scores of 25-9, 25-16 and 25-19.
Faribault began the match on fire, jumping out to a 3-0 lead following an ace serve by senior Morgan West.
After taking a 5-3 lead, Northfield freshman libero Emma Torstenson served up over 15 straight points to pull away for good.
The Raiders were impressive.
Five-foot-7 senior setter Brynne Gray made nearly every kind of set a player can make during the match in large part due to some very good passing. Junior middle hitter Linnea Larson put down quick set after quick set and had 10 kills by my count to lead the Raiders attack.
The Falcons were playing without starting middle hitter Alexis West due to a sprained ankle and got back junior middle hitter Ellie Knutson, who suffered the same injury.
Faribault had a number of hitting errors in the contest, with many attempted kills sailing long or wide by quite a distance.
Like Lakeville North earlier this week, Northfield has multiple talented hitters, meaning you can't key on any particular person. That makes a very good offense that's hard to stop. In my mind the Panthers and Raiders are the top teams in Section 1 Class 3A this season.
Senior Lauren Isaacson led the Falcon hitting attack again but didn't have the proficiency shown in the New Prague match in Faribault's season opener last Friday.
I tallied a combined 20 hitting, service and blocking errors for Faribault in the match.
The Faribault State Farm Insurance Agents Faribault players of the match were junior McKayla Armbruster and senior Jordan Houge. I felt they were the most consistent players on the court for Faribault, making the fewest errors.
The Falcons (1-1) home opener is Tuesday against Chanhassen while Northfield is at Farmington on Tuesday. The Tigers ousted the Raiders (3-0) from the playoffs last season.