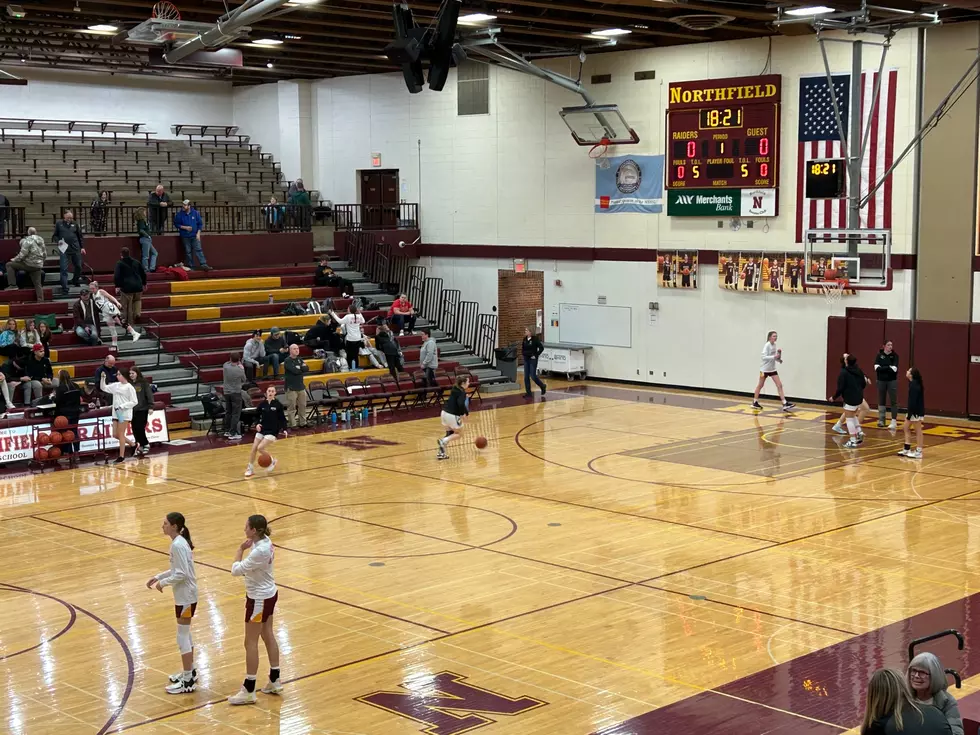 Northfield Girls Ratchet Up Defense in Win Over Faribault
Northfield Gym. Photo by Gordy Kosfeld
The Northfield Raiders and Faribault Falcons girls basketball teams are evenly matched.  Their two games this season are proof of that.
In early December in Faribault the Raiders trailed most of the game but got Faribault's lone senior, Isabel Herda to foul out with 3:29 to go and finished strong for the 47-43 win.
Friday night in Northfield a similar game was seen with Northfield leading 18-14 at the half, Faribault came back and had a 7 point lead with about 6 minutes to go but the Raiders stepped up their defense and hit their free throws down the stretch to pull out a 43-34 victory.
Faribault finished the game with 28 turnovers, Northfield scoring 17 points off them while the Raiders had 15 turnovers and the Falcons scored 4 points off those.
That was clearly the difference in the game along with free throws and bench scoring.
Northfield was 10 of 17, Faribault 4 of 10 from the free throw line.
Falcons had 3 points from their bench compared to 10 from Northfield.
The Raiders had a 18-14 first half lead which they probably felt should have been larger because the Falcons had 17 first half turnovers that Northfield converted into 9 points.
Raiders finished first half with 8 turnovers, 2 points scored by Falcons.
The Cashwise Foods and Pharmacy of Owatonna Delivery of the Game went to Northfield's Tatum Sawyer.  The freshman hit some clutch free throws to extend the lead late and led her team in scoring with 10 points.
Amira Williams, 8th grade student was top scorer for the Falcons with 11 points. She was the Malecha's Auto Body of Faribault Crunch Time Faribault Player of the Game
With the win Northfield is 3-8 in the Big Nine, 3-11 overall and Faribault fell to 3-9 in league play, 4-12 overall.
The Falcons host Winona Tuesday while Northfield goes to Rochester John Marshall.  Both games are scheduled to have varsity start at 7:30 p.m.
Here are some other girls basketball scores from the area:
Bethlehem Academy 52  Medford 44
Hayfield 60  Maple River 34
Kenyon-Wanamingo 55  Waterville-Elysian-Morristown 49
NRHEG 52 Randolph 48
United South Central 56  Immanuel Lutheran 28
Orono 57  New Prague 49
St. Clair 63  Mankato Loyola 36
Lanesboro 70 Leroy-Ostrander 49
GHEC-Truman-Martin Luther 59  Cleveland 54
Alden-Conger/Glenville-Emmons 70  Madelia 53
Grand Meadow 51  Southland 32
Lake City 47   Cannon Falls 35
Blooming Prairie 55  Janesville-Waldorf-Pemberton 41
Mabel-Canton 66  Lyle-Pacelli 36
Mayer Lutheran 80  Sibley East 40
Rochester Lourdes 61  Pine Island 14
Kingsland 52  Spring Grove 30
Norwood-Young America 53  Tri-City United 47
Red Wing 60  Albert Lea 44
Austin 81  Rochester John Marshall 54
Waseca 42  Fairmont 36
Owatonna 48  Mankato East 37
Rochester Century 59  Mankato West 44
Rochester Mayo 64  Winona 53
See What Minnesota's License Plates Looked Like The Year You Were Born
Nothing beats a nostalgia trip. It's always fun to see how things looked the year you were born and how much they've changed throughout the years.
Minnesota's license plates have certainly gone through many evolutions. The first "license plate" was actually a rectangular black leather automobile license tag with a brass number '1' on the center front. It was issued by the State Boiler Inspector in the State of Minnesota in 1903.
The first Minnesota license plate as we know it was issued in 1909. Let's take a look at that license plate and then all the plates that followed, along with some interesting
Wikipedia
knowledge as we go. We've certainly come a long way!