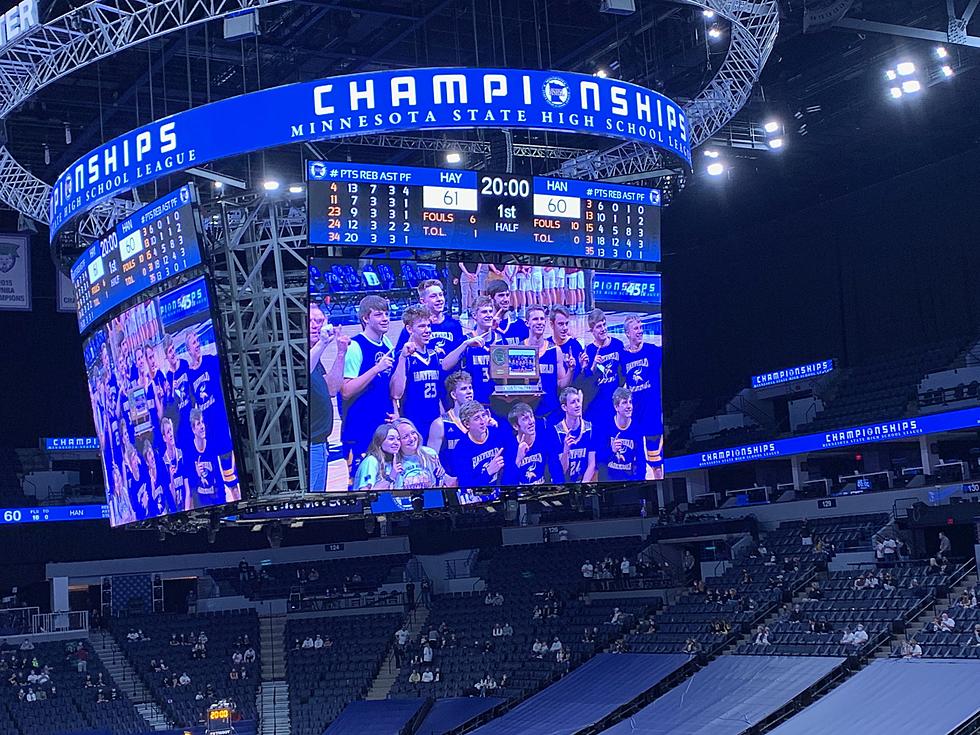 New Life Academy, Spring Grove Advance in Class A Basketball Semis
Hayfield MSHSL Class A 2021 State Boys Basketball Champions. File Photo by Gordy Kosfeld
New Life Academy topped Sacred Heart 62-46 in Williams Arena today on the University of Minnesota campus.
The Quarterfinals round game in MSHSL Class A tournament sets up a Semifinals game 2:00 p.m. Friday, March 24, 2023 at Target Center.
The Eagles flew to a 29-15 halftime lead and never looked back in their start to finish dominance of the Eagles of Sacred Heart.
New Life Academy (25-5) of Woodbury was by Erick Reader, senior, 6'8, with 14 points, 12 rebounds on 5 of 9 shooting from the field.  Colton Hendricks, senior, 6'7, added 11 points, 6 rebounds.
Sacred Heart had no player in double figures. N-L-A owned the glass with a 49-25 rebounding edge.
New Life Academy #2 seed in the tournament was the highest Minnesota Basketball News rated team in the field.  MBBN had them #3 behind Goodhue and Cass Lake-Bena.
Sacred Heart was ranked 15th by Minnesota Basketball News in their final poll.
N-L-A plays Spring Grove (30-1) at 2:00 p.m. on Friday, March 24, 2023 on KDHL in Target Center.
The Lions are the #3 seed in the Class A Tournament.  Their only loss was to Dawson-Boyd on December 27, 2022.  They were ranked #7 in the final Minnesota Basketball News ratings.
Spring Grove defeated top rated Goodhue to win the Section 1A title and advance to state.  The Lions won 39-38 against 2A Champion Mankato Loyola in a thriller.
The Crusaders (22-9) were not rated in the final MBBN rankings but did appear in them during the season.
Spring Grove controls tempo by having long possessions on offense and plays very good half court defense.
When Goodhue was making an incredible run to get back into their Section title game, they forced the Lions into turnovers by getting the pace up with full court pressure instead of allowing them to have long offensive possessions.
Loyola was behind by 5 points with 1:09 to go but just could not get over the hump.
The Crusaders trailed 17-14 at the halfway mark.
The final statistics were as close as the score with the only exception being points in the paint where Spring Grove scored 20 points.  Mankato Loyola had 12 points in the lane.
The Crusaders had 6 three point baskets.  Spring Grove finished with 4.
The Lions were 5 of 7 from the free throw line while Mankato Loyola finished with 4 of 7.
Elijah Solum, junior, 6'1, led all players with 16 points.  Caleb Griffin,5'11, senior added 9 points.  Jaxson Strinmoen, junior, 6'5, had 8 rebounds to go along with 5 points for the victors.
Mankato Loyola had no players achieve double digit points.  They were led by Lawson Godfrey,.. 6'2, senior and Jake Sizer, senior, 6'4. each with 9 points.
Sizer had 5 rebounds.
LOOK: Biggest underdog victories in March Madness
Every spring, legions of sports fans turn their attention to college basketball when
March Madness
takes the national spotlight. Using aggregated Associated Press data, BestOdds has come up with 10 of the biggest—and most unlikely—underdog wins in March Madness history.