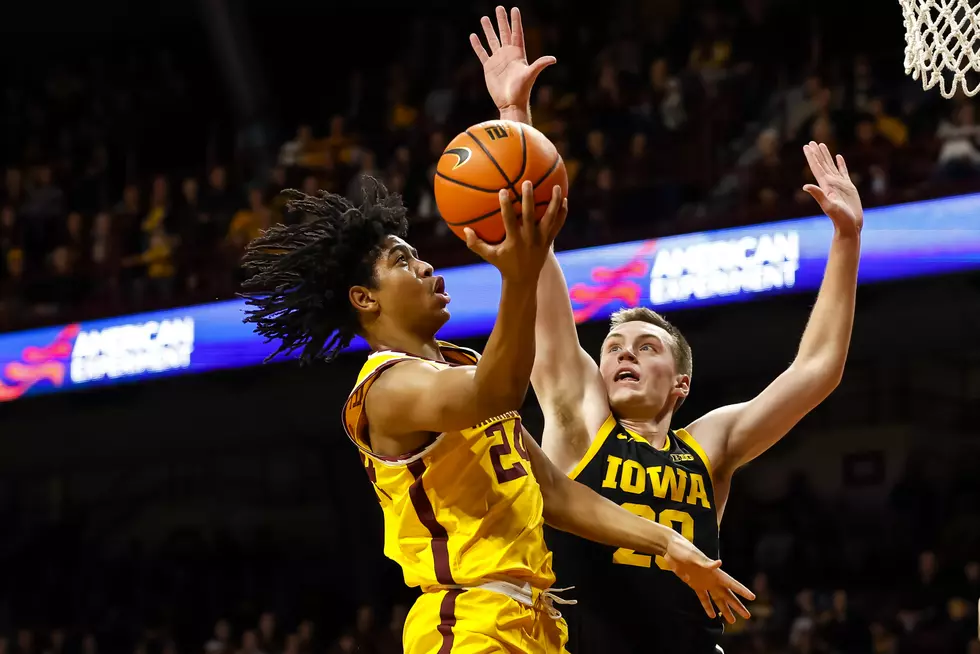 Murray Scores 28 with 14 boards; Iowa beats Minnesota 68-56
Getty Images
MINNEAPOLIS (AP) — Kris Murray had 28 points, 14 rebounds, three steals and two blocks to help Iowa beat Minnesota 68-56 Sunday and hand the Golden Gophers their eighth consecutive loss.
Filip Rebraca added 16 points and eight rebounds for Iowa (16-9, 8-6 Big Ten).
The Hawkeyes, who had their three-game win streak snapped by an 87-83 loss at No. 1 Purdue last time out, never trailed against Minnesota.
Tony Perkins hit a jumper to open the scoring, then followed with a three-point play to spark an 18-6 opening run that included six points by Rebraca. The Gophers cut their deficit to two points on three occasions — the last coming when Joshua Ola-Joseph hit a 3-pointer that made it 39-37 with 16:53 — but got no closer.
Murray hit a 3-pointer and then threw down a dunk to cap a 10-1 run that gave Iowa a 66-52 lead with 2:54 to play.
Ola-Joseph led the Gophers with 11 points. Ta'lon Cooper and Jaden Henley each scored 10.
Minnesota (7-16, 1-12) has lost nine of its last 10 games.
The Golden Gophers had a game at Illinois — that was originally scheduled for Tuesday — rescheduled for Feb. 20 due to COVID-19 protocols within the Minnesota program.
UP NEXT
Iowa returns home to play Ohio State on Thursday
Minnesota hits the road to play Wednesday at Michigan State
Goosebumps and other bodily reactions, explained