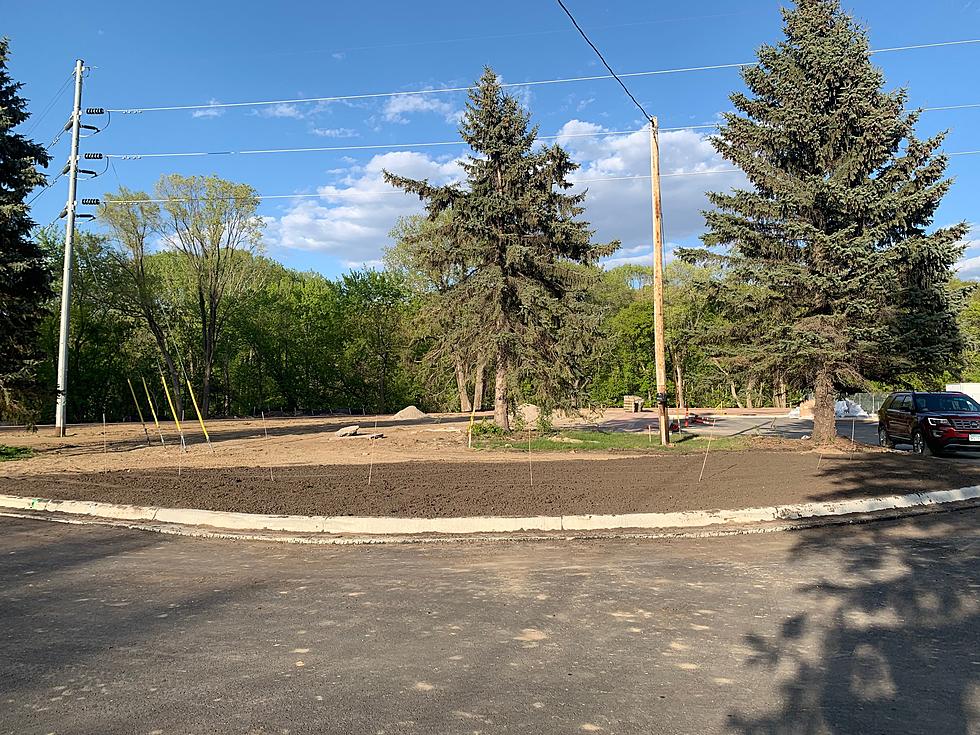 Meet the New Faribault Fleckenstein Bluffs Park
Fleckenstein Bluffs Park View from West. Photo by Gordy Kosfeld
Faribault Mayor Kevin Voracek informed KDHL listeners today the City Council has decided the name for a new park east of Trail's Edge Apartments will be Fleckenstein Bluffs.
A new apartment complex is being constructed south of the future park.  I stopped by to click a few photos of the area  which includes some mature trees.  The Straight River to the east with the bluffs and caves east of the river.
I snapped a photo off my computer monitor of a drawing with plans for the park.
It looks like Fleckenstein Bluffs Park will be a very nice place to enjoy the scenery for decades to come.
The sidewalks appear to be completed.  Likewise the curbing and parking lots are in.
The Council approved a resolution ordering the improvements and establishing the bid date for a park shelter building that includes restrooms.  Mayor Voracek called the shelter a "more modern" structure than other shelters in the city.  According to the drawing it will be 277 square feet.
The bid date has been sent for June 2, 2021 at 2:00 p.m. at Faribault City Hall.
Anticipated start date would be late June.
The Faribault City Council included it in the 2021 Capital Improvement Plan.
Voracek says the name for the park was decided to be either after a prominant woman of Faribault or some historical reference.
Fleckenstein was chosen because of it's proximity to the old brewery site.  Obviously it has historical significance.
It won't be long after this is completed the city will be working on it's latest park project.  The massive greenspace south of the Crooked Pint just north of the Viaduct.
I have envisioned a big townsquare there like the townsquares you see in many communities in Europe.
String lights along the Viaduct that could be different colors each month with coinciding colored lights in the townsquare below.
Orange or pink  in October, green and red in December, red in February, etc.
I'm sure the city would love to hear any ideas you might have for the greenspace between Crooked Pint and the Viaduct.
Let's name it Hammond Park after the first woman Mayor of Faribault.
."}" data-sheets-userformat="{"2":33554688,"11":4 ,"28":1}">