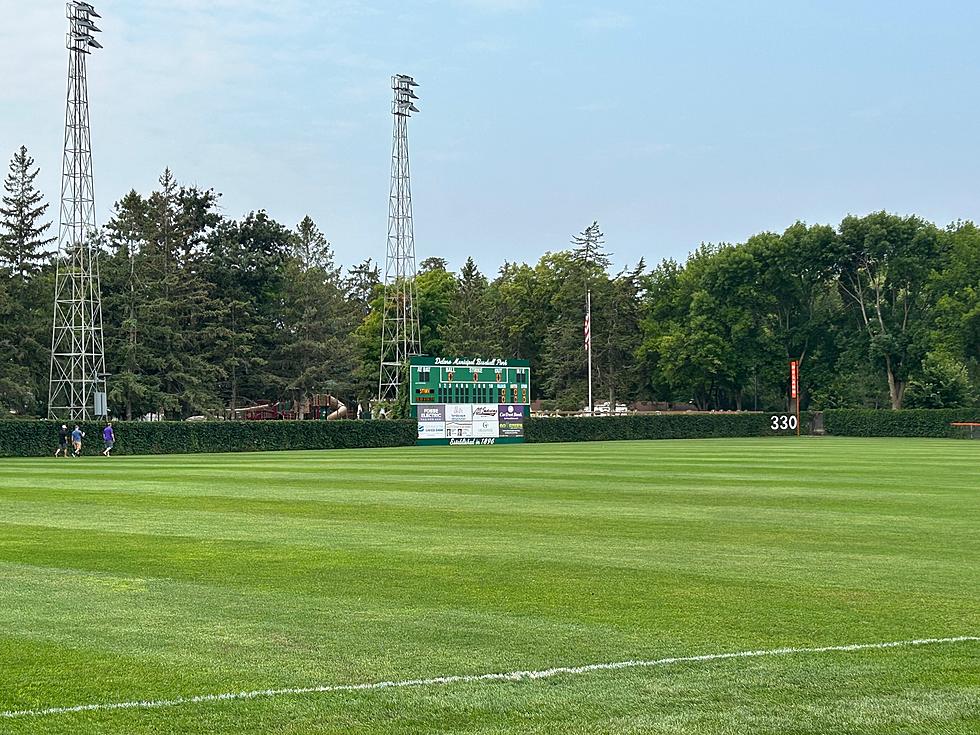 Maple Lake Wins 4th State Amateur Baseball Title
Delano Scoreboard 2023. Photo by Gordy Kosfeld
The Maple Lake Lakers made quite a splash in Delano today with a 6-4 win over the Bird Island Bullfrogs in the Class C Championship game.
It's their first title since 2012 in their 33rd State Tournament appearance.
The Lakers were the #3 seed out of Region 12 with Delano and Hutchinson ahead of them.
The Bullfrogs were Region 4 Champions.
Bird Island has never won a title.  The Bullfrogs had their highest finish in their 10th state run attempt.
Both teams scored a run in the third inning before Maple Lake scored 2 runs in the 4th and added 3 runs in the top of the 6th inning to pull away.  Bird Island did scratch out a run in the bottom of the 9th.
Line totals were:
Maple Lake    6 runs  8 hits    2 errors
Bird Island    4 runs   10 hits   3 errors
Both teams had draftees start the title tilt.  Aiden Smith with Rockford was the winning pitcher going 6.1 innings with 6 hits, 2 runs allowed, 3 strikeouts, 3 walks, 1 hit batter.
Jordan Flick of Dassel-Cokato pitched 2.2 innings with 4 hits, 2 runs, 1 earned, 2 strikeouts and 1 wild pitch.
Bird Island started Charlie Jacobson of Marshall who went the first 3 innings with 3 hits, 3 runs, 1 walk, 5 strikeouts, 4 hit batters.
Mitchell Bowman of Marshall threw the next 1.2 innings giving up 1 hit with 1 strikeout, 1 hit batter, 1 wild pitch.
Jared Dettmann threw 2 innings with 3 hits allowed, 3 runs, 2 earned, 2 walks, 1 strikeout.
Jordan Sagedahl finished the game with 2.1 innings of scoreless relief on 1 hit with a strikeout and a walk.
Maple Lake had no extra base hits while Bird Island smacked two doubles.
Hunter Malachek led the Lakers with 3 hits and RBI. Ben Clapp added 2 hits and RBI and Donnie Mavencamp had 2 RBI with 1 hit.
The Bullfrogs Logan Swann tallied 3 hits.  James Woelfel had 2 hits including a double and 3 RBI, Aiden Elfring finished with 2 hits and an RBI. Dylan Gass cracked a double.
Maple Lake has won state titles in 1931,1939, 2012 and now 2023.
Class C Fred Roufs MVP Award went to Hunter Malachek of Maple Lake after hitting .608 (14 of 23) with 4 RBI, 9 runs scored and earning 3 wins pitching with a 3.75 ERA, 24 innings pitched, 19 strikeouts, 11 walks, 17 hits,10 runs allowed, 2 home runs, 1 hit batter, 2 wild pitches.
Mike Davison Most Outstanding Pitcher Award- Tommy Thompson of Jordan Brewers, 2-0 record, 14 innings pitched, 1 run, 0.63 ERA, 3 hits, 23 strikeouts, 1 walk.
MaxBat Maple Slugger Award earned by Ben Clapp, Maple Lake hit .625 with .645 on base percentage.  15 hits, 9 RBI, 8 runs scored, 2 walks, 3 hit-by-pitch, 1 home run, 4 doubles.
JM Brennan Sportsmanship Award goes to Hutchinson Huskies.
DuraEdge Field of the Year is William J. Grose Field in Waterville.
The final attendance figure given for the tournament was 28,007 the largest attendance according to the MBA records since 1953 when New Ulm hosted 31,031 people.
Last year's tournaments in Dundas, Faribault and Miesville drew 18,011.
This year host Delano's team went to the final weekend and fellow region teams Hutchinson and Maple Lake did very well.
Class A teams were added to Class B doubling the number of teams.
Next year Belle Plaine, Jordan and Green Isle are hosts.
The Class B All-Tournament Team and Awards were announced today,
State Class B Champions Air Freight Unlimited received the JD Brennan Sportsmanship Award.
Max Bat Maple Slugger Award went to Brian Hansen with Cold Spring for hitting .467 (7 for 15) .667 slugging percentage, .529 on-base percentage, 6 RBI, 4 runs, 3 doubles.
Mike Davison Award for the Most Outstanding Pitcher was Graham Laubscher of Air Freight Unlimited.
Laubscher was also named Fred Roufs MVP while breaking the tournament record for strikeouts with 60 in 29 innings pitched.  3 complete game wins and a 2-inning save.
He gave up 6 hits, 1 home run, 3 runs, 4 walks, 60 strikeouts, 1 hit batter
Against Northfield in the opener he allowed 2 hits with 13 strikeouts in a shutout.  Then a 4-1 win over Minneapolis Angels 1 hit, 2 walks, 1 hit batter, 21 strikeouts.
Sunday, September 3, 2023 in a win over Minnetonka he gave up 3 hits including a homer, 2 runs, 2 walks, 21 strikeouts.
Laubscher threw 2 innings of relief in title game against Shakopee earning a save while striking out 5 batters.
Air Freight Unlimited was the Class A State Champion in 2021.
Dura Edge Class B Field of the Year went to Jack Ruhr Field in Miesville.
Ryan Friedges of St. Patrick was named to the Class B All-Tournament Team.
Amazing Log Cabin for Sale in Minnesota Is Only $500,000!
If you've ever been dreaming of living in a log cabin, a house in Northern Minnesota is calling your name! And according to other log cabins that I've seen for sale in this state, this house is a great deal.
The log cabin at 22882 370th Street in Bagley, Minnesota sits on 40 acres and has 3 bedrooms, 2 baths, gorgeous staircase with a balcony that overlooks the main floor, a screened in 3 season porch, finished basement, and several outbuildings. It is just gorgeous and right now, it is listed for $500,000 by Carrie Wirth with HomeSmart Adventure Realty.