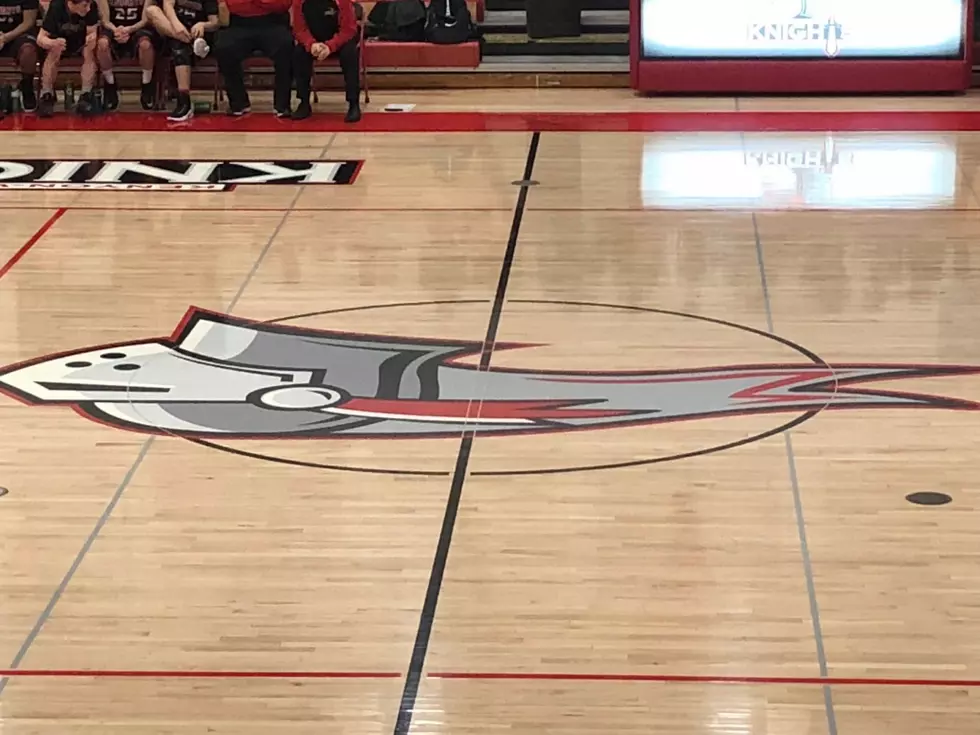 Kenyon-Wanamingo Hits 9 Threes in Win Over Triton
Kenyon-Wanamingo Castle Knight Logo. Photo by Gordy Kosfeld
The Kenyon-Wanamingo Knights had four different players score three point baskets in a 60-47 win over the Triton Cobras in the Castle tonight.
Senior 6'3 Laden Nerison led the Knights scoring with 19 points including two three point baskets. Junior 5'11 Anjuan Higgenbottom drilled four three point buckets. Sophmore 6'2 Colton Stebeg added two and senio 5'10 Gavin Sommer one.
The Cobras had three triples in the game which at times was sloppy.
K-W led 34-25 at the half thanks to Nerison's 14 first half points.  The Knights were playing without the services of senior Luke Alme, out with a shoulder injury.  Classmate Trevor Steberg came out of the game with what appeared to be a shoulder injury also.
Younger brother Colton Steberg stepped up to score 6 points and had to have about 5 or 6 rebounds in the game.
Higgenbottom finished with 16 points and made a great pass to 6'8 senior Paul Kortsch.
Steberg and Higgenbottom earned Held Bus Service of Kenyon Knights of the game honors for their efforts.
Nerison had the Cashwise Foods and Pharmacy of Owatonna Delivery of the Game not only for delivering his 19 point performance but he also delivered a spectacular bounce pass from about 8 feet across midcourt to Sommer that led to a easy layup.
Triton's leading scorers were seniors, 6'0 Owen Petersohn with 16 points and 6'1 Noah Thomas with 10 points.
The Cobras did not shoot a single free throw the second half and finished the game 2 for 5 while the Knights finished 5 of 7 from the charity stripe.
One of the statistics that determined the outcome of the game was points off turnovers.
Kenyon-Wanamingo scored 18 points off 19 Triton turnovers while the Cobras had 10 points off 17 Knights miscues.
Triton fell to 2-2 overall, 1-1 in Gopher Conference play while K-W is 4-1 in the league, 4-2 overall.
The Knights are at Bethlehem Academy Tuesday night.  The game will be on KDHL Radio, 920 AM, 97.9 FM or the FREE KDHL app.
The Cobras host Randolph Tuesday night and will be off for the holidays.
Other Monday boys basketball scores in the region included:
Rushford-Peterson 66 Schaeffer Academy 30
Plainview-Elgin-Millville 67  Zumbrota-Mazeppa 40
Owatonna  72  Northfield 56
Rochester Lourdes 72  Dover-Eyota 46
Lewiston-Altura 66  Cotter 25
Chanhassen 66  Prior Lake  62
Madelia 78  Cleveland 45
Monday girls basketball scores:
Mayer Lutheran 75  Morris Area/Chokio-Alberta 50
AC/GE 51  Mankato Loyola 47
Waterville-Elysian-Morristown 66  Randolph 48
Nicollet 57  Cleveland 42
Rochester Century 42  Red Wing 34
Gibbon-Fairfax-Winthrop 43  Sibley East 33
Rushford-Peterson 64  Schaeffer Academy 17
This will tug on the heartstrings.
See Country Stars Who Know #StJudeWontStop
Are you thinking about a winter golf trip?
LOOK: Here are the 10 US golf destinations with the most courses per capita
Discover where you can find the best access in the country for your pick of courses, the unique terrain that lends itself to world-class golf, and what makes select clubs noteworthy.