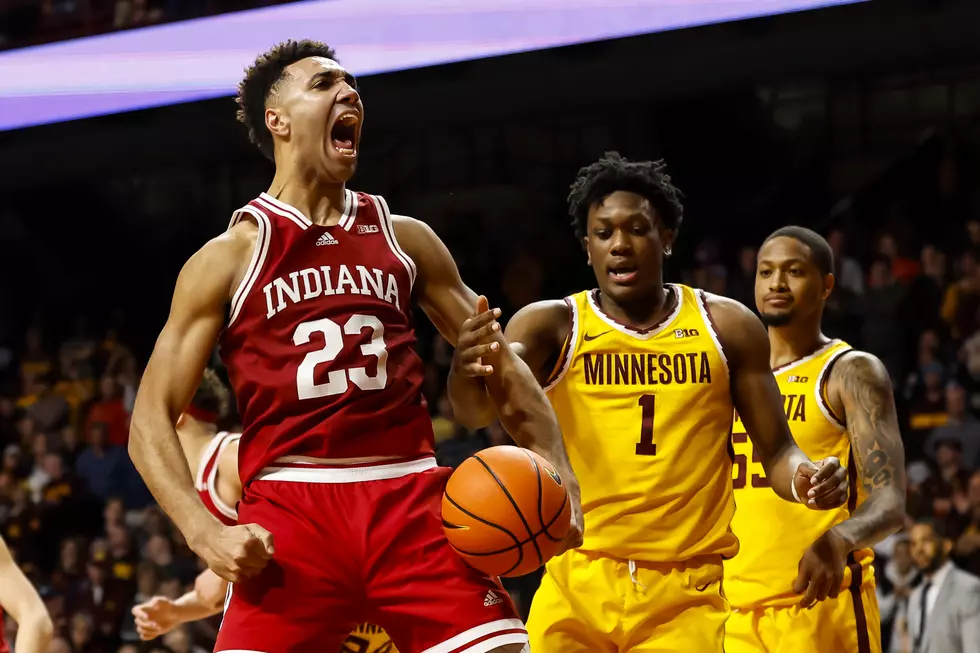 Indiana's Jackson-Davis Has 20-20 Game, Gophers Fall to Hoosiers
Getty Images
MINNEAPOLIS (AP) — Trayce Jackson-Davis had 25 points and 21 rebounds, and scored the go-ahead basket in the final minute to lead Indiana to a 61-57 victory over short-handed Minnesota on Wednesday night.
Indiana's Race Thompson made the first of two free-throw attempts to tie the score at 57 with 43 seconds remaining. After the missed second free throw, Jackson-Davis grabbed the offensive rebound and scored on the putback for a 59-57 lead.
After Minnesota's Ta'lon Cooper missed a 3-pointer, Trey Galloway hit two free throws with eight seconds left for the Hoosiers.
Jackson-Davis blocked Cooper's layup with four seconds left and, after an offensive rebound, Joshua Ola-Joseph missed a jumper for the Golden Gophers.
Minnesota was without leading scorer Dawson Garcia (14.9 ppg), out with an ankle injury. Also, backup forward Pharrel Payne was out with a concussion. Without Garcia and Payne, the Golden Gophers were down to seven available scholarship players. Only three of them — Cooper, Ola-Joseph and Jamison Battle — average more than four points.
Indiana coach Mike Woodson, who is recovering from COVID-19, missed the game. Associate head coach Yasir Rosemond took over in Woodson's absence.
A driving layup by Jackson-Davis gave the Hoosiers a 47-40 lead with 12:40 remaining in the second half before Minnesota tied it with a 7-0 run. After a dunk by Jackson-Davis put Indiana up by two, the Golden Gophers took their first lead of the half on a 3-pointer by Battle.
Jackson-Davis was the only player to make a shot in the final 6:22.
Taurus Samuels hit two free throws for a 57-54 Minnesota lead with 3:20 remaining and the Gophers did not score again.
Miller Kopp scored 11 points and Malik Reneau added 10 for Indiana (14-6, 5-4 Big Ten). Jackson-Davis had six blocks.
Battle led Minnesota (7-12, 1-8) with 20 points. Minnesota shot 34.4%, made 5 of 25 3-pointers (4 of 9 for Battle), but kept it close by committing only five turnovers.
The Gophers went six minutes without a field goal in one stretch of the first half and saw a 21-16 lead turn into a 26-24 deficit with 3:01 to go. Kopp hit a 3-pointer with five seconds left to give Indiana a 33-30 halftime lead.
NEXT UP: Which is Your Favorite MN Sports Venue?