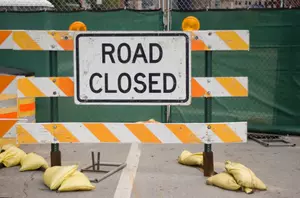 I-35 Southbound Closed Near Clarks Grove Due to Multi-Car Crash
Thinkstock
According to MnDOT, I-35 Southbound near Clarks Grove and North of Albert Lea is closed due to a multi-vehicle crash. Drivers are being detoured to Highway 251 East to Freeborn Co. Road 26 South to I-90 West.
It could take several hours to clear the crash scene, MnDOT reports. Major travel delays can be expected.
The roads are icy with strong winds and blowing snow in Southeast Minnesota. Please drive carefully, driving is difficult right now.
Some photos of the crash have been posted on MnDOT Southeast Minnesota's Facebook page.
In MnDOT's news release, they say that law enforcement has reported driving to be difficult on I-90 in Mower County, Highway 14 between Dodge Center and I-35, as well as other areas in Southeast Minnesota.
Especially in driving conditions like this remember to stay alert, don't drive distracted, slow down, turn on your headlights, and do not use cruise control.
Source: MnDOT News Release