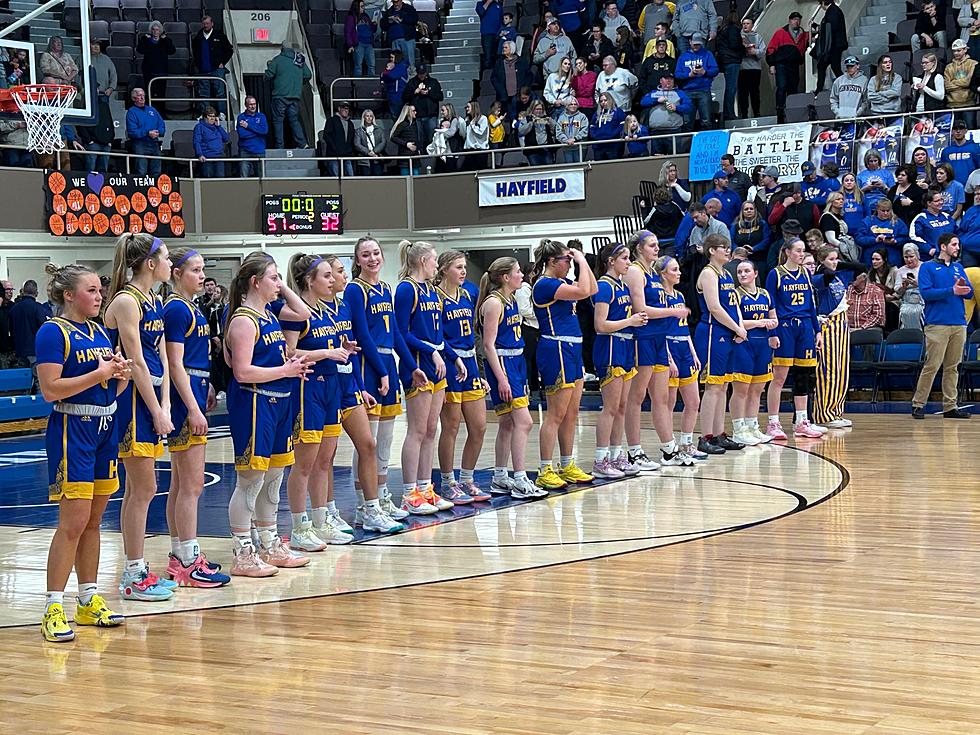 Hayfield Playing for Third Place Saturday
Hayfield Section 1A 2023 Champions. Photo by Gordy Kosfeld
The Hayfield Vikings had more turnover trouble in a 58-46 loss to BOLD in Class A State Semifinals action today at Williams Arena on the University of Minnesota Campus.
The Warriors had double digit leads in each half taking a 12-2 lead about six minutes into the gamar,  Their biggest lead was 12 at 16-4 with 10:07 to go ub the half.
Hayfield did battle back to within 1 with 2:28 remaining in the half.
BOLD led at halftme 33-28 thanks to 12 points on 5 of 7 shooting by Lainey Braulick, sophomore, 5'8.  Mackenzie Visser added 9 points, 4 rebounds,
The Vikings were led in scoring by Chelsea Christopherson, junior, 5'6, with 10 points,  Emily Hanson came off the bench to score 5 points with 6 rebounds while playing 10:34 which helped keep Hayfield in the game,
Hayfield had 17 rebounds, BOLD 16 carems in the half.
Like their quarterfinals round overtime win over Badger/Greenbush-Middle River turnovers did not help the Vikings cause.  They finished the game with 22 while the Warriors had 12 and scored 19 points off them.
With 2:40 to go Chelsea Christopherson swished a three point basket to bring Hayfield to within 4 points, 50-46 but empty posessions and turnovers hindered their comeback efforts.
Hayfield's leading scorers Natalie Beaver and Kristen Watson went a combined 2 for 11 from the field for 5 points and neither attempted a three point basket.
Beaver in particular appeared to be tired following her 31 point 15 rebound performance from Thursday when she played a few seconds under 40 minutes in the Vikings 63-58 overtime win over the Gators.
BOLD breezed by United Christian Academy so they were fresh as a team can be after playing the previous night.
I still marvel at the requirement the MSHSL makes the small schools play back-to-back-to-back days while the big schools get a day off between their semifinals and finals games.
Shouldn't the larger schools at least in theory have more players to choose from and a deeper bench?
Hayfield plays 10:00 a.m. at Concordia College in St. Paul against Belgrade-Brooten-Elrosa for a Third Place trophy and individual medals go to third place finishers while 4th place is awarded a team trophy.
B-B-E  had a 10 point lead over top seed Mountain Iron Buhl but lost 61-57.
B-B-E is coached by Kristina Lurken-Anderson a Kenyon-Wanamingo graduate who played collegiately at Augsburg University in Minneapolis.
The game will be broadcast on KDHL Radio, 920 AM, 97.9 FM, FREE KDHL app.  The app is the way to listen with a very clear sound.
Tonight the Goodhue vs Albany Class AA Semifinals game is on KDHL beginning 8:00 p.m.
CHECK IT OUT: 13 Life-Changing Products Invented in Minnesota