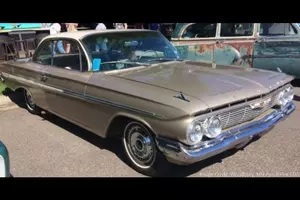 Have You Seen This 1961 Stolen Impala? Woodbury Police Would Like To Know
Image Credit Woodbury MN Police Fire EMS via Facebook
Behold the power of social media! Well, that is what the Woodbury Police Department is hoping for, as they are searching for a stolen 1961 Chevrolet Impala. If you've perhaps seen this car or one that looks like it that is up for sale somewhere, Woodbury Police would like to speak with you.
According to a post from the Woodbury Department of Public Safety, the vehicle was stolen from a garage in December, and after a string of luck of asking for the public's help in previous cases, the department is once again asking for your help in finding this classic car.
Woodbury Public Safety is looking for help locating a stolen 1961 Chevrolet Impala.
In the last couple of weeks, we have been able to solve a couple of cases thanks to the keen eye of the community, including identifying a robbery suspect that led to an arrest as well as the arrest of two suspects that were prowling cars that stemmed from a suspicious activity call. We have another case that we're hopeful someone can help us with.
A few weeks ago, during a rural residential burglary, a 1961 Chevrolet Impala 2-door coupe was taken from a garage. It is bronze in color with a cream-colored top and has tinted windows. When it was taken it was bearing MN license 5S1444. If you have any information that can help lead to reuniting this beloved car with its owner, please phone Woodbury Police Detective Benysek at 651-714-3600.
The post, which was made almost a week ago has been shared over 300 times, and still, has no answers for the missing car.
Some things to take away from the post by Woodbury's Department of Public Safety, the 2-door coupe is bronze in color, with tinted windows, which seems like a rarity when it comes to a vehicle of this age.
13 Things Minnesotans Should NOT Do When It is Below Zero
The temperatures in Minnesota, Iowa, Wisconsin, and Illinois can get to dangerous levels and when you see those numbers dip below freezing, use this as a rule of thumb to keep you and your stuff safe.
Hockey Day Minnesota 2022, Mankato
Minnesota State University-Mankato hosted Hockey Day MN. The eight-day festival featured all levels from youth to Division I, including a junior game for the first time.