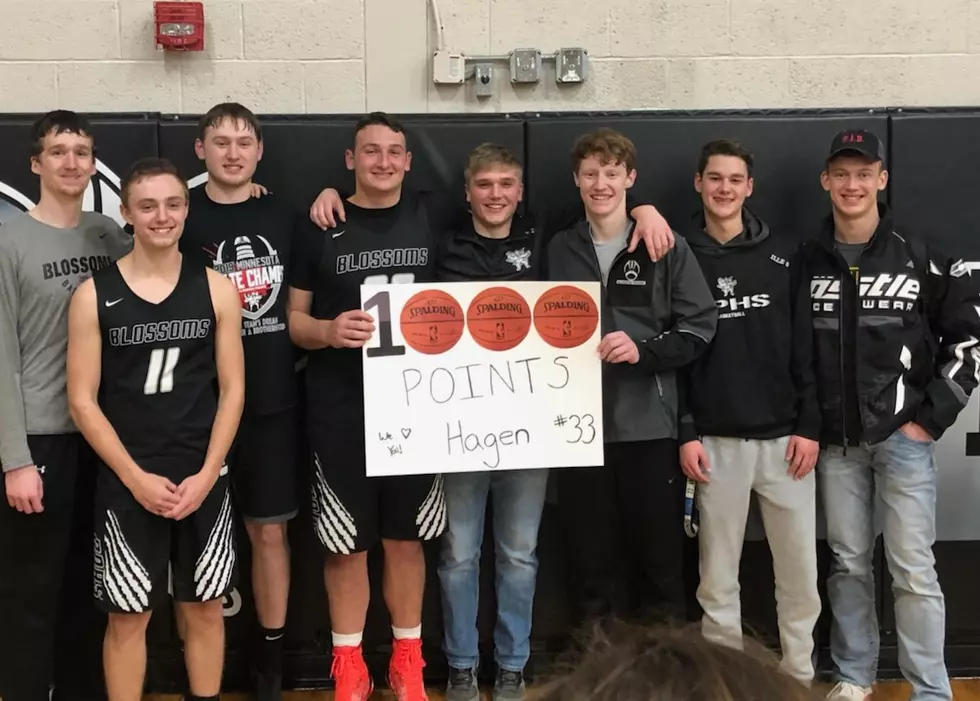 Blooming Prairies Gabe Hagen Reaches 1,000 Career Points
courtesy of Kathy Piller
This is another one to celebrate even if it doesn't make Sports Center's Top Ten. Blooming Prairie senior Gabe Hagen reached 1,000 career points in Tuesday's 63-58 win over Janesville-Waldorf-Pemberton. You can watch that amazing touchdown catch hauled in by Hagen in the Prep Bowl championship game by clicking here.
Hagen went into the night needing 21 points to reach the milestone. He scored 22 with the decisive point coming from the free throw line to give him 1,001 for his career. The game got close toward the end after BP had built a lead. The pending point may have played a role.
Coach Nate Piller said, "That might have been part of our issue as well, because we all knew exactly what he needed and that was a bit of a distraction, albeit a good situation."
"JWP shot really well and had pushed us with everything they had. We kind of had this song and dance a few times this year where we build a 10-12 point lead only to let the opponent back into striking distance."
Karson Vigeland scored 12 and Zach Archer added eight. BP (10-1 overall, 4-1 Gopher Conference, 4-0 in Section 1A) plays at Lyle/Austin Pacelli Thursday, January 23.
Gabe Hagen is an H & R Block Stat Sheet Stuffer. H & R Block Faribault, Lakeville, Owatonna. Upfront, Transparent Pricing. The Way Tax Preparation Should Be
In other hoops action, the Owatonna boys won 71-49 at New Prague in an important Section 1AAAA game. Evan Dushek led the Huskies with 28 points and eight rebounds. Brayden Williams scored 18 which included four three-pointers. Payton Beyer contributed 15. OHS forced 19 turnovers.
Medford topped NRHEG in a girls basketball makeup game in Medford. Panthers coach Onika Peterson stated, "Medford is a tough team. We had moments tonight where our defense was solid and offensively we attacked the basket well."
Meanwhile, St. James topped the NRHEG boys 66-53 in New Richland.