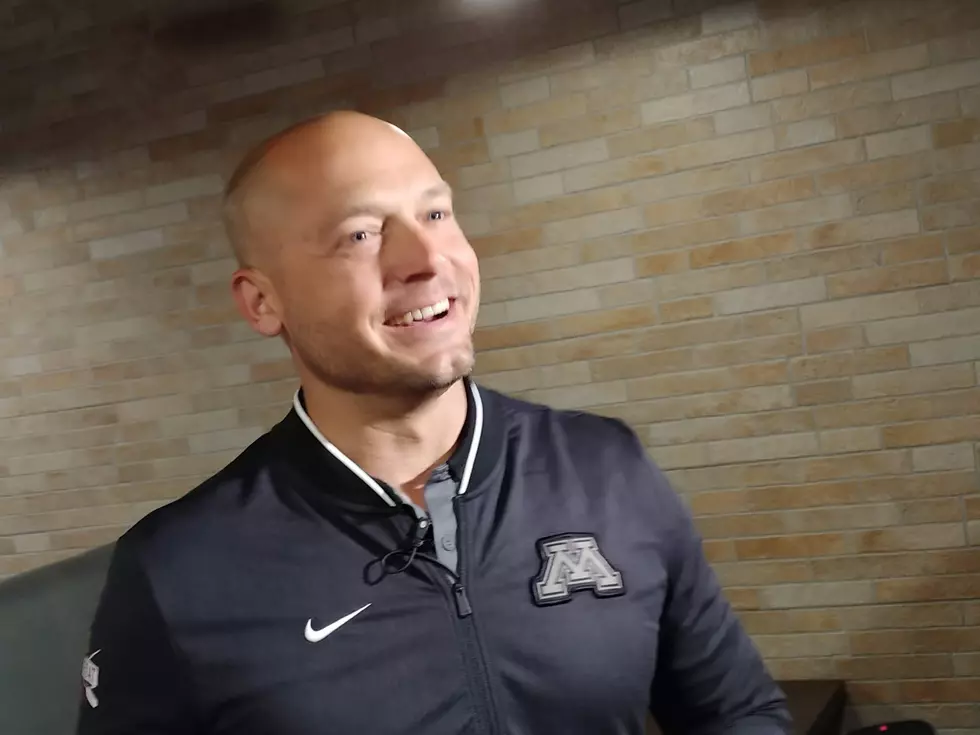 Fleck: Williamson Will be Back Strong
Roy Koenig/Townsquare Media
During Tuesday's Minnesota Gophers Coaches Caravan stop at Torey's Restaurant, football coach PJ Fleck gave an update on the recovery of Owatonna's Jason Williamson. The OHS senior early enrolled at the university in order to be part of spring football. Unfortunately, he suffered a torn ACL in a non-contact situation during practice.
Fleck said, "Jason Williamson's been a great addition to our football program. Obviously, going through an injury in the spring I think was devastating for him and his family. But he's going to play football again...He's going to recover. He's going to come back better than ever."
"If there's one time to possibly be hurt as a tailback, it might be this year...because we do have a lot of depth there and he probably would have been on special teams...He was going to play but probably more of a special teams role."
"Now maybe it's a blessing in disguise. He red-shirts, understands the offense, masters the offense, has a whole year to take it all it and then next year come back as a red-shirt freshman. And now Rodney (Smith)'s gone Shannon (Brooks)'s gone. And now you have a little bit better chance to probably play."
Regarding Williamson's recovery from the injury, Fleck said, "Progression is going really good...You have to attack the rehab process just like you are going to attack a game. He does that."
Williamson helped lead the Huskies to back-to-back state championships while becoming Owatonna's all-time leading rusher and the second leading ground gainer in the history of prep football in the state.
Fleck also pointed out the Gophers are still an extremely young team, but that they gained great experience by playing. Fifteen freshmen played in the bowl victory. Thirteen freshmen saw time during the win at Wisconsin that brought Paul Bunyan's Axe back to Minnesota. He said he expects the team to compete at a high level and is proud of the progress being made.