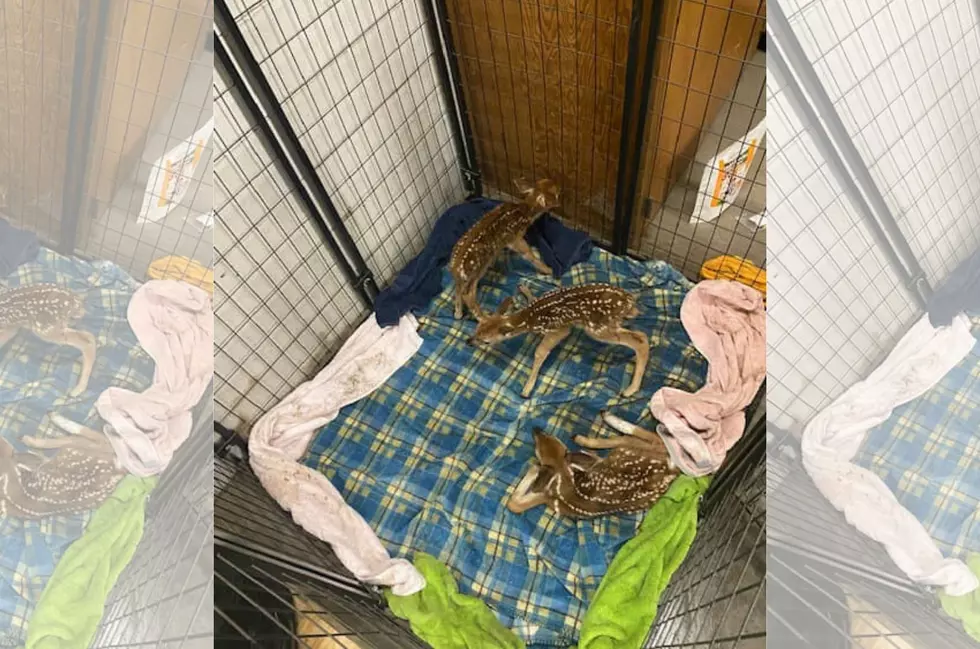 Fawns Rescued After Mother is Fatally Struck
Credit: Dunn County Sheriff's Office via Facebook
On Friday evening in Dunn County, Wisconsin, a pregnant doe was fatally struck by a vehicle. Thanks to quick action, the three fawns were able to be saved and brought to the Wildlife Rehabilitation and Release to receive the care they need.
The woman driving the vehicle immediately stopped after accidentally hitting the deer and discovered the three "fawns emerging after the doe had been struck" according to Bring Me the News. She quickly got help from someone living nearby and they were able to get the fawns and wrap them in blankets.
A short time later, officers with the Dunn County Sheriff's Office arrived to take the fawns. The sheriff's office said in a Facebook post about the incident that the person who lived nearby gave the officers "'bottles for feeding and the woman that hit the deer was able to provide animal milk supplement from her home.'"
The sheriff's office took care of the three fawns overnight. Then, in the morning, they were able to bring the fawns to the Wildlife Rehabilitation and Release to be taken care of. They say that the fawns are in good health.
Thank goodness the driver and the homeowner nearby were able to act quickly and help those fawns, I think that made a big difference.
Enter your number to get our free mobile app
Hang out with Carly Ross on Kat Kountry 105 weekdays 6 - 10 AM,
The Mighty 920 KDHL weekdays 9 AM - Noon,
and 106.9 KROC weekdays 9 AM - Noon!
NEXT UP: 13 Smallest Towns in Minnesota