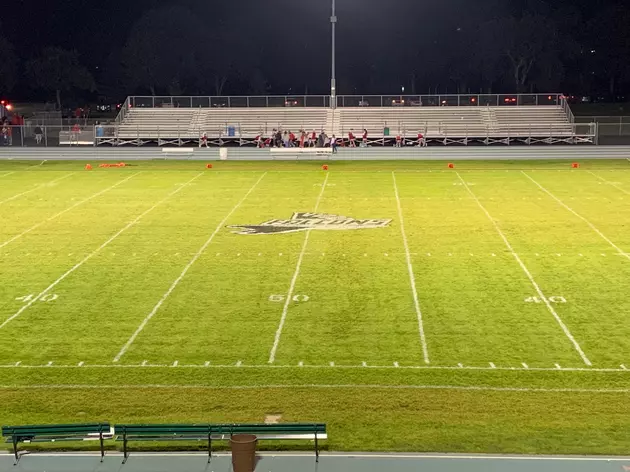 Faribault Football Game With Winona is Back On Tonight
Bruce Smith Field. Photo by Gordy Kosfeld
The Faribault Falcons football game with Winona which was cancelled last night due to COVID-19 concerns is back on for tonight.  7:00 p.m. kickoff at Bruce Smith Field.
Unfortunately we will not be able to broadcast the game.  Our plans all along were to cover the game last night and broadcast tonight's Bethlehem Academy game at Goodhue.
I'll be heading to Goodhue this evening to bring you that game on KDHL Radio 920 AM.  Coverage begins 6:45 p.m.
Faribault Activities Director Keith Badger gave me the news this morning.  I asked how it could possibly be with COVID-19 being the initial reason.  Teams are supposed to shut down practices and everything when positives are detected.
He indicated Winona assured him they could make the trip to Faribault.
Badger said they had to scramble to get some officials for tonight's game.   Of course the Faribault volleyball team is hosting Austin tonight in Nomeland Gym also.  Originally the football team was to play last night and the volleyball tonight.
First serve is scheduled to start approximately 7:00 p.m. for the varsity.
I attempted to contact Winona Activities Director Casey Indra but had no success.  I did leave a message requesting an explanation.
The Winona High School website mentions the cancellation of last night's game but no information about tonight's contest.
If we hear from Winona I will let you know what the explanation is.
LOOK: 50 Black actors who made entertainment history