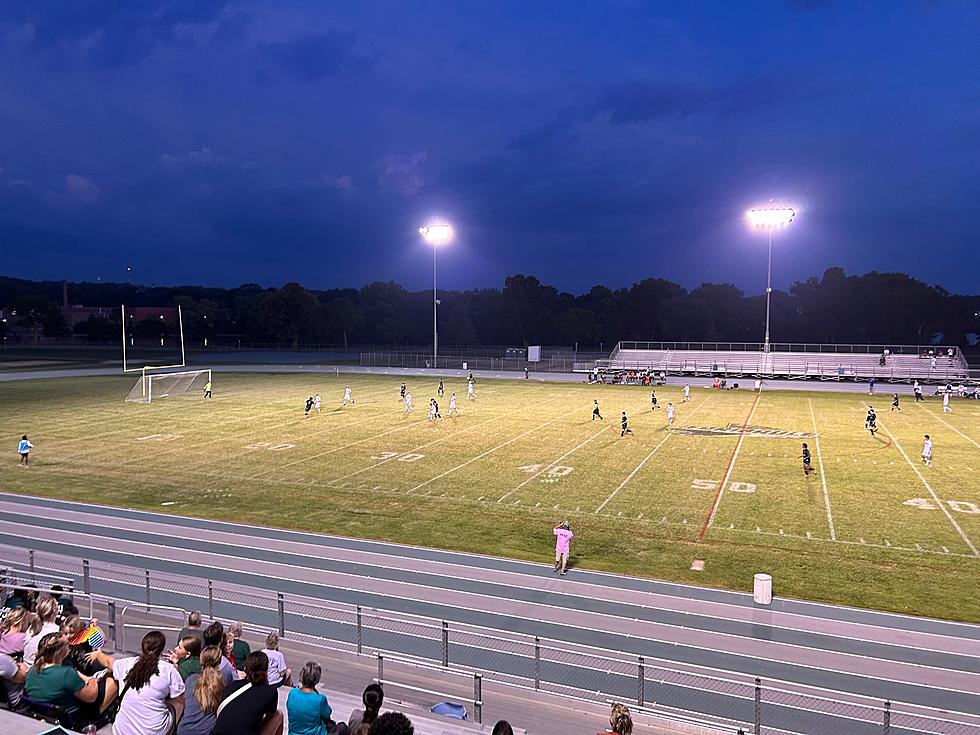 Faribault Boys Soccer Dominates Kasson-Mantorville [LISTEN]
Faribault on Attack at Bruce Smith Field vs Kasson-Mantorville Boys Soccer. Photo by Gordy Kosfeld
The Faribault Falcons boys soccer team dominated the Kasson-Mantorville KoMets 4-0 at Bruce Smith Field in Faribault Tuesday night.
Rashid Ibrahim, junior, scored the first goal 3:37 into the game and the rest as they say was history.
The Falcons had excellent spacing on the field.  Showed off some good passing and dribbling skills in their first win of the season.
Aaron Huerta, senior forward, connected on a free kick goal at 19.01.
With :26 seconds left in the first half Cullen Cox, sophomore forward, hammered home the next score.
At the half the statistics said it all, Faribault had 15 shots on goal, 21 total shots while Kasson-Mantorville was only able to fire two shots on goal and total.
The first portion of the second half Kasson-Mantorville appeared to be determined to be more aggressive but that eventually waned and the Falcons spacing, passing and dribbling were too much for the KoMets.
Kasson-Mantorville had a free kick in the second half from the Faribault 7-yard line but goalkeeper Christian Trujillo, senior, made an outstanding save to preserve the shutout.
Faribault's second half goal was scored by Josh Angeles, senior forward who along with Huerta had a majority of the shot attempts.
The Malecha's Auto Body Crunch Time Faribault Players of the Game were the four goal scorers and Trujillo.
You can listen to the full broadcast of the game recorded live in the all-new Minnesota High School Gamecast player below:
Other boys soccer scores reported Tuesday included:
Park of Cottage Grove   3   Apple Valley   0
Fairmont     3      Waseca     2
Jordan   1    Mound Westonka  1
Rochester Century   3     Mankato East    1
Owatonna   6    Red Wing    1
Rochester Mayo   2    Northfield    0
Albert Lea at Austin   postponed
Lake City at Byron    postponed
LaCrescent    0      St. Charles/Lewiston-Altura   0
Cannon Falls   at Stewartville    not reported
P-E-M   at Caledonia    not reported
Rochester John Marshall at Winona   not reported
Girls Soccer
Mankato Loyola at Cannon Falls   not reported
Jordan   1   Mound Westonka   1
Blake    5   New Prague   1
Dover-Eyota at Winona Cotter   not reported
Albert Lea   3   Austin  2
Hill-Murray   5   Kasson-Mantorville   0
Apple Valey   2   Park of Cottage Grove   1
St. Charles   7    LaCrescent    2
Lake City   13   Triton/KW/Hayfield   3
Northfield   2   Rochesterr Mayo    2
Owatonna   7   Red Wing   0
P-E-M   4    Caledonia   2
Rochester Century   2     Mankato East   1
Winona   5    Rochester John Marshall    0
Waseca   8    Fairmont    1
Volleyball scores from Tuesday:
Stewartville   3   Bethlehem Academy   2    Tigers took first two sets 25-9. 25-14, Cardinals next two sets 25-21, 25-18, Stewartville won 5th set 15-8
Lanesboro 3   Houston   0
Alden-Conger   3    J-W-P    0
Lake City   3   St.  Charles    0
Mankato West   3   Owatonna   2
P-E-M   3   Triton    0
Rochester Century   3   Kasson-Mantorville   2
Spring Grove    3   Schaeffer Academy   0
Winona   3   Wabasha-Kellogg    0
Pine Island   3    Winona Cotter   0
Fillmore Central   3   Zumbrota-Mazeppa   2
LCWM    3      Maple River    1
See All 22 of Delta, Colorado's Downtown Murals
The city of Delta, Colorado came up with a great idea back in 1986 to dedicate the sides of several historic buildings throughout the downtown area as a space for murals and public art. Have you seen all twenty-two murals in downtown Delta? Well, you can now.