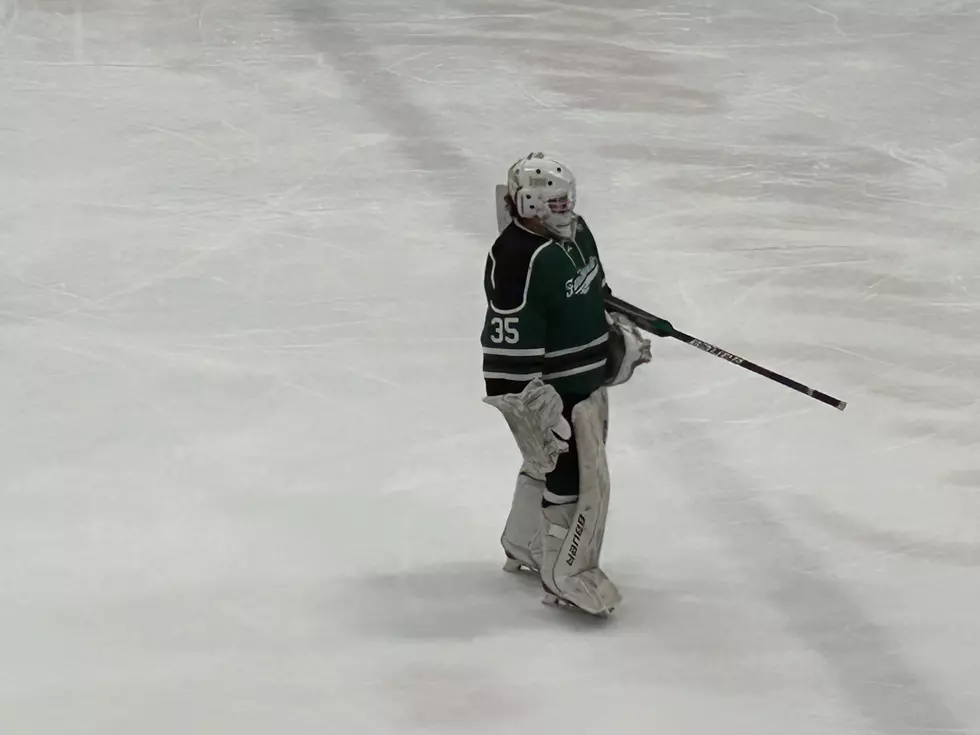 Faribault Boys Hockey Wins 4th Straight in January
Jacob Sherf, senior, Falcons Goalie after Shutout in Austin. Photo by Gordy Kosfeld
The Faribault Falcons boys hockey team has not lost a game in January.  Going 4-0 with the latest win today in Austin a 6-0 shutout.
Jacob Sherf, senior goalie notched the shutout while stopping 16 shots.  The Falcons had 37 shots on goal against two net minders for the Packers.
Oliver Linnemann, junior came into the game with the second most points in the Big Nine Conference.  Linnemann had another multiple point game with a goal and 4 assists.  He is now on top of the Big Nine with 33 points.  Northfield's Jake Geiger is next at 29.
Tommy Kunze, freshman, had 2 goals, 2 asists.  Logan Peroutka, junior, added 2 goals, 1 assist.
Faribault scored 2 goals in each period of the contest.
10:59 first period Brody Redding, junior, got a power play goal (8) with assists to Logan Peroutka, junior, (9) and Owen Nesburg (9). It was announced as a Nesburg goal with assist to Peroutka.
21 seconds later Logan Peroutka scored (5) assisted by Oliver Linneman (21).
Shots on goal in first period were 12-7 favoring Faribault.
1:58 into the second period Linnemann scored his 9th goal of the season assisted by Peroutka (10) and Parker Morrow, junior, (4).
11:15 Tommy Kunze, freshman tallied his 9th goal according to the stat sheet but the goal was announced to be made by Tyler Trapp which would have been the senior's first of the year.  The power play goal was assisted by Nesburg (10) and Linnemann (22).
Shots on goal in the second period were Faribault 16  Austin 4.
The Falcons scored 1:39 into the final period when Kunze hammered home a goal (9) assisted by Linnemann (23).
The final goal of the day happened 48 seconds later when Peroutka scored (6) assists by Kunze (6) and Linnemann (24).
Third period shots were Falcons 9. Packers 5.
Sherf provided the Cashwise Foods and Pharmacy of Owatonna Delivery of the game with the delivery of his first shutout.
Linnemann, Peroutka and Kunze were the Malecha's Auto Body of Faribault Crunch Time Faribault Players of the Game.
With the victory Faribault pulled into a tie for third place in the Big Nine with 8 points from their 4-4 Conference mark, they are 7-6 overall.  Austin fell to 1-5 in league play and 1-9 overall.
The key has been very good special teams play with the power play now at 30.4% after a 2 for 3 day in Austin following a 3 for 3 day in Red Wing Thursday.
The penalty kill is now 80.4% after killing all 3 Austin penalties following a 3 of 4 kill Thursday night in Red Wing.
The Falcons now rank 5th in scoring (Northfield is #1, 4.77 gpg), 3rd best power play percentage (Northfield #1, 36.7%), 6th penalty kill (Northfield #1, 89.1%) in the Big Nine.
Combined goalie statistics have Faribault one of just 3 teams in the conference with 90% or better save percentage.  Their 2.76 GAA ranks 4th in the league.
Sherf is third in save percentage .914.  His 2.43 GAA is 4th best so you see not only is Faribault scoring but they are getting good defense to go with it durng this stretch.
The Falcons have won 3 games on the road during this stretch.  Next week they have home games Tuesday and Thursday against Dodge County and Winona.  Drop of the puck is 6:00 p.m. in each contest.
In other boys hockey action Saturday:
John Marshall 5  Rochester Mayo 3
Albert Lea 4  Red Wing 0
Minnesota River 7  Worthington 1
Shakopee 6  Farmington 4
Lakeville North 7  Eagan 4
Eastview 4  Apple Valley/Burnsville 1
Waseca 5  Luverne 4
Bloomington Jefferson 4  New Prague 3
The Best Reviewed Movies of 2022
These are the winners of Rotten Tomatoes' Golden Tomato Awards for 2022.