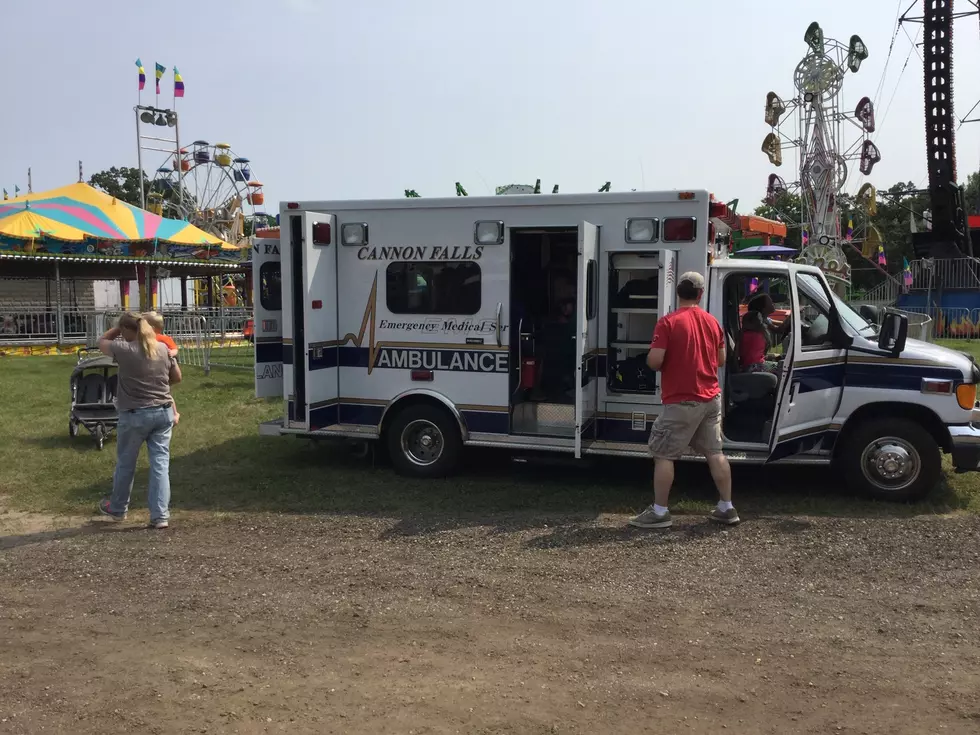 Cannon Falls Children Injured in Apartment Fire
Cannon Falls Ambulance at Cannon Valley Fair. Photo by Gordy Kosfeld
The Cannon Falls Police Department issued a News Release stating at approximately 1:14 p.m. on April 19, 2023 they were dispatched along with Cannon Falls Fire and Ambulance to a 911 emergency call about an apartment fire with children trapped inside at 1201 1st. St. N. in Cannon Falls.
The News Release says, "The first officer to arrive found the apartment resident, an adult female at the front of the building with an arm injury.  She advised the officer that three children were inside and she had gotten cut trying to get to them.  From the outsident of the complex the officer found the apartment bedroom fully engulfed."
"The officer broke out the second bedroom windows and the living room windows in an attempt to find the children.  One of the children was spotted by an Ambulance member, and a second was located close by in the living room.  The window was cleared of glass and one of the ambulance members climbed in and handed the children to the officer and another ambulance member."
"Both children were rushed to the ambulance and transported to the hospital.  The third child was found by a firefighter shortly after entering the residence and was handed to the officer.   First aid and oxygen were administered at the scene until the child could be transported to the hospital by ambulance."
"The adult female was also transported to the hospital by ambulance. The children weere later transferred by Air Ambulance to another hospital for specialized care."
The woman has been released from the hospital.  Status of the children is unknown although they were in critical condition when first located according to the News Release.  No identities were revealed.
The News Release goes on to report, "The fire was brought under control and the focus shifted to the remaining apartments in the structure.  All residents had evacuated on their own.  The Fire Department verified by checking all the apartments.  Then the Fire Department worked to reunite pets with their owners.  All twelve units were displaced for the night and residents were being assisted by the American Red Cross."
"The Cannon Falls Police Department and State Fire Marshal are working to determine the cause of the fire"
The News Release concludes, "The Cannon Falls Police Department wants to thank the citizens that helped as well as all the additional agencies that assisted during this event including the Goodhue County Sheriff's Office, Red Wing Police Department, Dakota County Sheriff's Office, State Patrol, Randolph Fire Department, Miesville Fire Department, Northfield Fire Department, Northfield Ambulance, Zumbrota Ambulance and Mayo Ambulance Services.
Wyoming Fire Crews Battle Wildfires
Wildland firefighting crews in Wyoming were busy throughout the weekend. Fires have popped up in the Bighorn and Bridger-Teton National Forest along with Campbell County