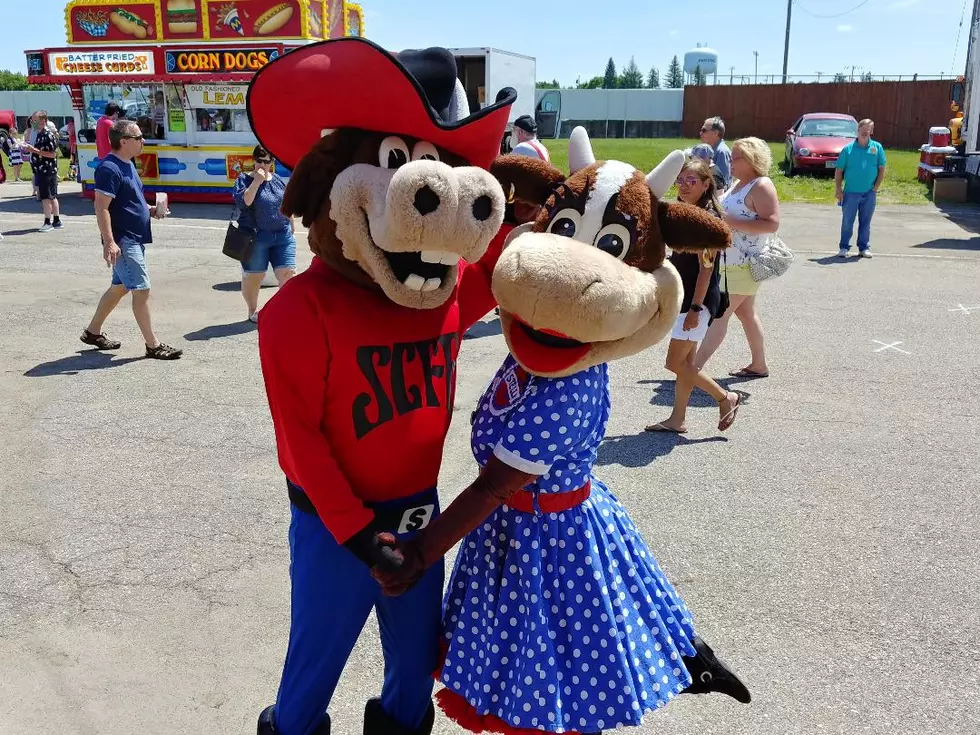 Be a Star at the Steele County Fair; You Can Make Someone's Day
Roy Koenig/Townsquare Media
Get smiles and high fives everywhere you go during the Steele County Free Fair this August. You will be the most photographed person on the fairgrounds, though no one will recognize you.
Fair manager Scott Kozelka says you can play the role of Steely or Stella, the mascots of the fair, who stroll the grounds throughout the week. Job requirements, according to the Steele County Fair Barker newsletter include, "Must love the fair, not be claustrophobic and enjoy putting smiles on people's faces. Times needed vary throughout the year."
Kozelka adds, "Back in 'the day' Steely and Stella were the same people...We went to a rotation, having four to five to six different groups of people. It could be husbands and wives. It could be two gals. It could be two guys...Just seeing those smiles, those first looks [from] youngsters...You're the big part of a selfie when you're wearing one of those mascot costumes."
Volunteers are needed for other aspects of the fair as well, "Any volunteer helps. So if you're interested in volunteering at the fair. Being a free fair and no admission to get into the fair, our fair runs on volunteers." Call 507-451-5305 or go to the fair's website (www.scff.org) and click contact us. Kozelka also invites you to stop in the office which is open from 8 am to 4:30 pm each day.
The countdown to the fair dropped below the 100-day recently. Kozelka says that's when preparations take on an added urgency, "The sweaty palms, lots of phone calls, 'Did you remember this? Did you remember that?' We'll make it work. We've got a great team. We've got great directors. Great volunteers."
Listen for Scott Kozelka on AM 1390/94.7FM KRFO's Fair Talk each Thursday morning at 9:40 am beginning June 2.
The Steele County Free Fair is August 16-21, 2022. Celebrate the Red, White & Blue in 2022.
MORE TO EXPLORE: Fun Memories of the Steele Co. Fair
Hit The Road This Summer And See These 10 Uniquely Minnesota Roadside Attractions!
If you are looking for an excuse to get out of town for the weekend this summer, maybe give some of these uniquely Minnesota roadside attractions a view? Minnesota has plenty of options for those looking for something out of the ordinary, from green giants, and giant loons, to big ol' hockey sticks, there is something to see from border to border, from Iowa to Canada. Here are 10 options that might make a great weekend get-away or a simple day trip on the motorcycle.