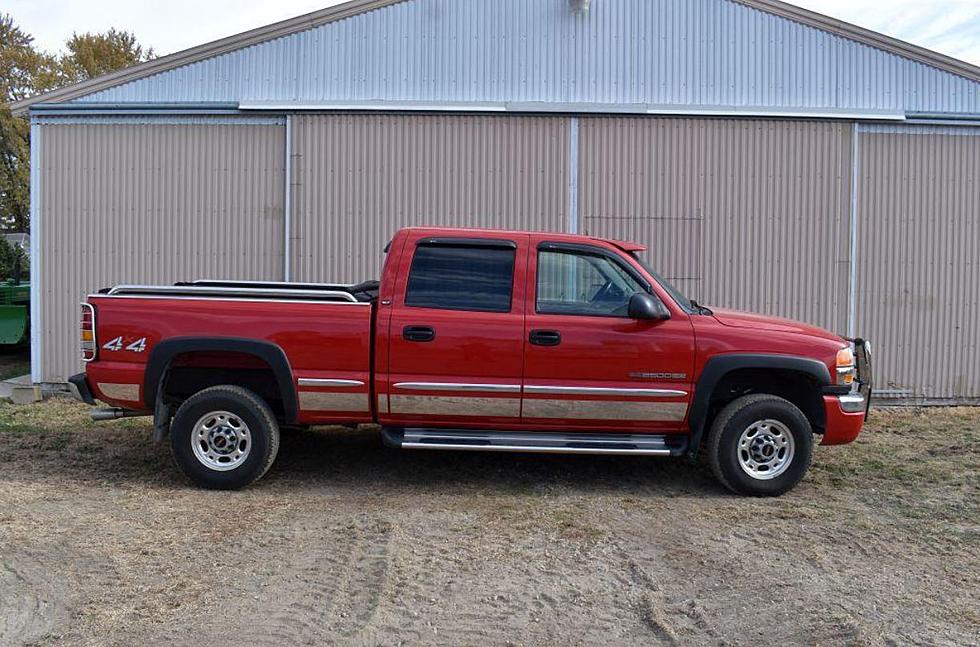 19-Year-Old Minnesota V8 Pickup Truck Sells For Nearly $42K At Auction
Image Credit: Machinery Pete via Facebook
Maybe I'm just not seeing it, but how does a 19-year-old pickup, with low miles, go for nearly $42,000? Is the used-vehicle market that crazy still? Regardless of my thoughts, the pickup did sell for that in a recent Southern Minnesota auction, according to a popular farm/heavy machinery-based social media account.
The post from Machinery Pete states that a one-owner, 12K+ miles, GMC Sierra 2500HD brought in $41,500 at a recent auction run by Matt Maring and the Maring Auction Company out of Southern Minnesota.
2004 GMC 2500HD with only 12,680 actual miles, 1 owner, 6.0 V8 Gas, sold for $41,500 today on farm estate auction in Lonsdale, MN by great team at Maring Auction Co. LLC
To me that seems really high, a look online at 2004 GMC 2500HD pickups for sale took me to a few different websites with trucks for sale, I settled on TrueCar.com, where I found the exact model with V8. All of the trucks had higher miles, average 170K, but were selling for between $9,500 and $20K.
Kelly Blue Book lists the private party price between $7,500 and $10K in average condition and $8,000 to $11,500 in excellent condition.
I guess we are still looking at high prices for ALL types of vehicles, new and used, and I still haven't seen too much relief in prices, to make me think it's going to end anytime soon.
When I see people listing vehicles for sale, online generally, and the prices they are looking for them, I shake my head have we gone mad?
I guess going to an auction isn't always going to bring a bargain. But you are sure to find what you need, but it might run you a little more than you wanted to pay.
Do you have any fun auction stories? Share them with us using our free app, and chat with us!
States with the most registered hunters
Stacker
analyzed data from the U.S. Fish and Wildlife Service to determine which states have the most registered hunters. Read on to see how your state ranks on Stacker's list.
LOOK: Things from the year you were born that don't exist anymore
The iconic (and at times silly) toys, technologies, and electronics have been usurped since their grand entrance, either by advances in technology or breakthroughs in common sense.
See how many things on this list
trigger childhood memories—and which ones were here and gone so fast you missed them entirely.
LOOK: The 25 least expensive states to live in