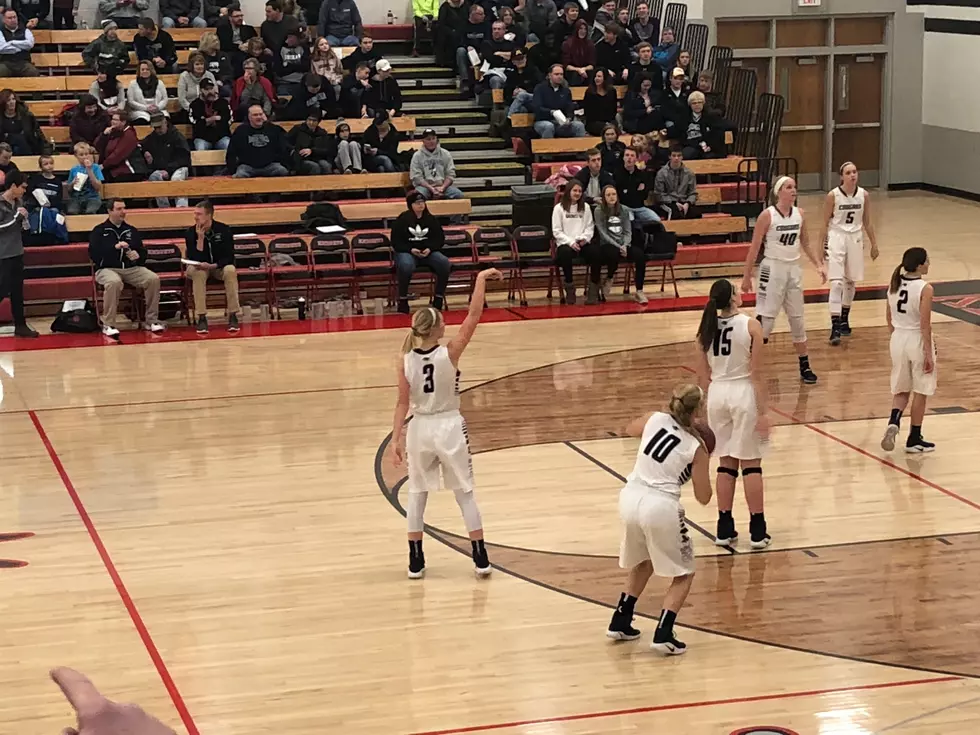 Zumbrota-Mazeppa Girls Outscore Kenyon-Wanamingo in Three Fest
Z-M Cougar #3 Lyndsey Quam Warms Up in Castle. Photo by Gordy Kosfeld
It was raining three point shots in the Castle Friday night with Zumbrota-Mazeppa and Kenyon-Wanamingo hitting a combined 26 threes.  Z-M had 13 and K-W 13.
The Cougars won the game 89-80.
Zumbrota-Mazeppa Head Coach Andy Bromeling told KDHL following the game he knew it would be a good game.
The Cougars led 51-38 at the half and had a 20 point lead about midway through the second half.
Kenyon-Wanamingo was playing without two of their starters so Head Knight Brent Lurken was very proud of how his team hung with a much taller Zumbrota-Mazeppa team.
The Cougars were led by the red hot shooting of Lyndsey Quam in the first half and Hannah Mensink in the second half.
Quam scored 23 of her 29 points in the first half with five threes, most from the top of the key.
Mensink scored 16 of her 19 points in the second half with four three point baskets.
6'1 sophomore Ali Hunstad scored 13 points, 7 of them at the free throw line.
Kenyon-Wanamingo was led by 5'8 sophomore Julianna Boyum with 28 points, including six three point baskets.
Classmates Riley Dummer and Megan Mattson with 18 points and 16 points and senior Maddie McCauley 14 points.
Zumbrota-Mazeppa is 7-3 with their losses to state ranked teams and Kenyon-Wanamingo falls to 2-6 overall.