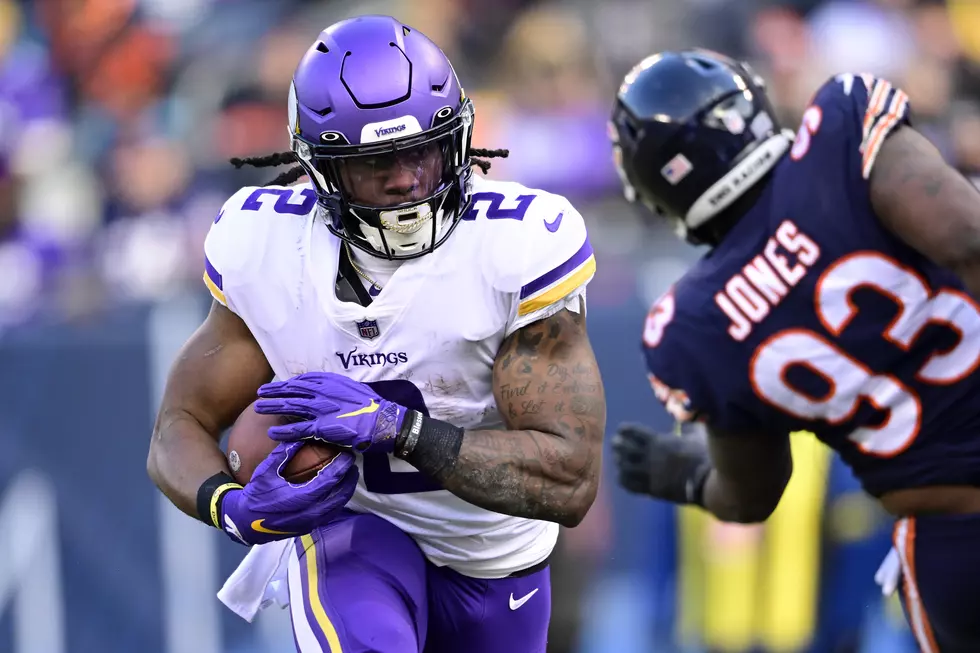 What? Good Minnesota Vikings Question Jackie Asks in This Weeks TikTok
Photo by Quinn Harris/Getty Images
That does it for our regular NFL season this year for the Minnesota Vikings. Bring on the playoffs. Not what we were thinking this time last year. We frustratingly missed playoffs last year, but not this year. Nope, this year we are the NFC North Division Champs, and the overall number 3 seed and we play the New York Giants this Sunday at 3:30 for our first round.
Wanting to know where to watch or listen for that game, check out HERE.
But before we get too ahead of ourselves, lets talk about this last game of the season and how my favorite Vikings fan reacted to it. That's right, the one and only Jackie was back in true form this weekend after winning one last regular season game against the Bears in Chicago.
After missing a reaction TikTok from her versus the Packers (probably better that way, I can't even imagine the swearing during that game)...

She is back this week and a little more calm (like most of us for a change), plus really happy because she appears to have won on a game board! But among that excitement for her she raises one really good question during the game, that I think many of us have asked this.
What is happening to Joseph?
Right? He makes that record breaking 61 yard field goal back on Christmas Eve, and now misses simple kicks like an extra point at the very beginning of the game. This Jackie, is what we have sadly come to expect as a Vikings fan. She probably knows this. Although if this season has proven anything to me, it's that the usual that happens to the Vikings, hasn't happened. Last year we found every possible way to lose, this year we have some how found every possible way to win.
Personally, I feel the difference is the coach. I love that we have Kevin O'Connell as our head coach and you can tell the guys love and respect him too.
Whatever the difference I hope we can carry it on through and keep on winning in the playoffs. Playing in this first round our opponents from that Christmas Eve game, the Giants. Here's to hoping Joseph and the rest of the team will be ready to make it a repeat...just maybe not as close as the last one, PLEASE!?
LOOK: These Are the Richest NFL players
To uncover the richest NFL players,
Stacker
consulted
Celebrity Net Worth
and ranked them by their 2022 net worth, calculated using a proprietary formula.
TACKLE THESE: Check Out the Best Uniforms In Each NFL Team's History
Joseph Kicks Vikings to Victory over Lions