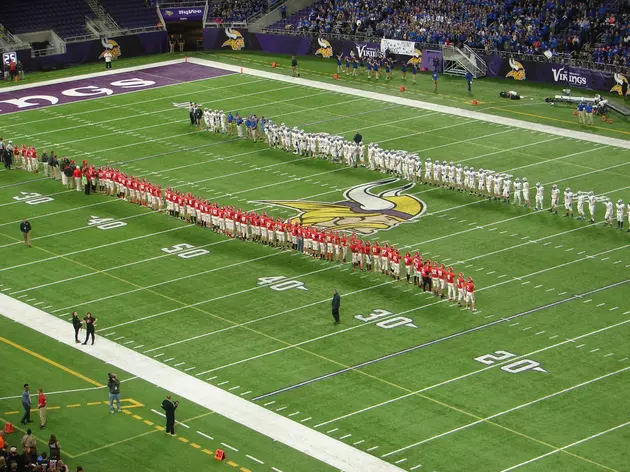 Vikings Youth Football Camp Coming to Owatonna
Roy Koenig/Townsquare Media (2017)
Considering how often the Owatonna High School football teams at US Bank Stadium, it only seems appropriate that the Minnesota Vikings Youth Football Camp is coming to Owatonna. The camp is open to boys and girls ages 6 to 15 and is free of charge. It will be held July 11-12.
The announcement states, "Join Vikings youth football coaches and Vikings legends to take your football knowledge and skills to the next level." Go here to register! The camp runs 10 am to noon for two days at Owatonna High School.
The camp is non-contact and open to all skill levels, boys and girls, ages 6-15. Space is limited. The Huskies have won the last two state 5A championships, played at US Bank Stadium.
While you're at it, sign up for the Owatonna Huskies annual youth football camp which runs August 5 - 8 at the OHS stadium from 5:30 - 8 pm. The camp is for athletes entering third through tenth grade. The camp's goal is to teach fundamentals of offense, defense and the kicking game.
Players are divided up by age with the younger group rotating through a series of fun, quick-paced stations led by current and former OHS players and coaches. Participants get a camp t-shirt. A hot dog cookout will be hosted by Hy-Vee one night.
Anyone interested in the 18th annual Ken Bey Football Classic Golf Tournament should act fast. The event usually fills up. The tournament will be held Saturday, July 13 at Brooktree Golf Course in Owatonna.
Players can form their own foursome or sign up as an individual. The format is a scramble. Those who don't golf are invited to join for the social time and lunch.