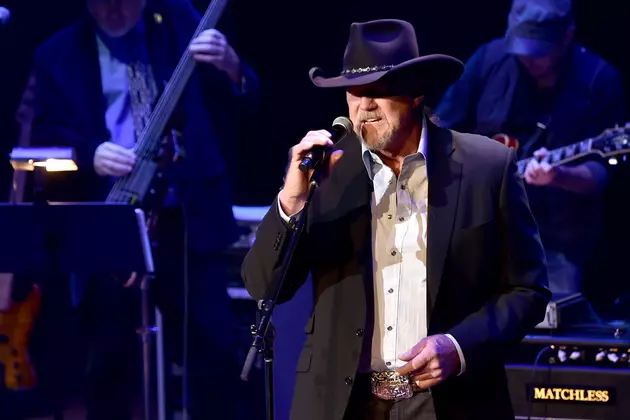 Trace Adkins' 'Something's Going On' Hits Him in the Heart
Michael Loccisano, Getty Images
Trace Adkins isn't afraid to admit that these days, he's just a little watered down.
Perhaps that's why the 55-year-old Louisiana native chose his latest single — aptly titled "Watered Down" — to be the country radio centerpiece of his twelfth studio album, Something's Going On, set for release on March 31.
It's Adkins' first release on his new label, Wheelhouse Records, a division of BBR Music Group, and his first studio album in four years. He proves he hasn't lost a step as his trademark baritone rings with honesty throughout the album, especially on "Watered Down," emoting the lyrics: "We still fly like gypsies / Just a little closer to the ground / And we still love our whiskey / But now it's just a little watered down ... Yeah I'm still crazy / But now I'm just a little watered down."
Adkins relates to the song — written by Matt Jenkins, Trevor Rosen and Shane McAnally — so much that he's publicly deeming it his favorite on the record; something he's never done before.
"I've said in the past, I may have a favorite song on this record, but I'm not gonna tell you which one it is," the legend tells Taste of Country. "Because you love all of those songs and you do the best you can on them and pour your heart and soul into them so it's hard to pick a favorite, but ["Watered Down"] just encapsulates and sums up where my head is and where I am with my life and my career right now. It's just my favorite song. It's the most honest song on this record."
A 20-plus year veteran in the country music industry, Adkins cut his first major record, Dreamin' Out Loud, in 1996, and though he began as a songwriter/artist, he found himself quickly exiting the songwriting game by his second album, citing that the "career" (artist) Trace Adkins killed the "creative" (songwriting) Trace Adkins.
"I just got so busy that I found I had very little time for my regular normal life and I didn't really want to give it up," Adkins reveals. "When I wasn't on the road or in the studio, I was trying to continue to have some kind of normalcy which meant getting away from music."
However, though songwriting hasn't been his focus for some time, Adkins hasn't put the pen down altogether. He notes that instead of a business, songwriting has become more of a therapeutic mechanism for him in his recent difficult years. And though he felt three of his cowritten therapeutic songs were strong enough to record for this new album, he bumped them off the final track list. In fact, it's become a running joke among Nashville songwriters that the best way to not get a cut on an Adkins record, is to write the song with Adkins. Adkins, too, is in on the joke and laughs about being so critical of his work that there's no way it will land on his album.
"I wrote three songs we thought were good enough, but I think I beat them," says the singer. "I've got friends in this town that are legitimately the best songwriters in the world. It's like eating your own cooking. Why would i want to eat my own cooking when I can go down the street and pay somebody who really knows how to cook? It's the same way with songs. Why would I not go to well when I have access to some of the best songwriters in the world?"
Even so, the songwriters impressing Adkins have a tall order. Having cut 12 albums, he has released more than 100 songs in his career, but passed on many more. For this album, his emotional state dictated which tracks got the green light for the final listing. One of those — which Adkins says probably won't be a single, but is another favorite — is "Whippoorwills and Freight Trains."
"The last two to three years have been hard on me personally, and when I was singing that song, there was a point I took my headphones off and said, 'You're gonna have to give me some time.' I had to regain my composure because that song was tearing me apart. It was so real. I thought, 'My God, I'm living this right now.' 'Watered Down' did that to me. 'If Only You Were Lonely' did that to me. I was pretty fragile then, and thanks to those songs, it became a therapeutic experience and I'm better for it. It's good to know songs can still move me like that."
Trace Adkins Talks About "Whippoorwills and Freight Trains"
Unforgettable Trace Adkins Moments