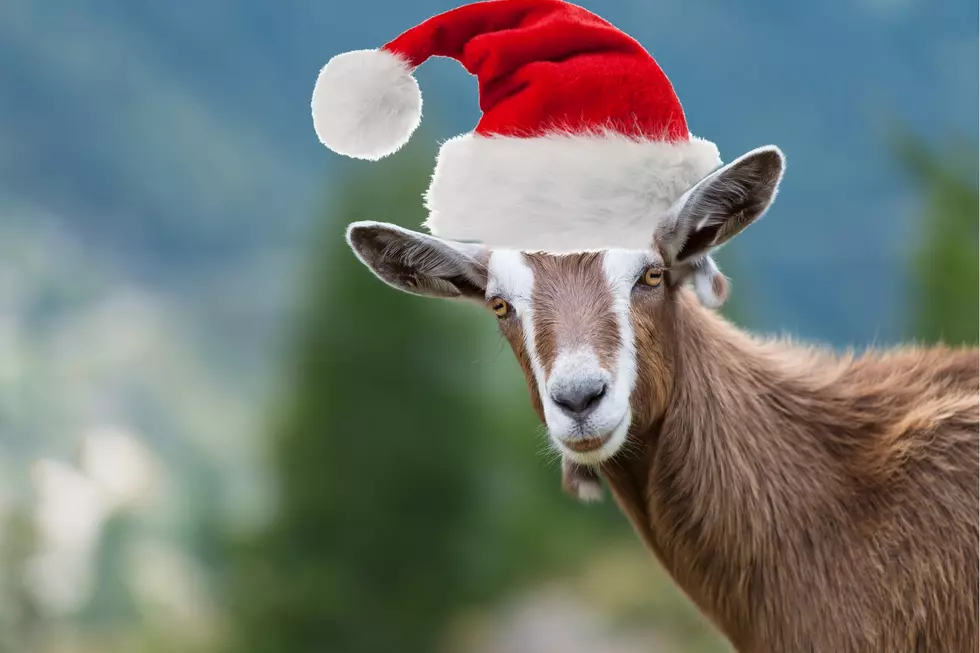 The Yule Goat and Other Christmas Celebrations from Around the World
This is not really a Christmas Goat. Just how James Rabe wishes they looked.
Enter your number to get our free mobile app
I wrote this back in 2018 and think now is a good time to bring it back. Why now? Because now is the perfect time to get together as a family and decide if you want to add some traditions to your family celebrations.
You'll have plenty of time to find a Christmas Goat, plan KFC for Christmas dinner, or get your kids ready for Krampus, the mean character that'll kick your kids if they were bad. Not kidding. Europeans take this "Santa is watching" stuff seriously.
---------------------------
(2018) When you start looking for unusual Christmas traditions, you fall down the rabbit hole and keep saying, "No way...NO WAY! With whips?" Not all of these still happen, but check out some of the wildest, greatest, most fascinating Christmas traditions around the world. And be grateful you were a kid growing up in the USA!
The Yule Goat is for real. According to WIKI, the Christmas goat is mentioned in many older Christmas songs when the Santa Claus tradition wasn't mainstream throughout Sweden. It's mostly a tree ornament now, but some towns build giant Yule Goats, like the Gävle Goat (which is traditionally the victim of arson at the end of the season). 
Saint Nicholas' Day, Germany (WIKI) First, apparently Saint Nicholas is NOT Father Christmas. Saint Nicholas is a guy that travels around by donkey on December 6th. Secondly, he has a guy traveling with him named Knecht Ruprecht or Farmhand Rupert. If you're good, Saint Nicholas gives you nice stuff. If you're naughty, Rupert goes at you with the stick or whip he carries around.
Austria has something similar to Germany's fun-fest-of-nice and whips. Krampus is St Nicholas' sidekick. If you're a good kid, treats from St Nick. If you're naughty, Krampus comes along and will take you away in his sack or basket. "Goodnight children, tomorrow's St Nick and Krampus will be here. Better pack a bag just in case."
In Japan, since 1974 a Kentucky Fried Christmas has been promoted and according to this article, since about 2012 it's become the thing to do. The same article says that Christmas isn't such a big deal in Japan, so it makes sense they'd find something fun to do on a holiday they don't celebrate en masse.
And finally, in Caracas, Venezuela, rollerblading, church, and great food show up for Christmas. Momondo says that on Christmas Eve the people in the city rollerblade to church. So many do it, roads are closed to cars so they can go to church and back home (for tamales) without getting hit by cars.
This came out at the beginning of the pandemic, but as we're in the midst of the holidays, it's a good reminder.
Here are some tips for self-care during the pandemic: