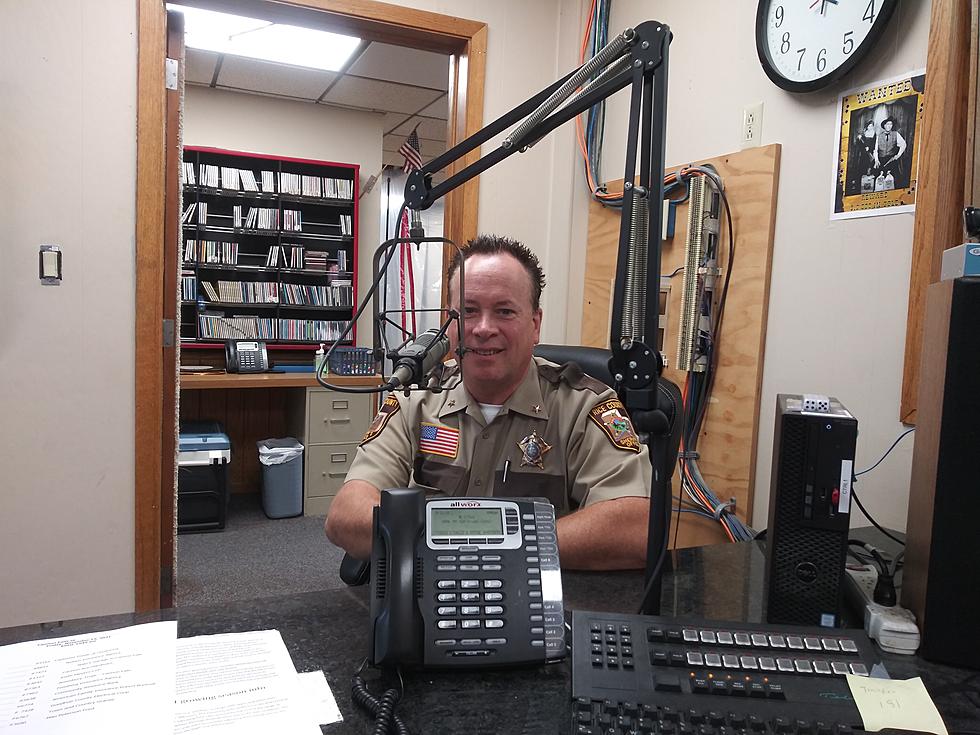 Sheriff Dunn Thanks Rice County Residents for Their Support
Rice County Sheriff Troy Dunn on KDHL his last day on the job. Photo by TSM
Rice County Sheriff Troy Dunn stopped by KDHL for an AM Minnesota visit on his last day on the job last Friday, November 12, 2021.
Dunn retired from his duties so his wife could accept a promotion in her job and they could move to Arizona.
Former neighbor Jerry Groskreutz hosted the program because I had to cover Cannon Falls and Bethlehem Academy at the State Volleyball Tournament.
They were neighbors for approximately 15 years.
During the program Dunn thanked Rice County residents for their support over the years and said it was a "honor" to serve as Sheriff in his home county.
I would have thanked the Sheriff (as I have many times) for saving my skin while announcing a Demolition Derby during the Rice County Fair in the 90's.
The Nordmeier brothers from Morristown were officiating and one of them told me to tell a certain car number to break off his flag indicating he was done.  The guy didn't like that and came storming up to my location with fire in his eye looking like he was going to break me in two.
Troy was a deputy then and stepped between us.  It was the last year I announced the Rice County Fair Demo Derby because it just wasn't worth it.
I don't remember exactly what he told the person but it was something like,  you want to be charged with assault over a ten dollar trophy?
I told him I was just doing what I was told to by the official.
He did calm down and leave the area but I couldn't help but wonder if Troy had not been there if he would have knocked me out or worse.
The late Pastor Craig Breimhorst used to tell me all the time how good Troy was at delivering bad news (a death notice, etc,) to people.
"Best I've ever seen," he would say, "his compassion came through every time I joined him on such calls."
That compliment came from a guy who also had emotional intelligence.
Pastor Craig had a compassionate heart that I experienced more than once over the years when something bad happened in my life.  Suicide of a good friend, etc.
It's not something you can fake.  I don't think it's something you can teach either.
Below is the podcast of the interview with Sheriff Dunn on his final day on the job.  Later that day his Chief Deputy Jesse Thomas was sworn in as the new Rice County Sheriff.
Did you know about most of these?
CHECK IT OUT: 13 Life-Changing Products Invented in Minnesota