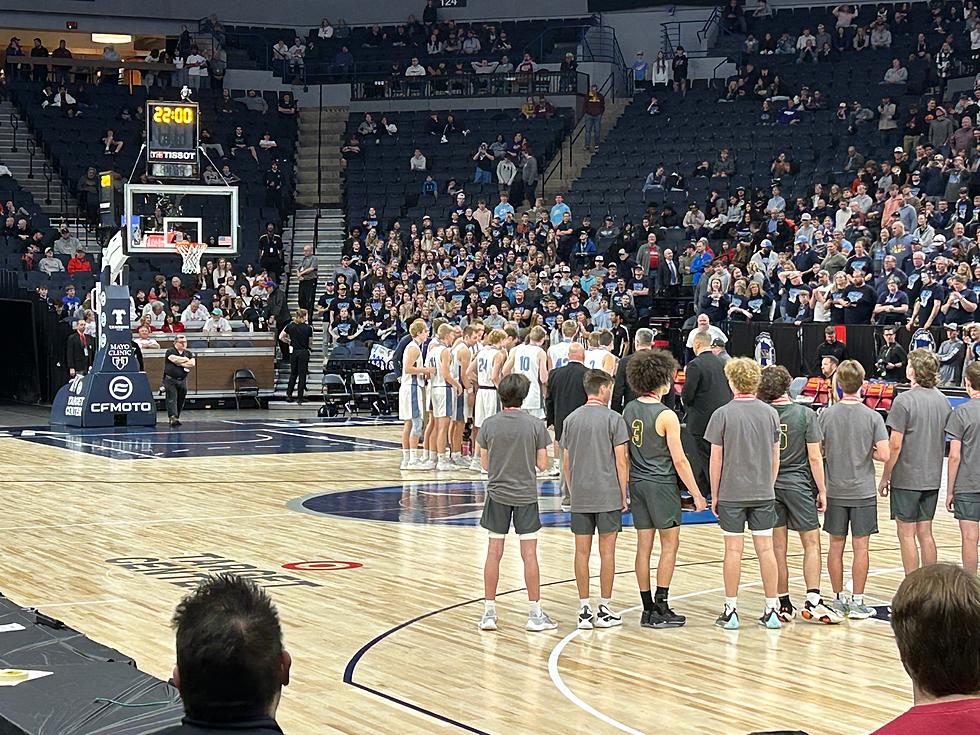 R-T-R Class A, Albany Class AA Minnesota Boys Basketball Champions
MSHSL Class A Trophy Presentation. Photo by Gordy Kosfeld
The Albany Huskies earned their first MSHSL Class AA boys basketball title Saturday with a 72-65 win over Minnehaha Academy of Minneapolis at Target Center downtown Minneapolis.
The Huskies led 39-31 at the half.  Great scoring balance was experienced by both teams.
Albany was led by Tysen Gerads, senior, 6'3, with 19 points, 8 rebounds.  Ethan Borgerding, senior, 6'5, had 16 points, 11 rebounds.  Zeke Austin, sophomore, 6'2, added 15 points, 5 rebounds.  Sam Hondl, sophomore, 6'6, pitched in 14 points, 7 rebounds.
The Huskies were ranked #7 in final Minnesota Basketball News boys basketball ratings and had a #3 QRF.  It was their 5th trip to state.
Albany ended the year with a 32-1 record, their only loss against Holy Family Catholic 76-68 in December of last year.
Minnehaha Academy was aiming for their 6th state title.  It is their first runner-up finish in 8 trips to state.
The Redhawks were paced by Rolyns Aligbe, senior, 6'9, with 20 points, 7 rebounds.  He fouled out of the game.  Jerome Williams, junior, 5'10, had 16 points, 5 assists.  Mateo Cortes Weiss, junior, 6'5, added 16 points, 6 rebounds.
The Huskies won despite having 17 turnovers compared to 4 for Minnehaha Academy.
Albany owned the boards 39-23 and had 11 points off fast breaks compared to 6 points for the Redhawks.
Minnehaha Academy finished their season 23-9.
Layup statistics were 9 of 14 for Albany, 10 of 26 for Minnehaha Academy.
The Redhawks shot 37% (26-70) from the field, 27% (6-22) from long range, 78% (7-9) from free throw line.
Albany shot 50% (24-48) from the field, 42% (5-12) behind 3 line, 76% (19-25) from the charity stripe.
Holy Family Catholic defeated Dilworth-Glyndon-Felton 86-79 for 3rd Place
Pequot Lakes is Consolation Champion after 50-43 win over Maple River
Russell-Tyler-Ruthon never trailed in their 59-49 win over New Life Academy of Woodbury in the Class A title game.
The Knights captured their 4th state title (2004, 2005, 2018).  It was the eagles 4th trip to state and first title game in basketball.
R-T-R was led by Aiden Wichmann, senior, 6'2, with 18 points, 7 rebounds, 6 assists.  Drew Werkman, junior, 6'3, finished with 15 points, 5 rebounds, 3 assists.
New Life Academy also had two players in double figures.  Maxwell Briggs, senior, 6'0, with 17 points, 3 rebounds, 4 assists.  Colton Hendricks, senior, 6'7, had 11 points, 5 rebounds.
Russell-Tyler-Ruthton scored 24 points off 15 New Life Academy turnovers.
The Knights also had 15 turnovers, the Eagles scored 5 points off them.
Layups were 11 of 14 for R-T-R and 5 of 15 for N-L-A.
New Life shot 31% (19-62) from the field, 17% (4-24) from beyond the 3 point line, 87% (7-8) from free throw line.
The Knights shot 48% (21-44) from field, 21% (3-14) from long range and 70% (14-20) on free throws.
R-T-R (31-1) only loss was at end of regular season 72-70 to Dawson-Boyd.
New Life Academy (26-6) was rated #3 in final MBBN Class A rankings with a #2 QRF.
Russell-Tyler-Ruthton was ranked #6 in final MBBN list with a #5 QRF.
Spring Grove defeated Cherry 68-43 for 3rd Place Individual medals and team trophy.
Nevis won Consolation titler 62-47 overr Sacred Heart.
LOOK: Here is the richest town in each state
Just saying the names of these towns immediately conjures up images of grand mansions, luxury cars, and ritzy restaurants. Read on to see which town in your home state took the title of the richest location and which place had the highest median income in the country. Who knows—your hometown might even be on this list.