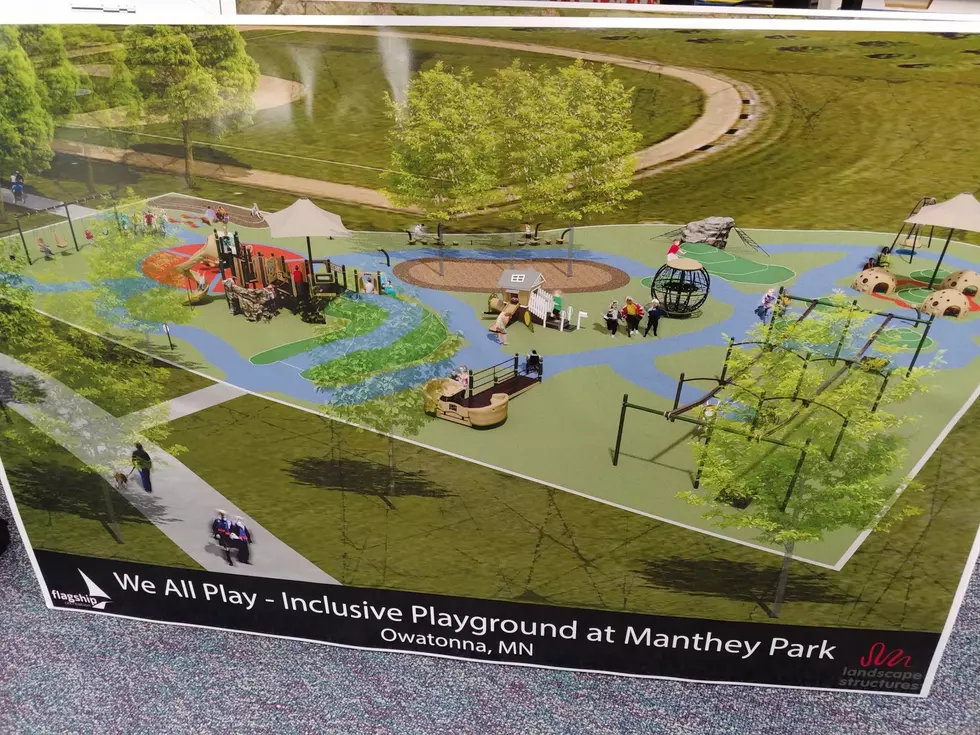 Owatonna Foundation Awards Grants
Roy Koenig/Townsquare Media
The Owatonna Foundation has served the community for over six decades making capital grants for projects that enhance community, arts, recreation and education. At their 61st annual meeting they awarded a pair of grants, elected trustees and officers and conducted their annual reports.
Grant awards were made to the "We All Play" project which is striving to create an inclusive playground and Miracle Field for Manthey Park in Owatonna. The grant was for $85,000. The Foundation also approved a $35,000 award to the Owatonna Soccer Association for development of a new soccer field.
Since its incorporation in 1958, the Foundation has awarded more than $12 million in support for a variety community needs. Among the projects are the Steele County History Center, the Dartt's Park grandstand and scoreboard, Owatonna Public Library, the fairgrounds show barn, and River Springs Water Park. The Foundation also supports the Steele County Food Shelf, Little Theatre of Owatonna and the Owatonna Arts Center among many other groups. Visit the Owatonna Foundation website for more examples and find out how you can donate.
At the annual meeting Foundation President Denny Meillier said, "The Foundation has gone through a period of incredible growth in the last few years. The establishment of a staffed office located in downtown Owatonna and the incredible support from business and individual donors that has grown our assets to over six-and-a-half million dollars has brought us to the place we are at today."
Miellier was elected to serve as president, Tom Dufresne as vice-president and Ray Stawarz as secretary/treasurer. Trustees reappointed include Todd Hale, Jerry Deetz, Dale Gandrud and Julie Rethemeier. New trustees are Dave Ramsey and Brandon Wayne.
Meillier said, "There are no words to express our gratitude to everyone that has contributed to date. No matter the size of your gift, each gift given truly reflects our donor's commitment to making Owatonna a better place."
Other board members include William Beer, Dr. Brian Bunkers, Gregg Draeger, David Einhaus, Bob Heers, Charles Herrmann, Mike Jensen, Jay Johnson, Kent Kienholz, Chad Lange, Betsy Lindgren, Tim McManimon, Corey Mensink, Gene Michaelson, Andy Michaletz, Monte Mitchell, Jolayne Mohs, Carol Nelson, Judy Plemel, Dave Seykora, Stephen Smith, Dean Velzke, Dennis VonRuden, Sharon West and Dr. Bob Wottreng.
From the Owatonna Foundation website, "Our mission is to improve the quality of life for present and future generations by supporting Owatonna projects that focus on Community, Arts, Recreation and Education."
The Foundation office is at 108 West Park Square. Summer hours are Monday, Tuesday and Wednesday 9 am to 1 pm. Their phone number is 507-451-2995.