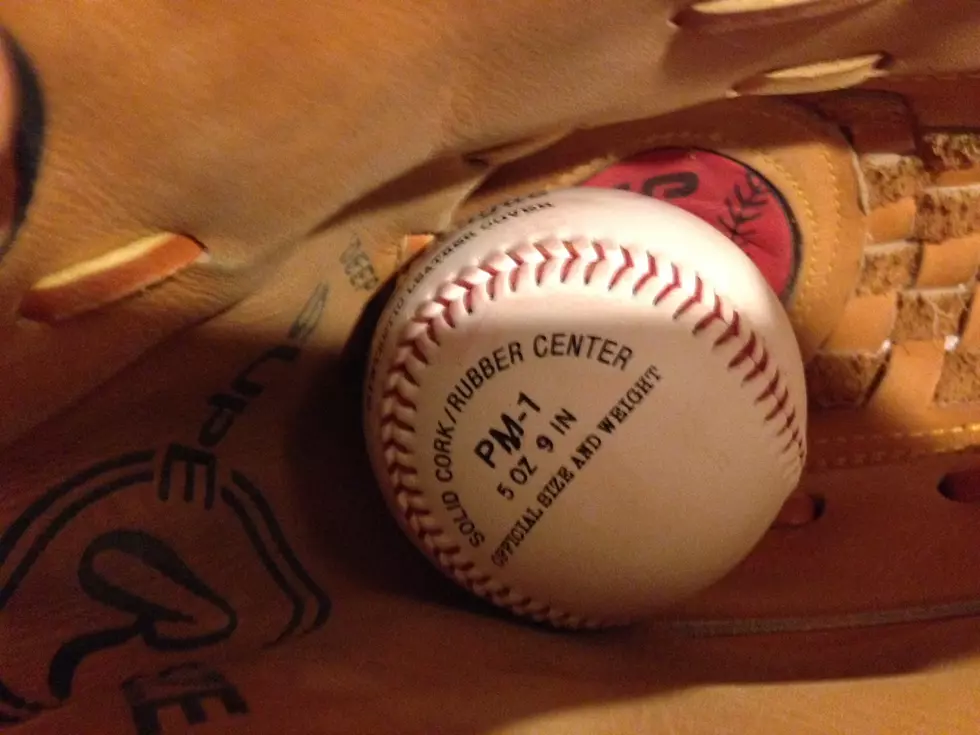 Minnesota American Legion Baseball Tournament Opens This Weekend
Baseball in Glove. Photo by Gordy Kosfeld
Seven Sub-State Tournaments open this weekend across Minnesota with teams advancing to the State Division II Tournament scheduled for the end of the month in Luverne.
The East Central Sub-State- 3rd District Tournament is being held in Cologne and Norwood this year with Sibley East earning top seed in the 13 team double elimination tournament.
You can view the bracket here.
Cannon Falls earned the number three seed and got a first round bye.  They will play this Friday, July 15, 2022 against the winner of the #5 Holy Family vs. #11 Randolph game.
The Randolph contest is 11:30 a.m. with the victor playing Cannon Falls at 2:00 p.m.
Kenyon-Wanamingo is #10 seed and plays Saturday, July 16, 2022 against #7 Lecenter in Norwood.  The winner plays #2 seed Watertown at 1:00 p.m. Saturday.
If K-W loses they play Sunday, July 17, 2022 at 1:00 p.m. in Cologne.
If Cannon Falls loses they play Saturday, July 16, 2022 at 3:30 p.m. in Cologne.
The Southeast Minnesota Legion Bracket is a 16 team double elimination tournament beginning Thursday, July 14, 2022 with East and West with the high seed being the home team.
The Southeast Minnesota Legion Bracket is here.
Has you can see there is one key item missing from the bracket and that is game times.
#1 seed in East is Chatfield.  #1 seed in West Pine Island.  Hayfield is #2 in West with Caledonia #2 in East.
#4 West Zumbrota hosts #5 West Lake City Thursday, July 14, 2022.
#2 West Hayfield entertains #7 West Blooming Prairie/Medford.  #1 Pine Island hosts #8 Lewiston-Altura (yes in West).
#6 West Dodge Center travels to #3 West Adams.
Winners and losers Thursay play on Saturday, July 16, 2022 with high seed hosting 3 games.
Survivors continue July 19, 2022 with Winner's Bracket game 10:00 a.m. Saturday, July 23, 2022 and a coin flip determines home team with the game in St. Charles.
Elimination Bracket games are 12:30 p.m. and 3:00 p.m. in St. Charles on Saturday, July 23, 2022.
The title game is 1:00 p.m. Sunday, July 24, 2022.  If needed a second game would follow.
The Brackets for Division I will be coming soon according to the State American Legion Baseball website.
Check out these sports sites.
NEXT UP: Which is Your Favorite MN Sports Venue?
If you enjoy baseball you will enjoy seeing this.
LOOK: MLB history from the year you were born
Stacker
compiled key moments from Major League Baseball's history over the past 100 years. Using a variety of sources from Major League Baseball (MLB) record books, the Baseball Hall of Fame, and audio and video from events, we've listed the iconic moments that shaped a sport and a nation. Read through to find out what happened in MLB history the year you were born.