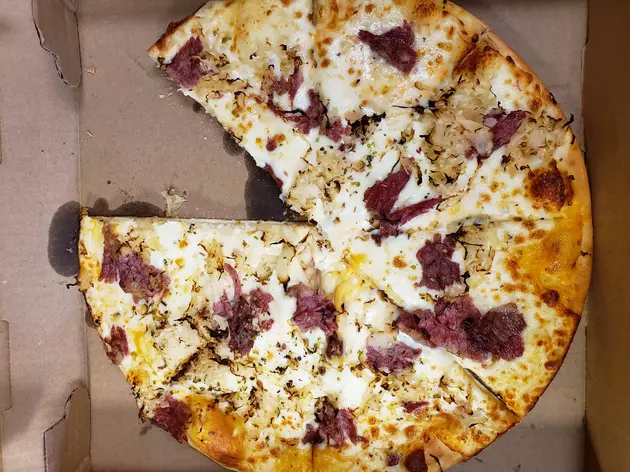 Local Pizzeria Adds A Rueben Pizza In Time For St. Patrick's Day
Image Credit: Paul Shea/TSM
An Owatonna pizzeria, A Taste of the Big Apple, is offering up a limited pizza with St. Patrick's flavor beginning today through the 20th, or until it runs out of ingredients. If you are feeling like celebrating the Irish holiday, but maybe gave up alcohol for lent, or just don't feel like going out due to the current state of the world in the pandemic maybe look to give this a try.
If you are looking to give the decidedly different pizza a try, it's $16.50 for a medium, and $19 for a large, if you opt for delivery, add a buck to the costs. You can also stop by and buy it by the slice for $2.50.
I decided to order up the Rueben pizza this afternoon for lunch. I really wasn't sure about how I would feel eating the limited-time pizza, but I managed to forge ahead, by mustering up my inner ninja turtle.
So what was the verdict? I enjoyed it. I like the corned beef on top with some sauerkraut. I know not totally Irish with the sauerkraut part, but the corned beef was on point for the Irish holiday. The sauce was Thousand Island and it wasn't too thick or thin. The crust wasn't too thick, or bready like you get sometimes with pizza. If I had to maybe nit-pick on it at all, I would have liked the crust a little crunchier but overall a solid pizza.
If pizza isn't your thing, that's ok, but we will know you're from Minnesota if these sounds put a smile on your face because you know you are in Minnesota to hear these.
Top 10 Favorite Sounds Heard in Minnesota