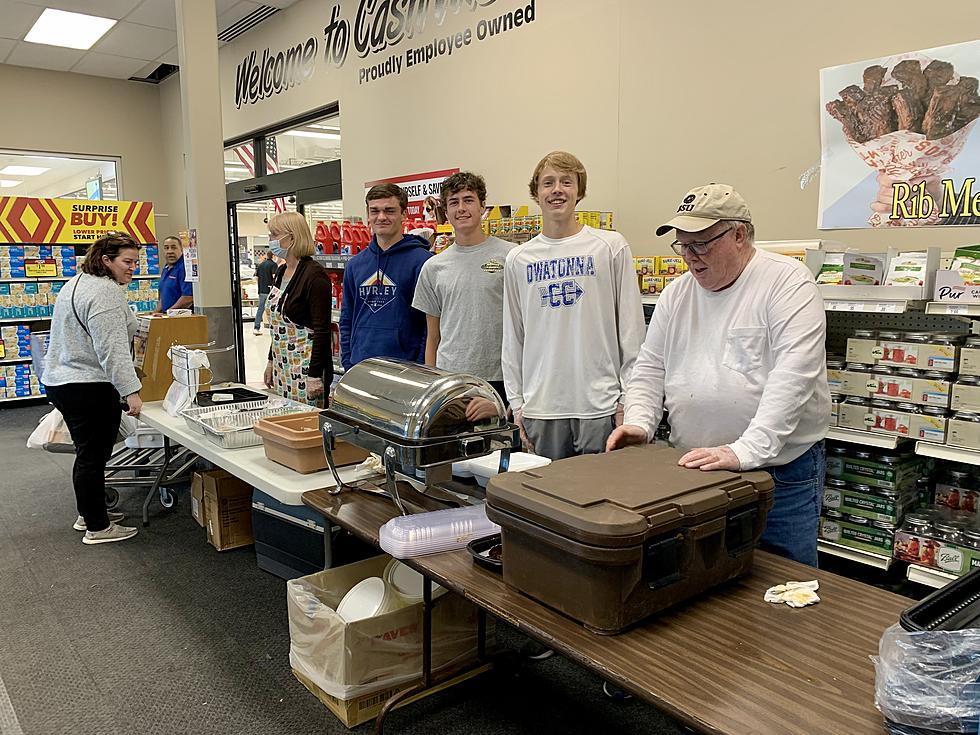 Let Them Eat Ribs; Fundraiser Benefits Owatonna Youth
submitted by Youth 1st
Youth 1st of Owatonna teamed up with Cash Wise Foods for a pair of ribs fundraisers this fall. Portions of the proceeds will benefit the Owatonna Parks and Recreation Youth Scholarship Fund. Cash Wise Foods Store Director Keith Ramm recently presented Youth 1st founder Mark Arjes with over $7,000 in donations from Pigskin and Pork held in mid-October and Ribs and Pies held in mid-November to coincide with Give to the Max Day in Minnesota.
Arjes said in a news release, "Cash Wise is the best! They are a great community partner and we are grateful for all the support that Keith, Troy and the staff give us each year through the BBQ ribs fundraisers. Our lunch delivery to local businesses continue to grow. We send out a special thanks to Tom Peterson and Climate by Design (CDI) for providing lunch to all their employees and to Daikin Applied in Owatonna for their support and donation."
Arjes said proceeds will benefit local youth, "Owatonna Parks and Recreation has been a Youth 1st partner since 2010 and we believe that Park and Recreation programs will be in even higher demand as families conserve resources due to the economic impact of the pandemic. We want to parks and recreation programming and local youth participation across the board by contributing to the Youth Scholarship Fund."
Youth 1st has contributed more than $2,400 to the fund in 2021. Dan Gorman chairs the scholarship committee, "We are so grateful to Youth 1st for including us in their fundraisers and supporting kids scholarships."
Owatonna High School DECA students (below) were among the many volunteers for the events. Amanda Starks (far below) won a gas grill in a door prize drawing sponsored by Profinium in Owatonna.
Enter your number to get our free mobile app
Are You Prepared For A MN Winter? Keep These 10 Items in Your Car
The cold is here, and that means the snow isn't far behind. Are you ready to tackle Minnesota roads this winter? Do you have these ten items in your car?
One Million Lights Are Shining Bright at the GLOW Holiday Festival in Minnesota
It's one of the biggest light displays in Minnesota and this year, you have a chance to walk through and enjoy this amazing light feature at the Minnesota State Fairgrounds. Grab tickets for the event
here
but first, check out some of the amazing photos below and get a taste for the spectacular views you'll get to experience.