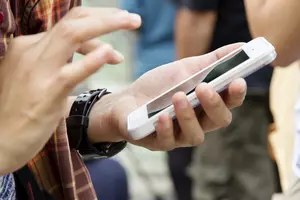 Kenyon Police: Smart Phone Game Creates Call For Police
ponsulak
The Kenyon Police Department posted last night to its social media page that a recent call for service was based on a smartphone game that has people worried when they first witness it. The game, Munzee, is where the participant takes pictures of small codes to earn rewards.
The post stated that after the initial call for service in regards to suspicious behavior, "a staff member witnessed a person exit a vehicle, walk towards a residence, take a photograph, and then re-enter their vehicle. The officer made contact with this person and asked what they were doing. The person stated they were playing a digital scavenger hunt game called Munzee and here is how it works. The game will give you clues/directions on where to find QR codes and when a code is found, you use the Munzee application to document that and are somehow rewarded. The person [Wednesday] was taking a photo of a QR code, that's attached to a utility pole, and is about the size of a dime."
Kenyon Police noted that the person who was playing the online game thought that Kenyon had "around 50 of these codes in town."
As always, if you see something say something, no matter where you live. This is the time of year where if someone is out of town and it snows there is a big sign in that person's unshoveled driveway that no one is home.
LOOK: See the iconic cars that debuted the year you were born