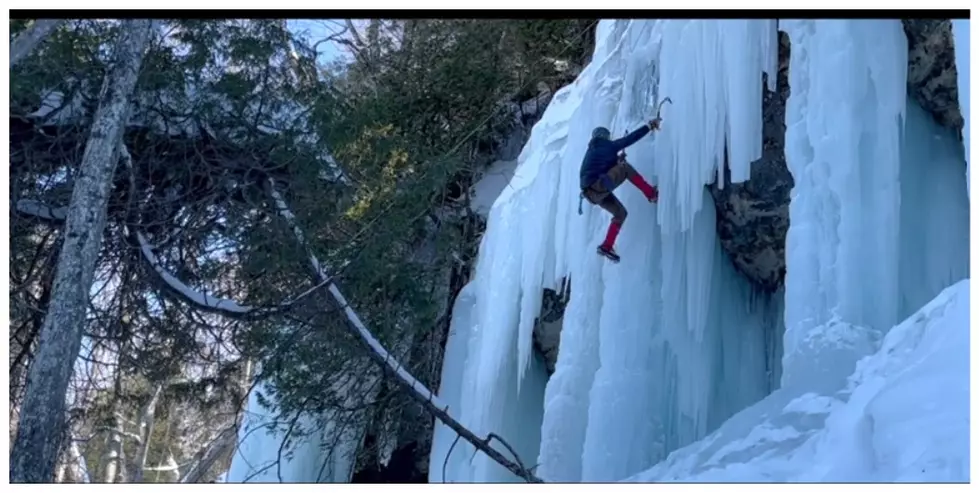 Search Suspended For Ice Climber Who Fell Into Lake Superior
Photo: Devin DeBoer Via YouTube
Being an ice climber is inherently dangerous and some of these frozen waterfalls above Lake Superior can seem awfully daunting and sometimes deadly. The National Park Service has identified a missing ice climber as 32-year-old James Bake of Michigan. According to milive.com " NPS reported that Bake was climbing along the Miners Castle area of Pictured Rocks National Lakeshore when waves in Lake Superior caused him to fall from an icy rock ledge into Lake Superior. Bake was reported missing around 5:15 p.m."
WDIO reported that the U.S. Coast Guard along with multiple other agencies set out on a search mission for the man immediately sending out an ice rescue team and a Jayhawk helicopter to join the search. Unfortunately difficult weather conditions prevented the ice rescue team from launching. The helicopter was able to proceed with the search into the evening but was unable to locate the missing man. A second helicopter headed out early Wednesday morning and completed its search also with no sightings of the climber. The National Park Service said it will continue to search the waters from land.
Just to give you an idea of what it looks like for people who climb these frozen waterfalls and cliffs, here is a YouTube video to give you an idea. Of course, there is an added danger factor when you are climbing cliffs above Lake Superior.
According to a News Release from the United States Coast Guard: Even with highly specialized safety gear, recreation on and around the ice and cold water is inherently dangerous. The Coast Guard urges anyone participating in these activities to remember:
• Take precautions, not chances. Survival time in cold water is greatly diminished.
• Wear a life jacket and dress for the water temperatures, not the air temperatures. Cold water lowers
body heat dramatically faster than cold air.
• Whenever possible, carry a VHF-FM radio or personal locator beacon. Remember, freezing
temperatures drain batteries quickly.
• Be sure to tell someone where you are going and when you expect to return, and use the buddy
system whenever possible. Every minute counts in a cold-water environment.
10 Places a Duluthian Would Be Ashamed to Admit They've Never Been
12 Iconic Landmarks In The Twin Ports